We got Amazon Fire 7 tablet from USA this Black Friday 2017. It is 7th generation 7" tablet from Amazon itself. We bought it at $30 in sale. Usually, the tablet goes on sale at Black Friday and Christmas holiday time. Normally it sells for $50 on other time. We picked it up by looking its review online and here is our impression.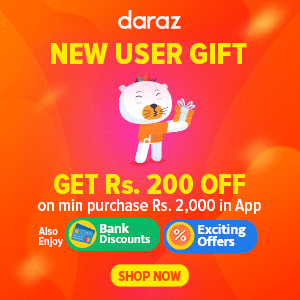 Lets break all the suspense first and tell you. Fire 7 is a fantastic device which gives great value. It cost us Rs 3100 in Nepal and we thank our friend who brought it. We have researched Nepali and Indian market thoroughly. There is no chance to find such good tablet at such price here. Even we can't find a single tablet at that price range.
Many people say the trend of tablet is going since bigger phones are here. That is partially true but Tablets still have a good charm if they give value. Our main purpose is to read PDF, E-Books and browse web. We use it for watching YouTube from time to time as well. Once we took it to market for getting tempered glass and cover. Even sellers were interested in its price and performance.
Fire 7 Specs and Details: This is a 7" tablet with moderate size bezels. It is built of good quality plastic and sports non removable 2980 mAh battery. The plastic build doesn't feel cheap at all. The LCD screen has resolution of 1024×600. It has glossy screen and we also recommend tempered glass.
Fire 7 2017 tablet features 1 GB RAM and 8 GB internal storage. Users can add SD card up to 256 GB and there is 16 GB model available as well in Amazon. Again there are two models which is very important for you to know. There is ad supported model and non ad supported. We bought tablet with ads because it is cheaper. People can buy ad free version with additional $15.
Our main aim is always getting highest value. Ads only appear once at lock screen and they don't bother us at all. We are happy saving $15 because that is about half cost of this whole device. 7th Gen Fire 7 holds 1.3 GHz Quad core processor and Mali 450 GPU. It is running Fire OS 5.6.0 currently. It is Android based system so not stock at all. People can install Google Play Store easily if they want. Amazon's Store also provides wide range of apps to install.
There is a 2 MP camera at back and it also has VGA camera at front. Honestly we don't expect good results from it. The result is good and does the task. It doesn't feature many sensors though. At this price, we really don't expect anything. It is so cheap that we won't even be sad when it dies. The new 2017 edition has a bit improved battery and screen contrast. There is Alexa built in for assistant now. It is good that company is improving their tablet lineup each year.
Impression
In terms of quality the build is brilliant for the price. Its screen has reasonable resolution but it is glossy and shiny. There is no big problem while using in daylight tough. Its performance is to the point with processor and memory. There are lots of pre-installed Amazon apps which is a down point.
Reading Epub, Mobi and Amazon Books from Kindle Library is fantastic. PDF Magazines also look great and we don't need zooming. Battery life is also very good with normal use. In standby it can easily go more than 3 days with ease. We bought a cover with keyboard for light work and amazingly it works very nice.
We know that it is not available in Nepal, India and many other countries. If you have any relative or friend in USA, then getting this at Black Friday or Christmas holiday at discount is really amazing. And if you are going to buy this at full price , it is still amazing.
Many people are very interested in this. They were asking to purchase from us and even offering double. So, it is one of the top recommended product of this year and segment from us. We can easily say that no other tablet in market provides such tremendous value. If you want big screen getting 8" version of Fire Tablet or even 10" is also fantastic choice.