Most of the people in the market buy graphics card for gaming. Only professionals buy the high-end GPU like the Nvidia Geforce Titan X, GTX 1060, GTX 1080 Ti, and RTX 2080 Ti. Some also buy Nvidia Quadro, which is meant for serious professionals for AutoCAD, Maya, etc. Most PC users don't want to invest a lot just for gaming. But sometimes they want to enjoy free time with light games. To help everyone, we have compiled the list of top affordable budget graphics card price in Nepal of around Rs 20,000. This list was provided by Ocean Computer Pvt. Ltd. at Baghdurbar, Kathmandu.
A large number of people want to play new games in HD resolution with low to medium settings. There are few people in Nepal who buy the best expensive graphics cards and desktop systems to play in high settings. But we are focusing on the budget level products. These are for people who want to get the best value for their money. In our view, a desktop is the best answer for power and flexibility demanding users.
All gamers, graphics designers and computer enthusiasts need a good graphics card. We have considered and studied the demand of the Nepali market. Thus, we have listed the best budget hardware you can buy to enjoy your computer. We roamed a lot in the market and asked distributors. So this is the collection and price of some budget range graphics cards.
Read More: Latest Desktop Price in Nepal
Hardware Requirements
Most of the graphics cards that we recommend won't need an external power connector. These cards work fine just on the PCI Express X16 slot of the motherboard. But some models from some manufacturers might need an 8 Pin connector. Sometimes just a graphics card can totally change the gaming performance of a computer system. In order to have that, your computer should at least have a reasonably powerful CPU to support the graphics card so it doesn't bottleneck. We recommend having below listed minimum properties for the best results.
4 GB RAM (Minimum)/ 8 GB (Good), 16 GB (Sweet Spot)
Dual-Core processor or Quad-core processor (Better)
450 Watts Power Supply (Higher is better)
Read More: High End Graphics Card price in Nepal
Our experts have tested a lot of desktop PC and laptop graphics card. We have experienced and played games with many video cards such as Nvidia GeForce 7200GS, 9400GT, 9500GT, GT 210, 520, 610, 820M, 755M SLI, GTX 1050 Ti, RTX 2070, GTX1080 Ti, etc. Our biggest agendas were to play PC games, edit videos using Adobe Premiere Pro, and watch high-resolution videos. We found a few AMD Radeon video cards in Kathmandu. People mostly choose Nvidia graphics cards over AMD in Nepal.
List of Budget Graphics Card Price in Nepal
In the market, you can find old GT series, newer GTX 10, and GTX 16 series products. We have collected details and the price of some models. These are the best cards you can buy in the market. We will start with the cheapest to help our users.
| | |
| --- | --- |
| GT 210 1 GB | Rs 3,000 |
| GT 710 2 GB | Rs 7,700 |
| GT 730 2 GB | Rs 8,000 |
| GT 730 4 GB | Rs 12,500 |
| GTX 750 2 GB | Rs 15,000 |
| GT 1030 2 GB Aero ITX | Rs 14,000 |
| RX 550 Aero ITX | Rs 22,200 |
| Geforce GTX 1050 2G OC | Rs 22,600 |
| Geforce GTX 1050 2GT OC | Rs 22,000 |
| Geforce GTX 1050 Ti Aero ITX | Rs 25,000 |
| Geforce GTX 1050 TI 4GT OC | Rs 25,650 |
| Geforce GTX 1050 TI Gaming 4GB | Rs 26,900 |
| Geforce GTX 1650 D6 Ventus | Rs 29,900 |
| Geforce GTX 1650 D6 Gaming X 4GB | Rs 31,900 |
| Geforce RX 570 Armor MK2 8G OC | Rs 34,400 |
| Geforce GTX 1060 Armor 3G OCV1 | Rs 37,800 |
| Geforce GTX 1060 Armor 6 GB | Rs 54,180 |
| Geforce GTX 1660 Ventus XS 6G OC | Rs 43,750 |
| Geforce GTX 1660 Super Ventus XS OC | Rs 46,900 |
These above-given graphics cards will provide optimum value for the money. But these are expensive compared to the US market.
Overview of the Graphics Cards
We want to provide some information about these so that you can get a good idea. We especially want to list out the specifications. This helps to make even wiser decisions. It is very important because names and prices can be deceiving. Many graphics cards have similar names, but their performance difference can be large. Just listing out the graphics card price in Nepal may not be enough. So in order to provide highlight of this hardware, we have details of some of the products.
GeForce GT 210
This was launched in 2009 and it is more than 10 years old. Just like the Core 2 Duo, it is still in circulation due to its price. I also used it in 2010 and played games such as Call of Duty MW3, Battlefield 3, and Need For Speed Hot Pursuit. It was quite decent for that time, but now it is quite old. If you just want a video card for monitor output or want multiple monitors. Then and only then we advise to buy this. Else it is not recommended.
For specifications, it has 1 GB DDR3 memory with a 64-bit bus. The 210 has 16 Cuda cores, a 520 MHz core clock, and 6.4 GB/s bandwidth. These days onboard graphics or iGPU are better than this. The new Intel's UHD and Iris graphics are much better than these old cards. So our advice is to stay away from GT 210 now.
GeForce GT 710 and GT 730
Both of these are from 2014, and they have different variants. It means they come in different memory sizes. There are different is other capabilities as well. The Geforce 710 is a basic card just like GT 210 with few improvements. The 710 is a bit new, so it can be preferred instead of 210. But the Nvidia Geforce 730 is a bit powerful in comparison.
Geforce GT 630 was the previous market leader of this segment. However, it has been completely replaced. The GT 730 is quite good and it can play games like Witches 2 at mid setting. GTA IV and GTA V are also possible with low to mid settings. The GT 730 can also play Witcher 3 at low, medium settings with a good processor. There is a performance difference between different models with different memory. So be careful while choosing and buy the best as far as possible.
| | | |
| --- | --- | --- |
| Specifications | GT 710 | GT 730 |
| Memory Size | 1 GB / 2 GB | 1 GB / 2 GB / 4 GB |
| Bandwidth | 14.4 GB/s | 22.4 GB/s |
| Base Clock | 954 MHz | 700 MHz |
| Cuda Cores | 192 | 96 |
| Bus Width | 64 Bit | 128 Bit |
GeForce GTX 750 Ti
This is a legendary graphics card that can still pull off great gaming. It can run almost all games in medium to high settings for 720p. You can enjoy smooth 4K playbacks, faster video rendering, and great gaming experience. It came in 2014, and it was a big hit. The GTX 750 Ti was king of mid-range, just like 1050 Ti was when it came. Many people still use this to play many games at 720p. It can easily play games such as GTA V, Witcher 3, Dirt 3, Call Of Duty Ghosts in low settings in 1366×768.
2 GB GDDR5 Memory
128 Bus with 86.4 GB/s bandwidth
1020 MHz Base Clock
640 Cuda Cores
Maxwell Architecture
GeForce GT 1030
The Geforce 1030 is a very good option for gamers in a tight budget. This card can provide great 720p gaming and decent 1080p. It consumes less power and can be found in low profile as well. It means we can use it for pre-built systems as well. This is a very good option for students and people who want a budget-oriented card that can really deliver good results. It can decode H.265 4K smoothly and it supports up to 3 monitors. We recommend getting this if you want good results for the least money. Below this, we don't recommend anything for now.
2 GB GDDR5 Memory
64 Bus with 48.06 GB/s bandwidth
1228 MHz Base Clock
384 Cuda Cores
Pascal Architecture
Nvidia GeForce GTX 1050 Ti and GTX 1050
These are one of the best cards to buy in the market right now. Both of these GPUs can provide exciting and respectable 1080p gaming experience. Players can get around 40-60 FPS at mid to high settings even with the latest titles. Our recommendation is GTX 1050 If you have less money. And 1050 Ti if you can afford it. We have used GTX 1050 Ti for 4K video editing in Premiere Pro and After Effects as well in our office.
The 1050 Ti can do excellent gaming. It's 4 GB VRAM is beneficial compared to 2 GB VRAM of 1050. These days games demand higher video memory. So better buy the model with higher memory to get all that frame buffer. We enjoyed playing Need For Speed Payback, Call of Duty: WWII, Battlefield 1, and Devil May Cry 5 on the GTX 1050 Ti.
| | | |
| --- | --- | --- |
| Specifications | GTX 1050 Ti | GTX 1050 |
| Memory | 4 GB GDDR5 | 2 GB GDDR5 |
| Bus Size | 128 Bit | 128 Bit |
| Bandwidth | 112.1 GB/s | 112.1 GB/s |
| Base Clock | 1291 MHz | 1354MHz |
| Cuda Cores | 768 | 640 |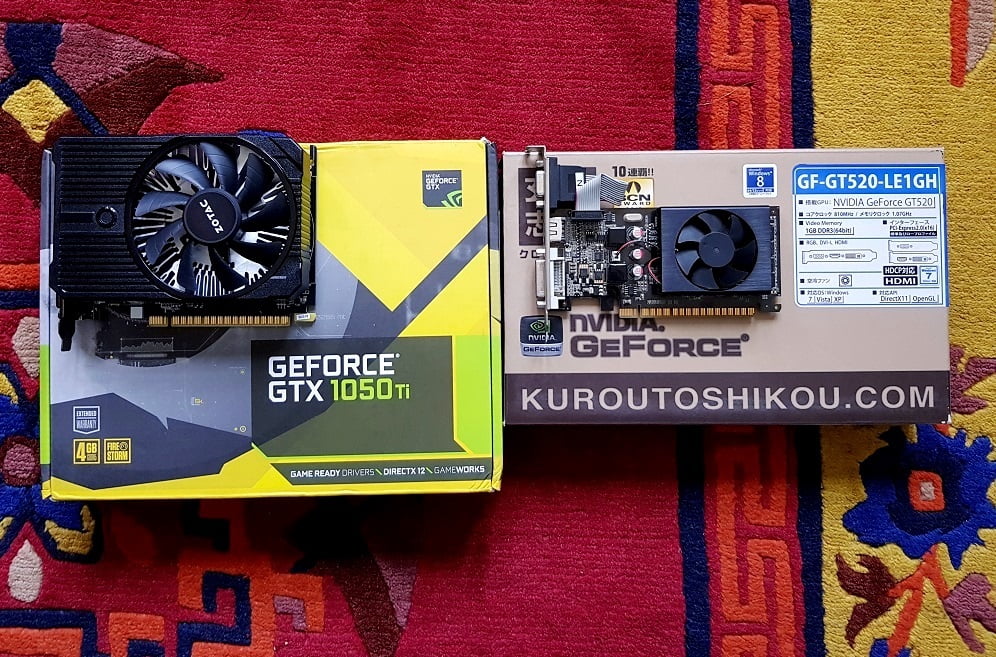 GeForce GTX 1650 Super and 1650
The 1650 lineup is very popular in entry level market for its price and performance. These cards are the successor of the GTX 1050 series. These Turing based cards come with performance uplifts at the same price and give better 1080p performance in newer titles. It is a go-to option for many people in a budget build. We also like the GTX 1650 cards a lot for their price to performance ratio.
| | | |
| --- | --- | --- |
| | GTX 1650 Super | GTX 1650 |
| Memory | 4 GB GDDR6 | 4 GB GDDR5/GDDR6 |
| Bus Width | 128 Bit | 128 Bit |
| Bandwidth | 192.0 GB/s | 128 GB/s/ 192 GB/s |
| Base Clock | 1530 MHz | 1485 MHz/1410 MHz |
| Cuda Cores | 1280 | 896/896 |
GeForce GTX 1660 Lineup and predecessors
These are the famous top budget range of video cards international. In the USA, they have very good pricing and the value proposition is amazing. In Nepal, India, and other Asian markets, the price is higher. Despite the cost, it is taken as the best value product. GTX 1060 is an old 10 series card, but it can push lots of games to 60 fps in 1080p in mid to high settings. The 1660 Super version is the 16 series successor, and it comes with even better improvements. Let us see their differences.
| | | |
| --- | --- | --- |
| Specs | GTX 1660 Super | GTX 1060 |
| Memory | 6 GB GDDR6 | 3/6 GB GDDR5 |
| Bus Width | 192 Bit | 192 Bit |
| Bandwidth | 336 GB/s | 192.2 GB/s |
| Base Clock | 1530 MHz | 1506 MHz |
| C | 1408 | 1280/1152 |
AMD RX 550 and RX 570
The Radeon RX 550 is an entry-level graphics card from AMD, while the RX 570 is a mid-range one. RX 580 and 590 are on the top end of the lineup. These are quite different because their architecture is also different. Thus we get very different performance results in games. The 550 is cheaper and is a good choice for people in a tight budget.
| | | |
| --- | --- | --- |
| Specifications | RX 550 | RX 570 |
| Architecture | Lexa | Polaris |
| Memory | 2 GB GDDR5 | 4 GB GDDR5 |
| Bus Width | 128 Bit | 256 Bit |
| Bandwidth | 112 GB/s | 224 GB/s |
| Base Clock | 1100 MHz | 1168 MHz |
| Stream Processors | 512 | 2048 |
Older and Popular video cards
People still buy older models because they can still do the work needed. Some people just need a card to connect a monitor with HDMI. Some just buy for home media and entertainment setup. While some use them for setting up multiple monitors. Still, these products can give good performance for gaming in lower resolution.
1) Geforce GT 520: This is the next stop after 210. It has updated specs and better power. We managed to play Witcher 2 in low settings with this graphics card on our desktop. It looks just like the other entry-level cards in terms of design.
2) Geforce GT 610: It is a bit updated next-generation version of the 520. The performance is just a bit more than its predecessor. We actually suggest to always get the newer generation if possible.
3) Nvidia Geforce GTX 550 Ti: The 500 series of Nvidia was very popular in the market. This was a champion of 2011. It is also mid-level hardware but now it is obsolete. The 550 Ti has 1 GB GDDR5 VRAM and 192 Cuda Cores. It is still selling in many Chinese websites with fake name and model number.
Analysis of graphics card price in Nepal? Why are video cards so expensive?
Almost everyone asks the reason why graphics card price in Nepal is so high. This question is genuine and everyone asks. Nobody likes the highest cost. Not even the sellers and distributors. Firstly if the cost is very high, people don't buy and start finding alternatives. Most people buy from India or have their friends buy it from abroad. This causes fewer sales in the Nepali market. As a result, retailers also can't earn much, and distributors also take hit. The company also needs to make money from the market. Therefore it raises the MRP to make more profit as far as possible from each sale.
If a company can't make a lot of profit from a large sales number, it tries to make most of the smaller sales volume it has. Thus the product gets expensive in certain regions. This is why electronics are cheaper in the USA and other European countries compared to Nepal and other Asian countries. It is our understanding, and we got this idea from a few other market experts too. The distributors also tell that the price of these cards is marked higher by the company itself. So there is not much they can do as well.
Suggestion and Conclusion
We know that graphics card improves gaming performance and video playback. It can also provide more outputs for different displays. In many tests, video editors have found that having a graphics card improves performance by a huge margin. If gaming is your primary goal, then we always recommend you to invest in a good graphics cards because only that can make a big difference. Some suggestions are GTX 1050 Ti and RTX 2060 Super for superior 1080p and 1440p gaming.
Here we have listed entry to medium range GPU available in the market. These graphics cards only work best when they get the appropriate system. Otherwise, their performance is bottle-necked. Our suggestion is to have a decent processor and a sufficient amount of RAM. Our choice is GTX 1650 or GTX 1050 Ti for the best performance. These work great on any type of system. GT 1030 is also a very good choice for budget consumers. We know that the graphics card price in Nepal is quite high, but you can find some good deals if you search the market and try your luck in the second-hand market as well.