International payment is a very important part of the economy. There are many ways to make and receive cross-border payments. Normal people mostly use their bank-issued cards for this purpose. However, international debit and credit cards in Nepal are not that common. It is not as easy to make online USD payments as it is in other countries like India. Few Class A banks do issue international cards in Nepal. But they have different requirements and legal hurdles. We are going to cover all of these topics in this article. We have also listed a few banks that have the best card services and provide good value to users.
Everything is now globalized and the economy is also now very complex. We buy and sell services, products worldwide. This is why we need cross-border payments. Most of the countries in the world use USD to do payments and settlements. It is the global currency and also foreign reserve currency. USD reserve of a country plays a huge role in the economy of a country. This is the case of Nepal as well. People use international payments in Nepal to do import and buy services. NRB has guidelines and directives for this but it is not easy to get.
Also Read: PayPal Account in Nepal
Banks do issue international card in Nepal. But these are under special terms and conditions. Normal Rupee domestic debit and ATM cards in Nepal don't work for such payments. Most domestic MasterCard and Visa are only supported in Nepal and India. However, if we need to do payments in USD, we need different instruments. Usually, banks do help to make payments using their cards for educational purposes with a small charge. But here we will talk about personal payment options.
Types of Cards Available in Nepal
We found that many people are confused about the different terms and aspects of this system. Let us clear out the confusion for you guys. There are three types of cards in circulation and they are as follows.
Credit Card
Debit Card
Prepaid Card
These are all according to how they are linked to your bank account or how they use money from the source. Debit cards are very common and most people in Nepal have debit cards. Debit means you use money from your account. These are linked to your bank account and the maximum limit of spending is the amount of money you have in your account. Then comes Credit cards and they are also connected to your account most of the time. Unlike the debit system, there is a higher limit for spending. This means you can take a loan from the bank or borrow and spend. However, you need to pay that amount in time. Else interest is levied on you. There are some different credit systems as well where users don't need an account. You can just use money in the approved limit and pay later.
The credit limit is set by banks. They decide this on multiple factors. They look at regular earning, statements, deposits, and transactions. It is a very critical thing and we advise everyone to be careful about these things. Finally, we have prepaid cards where users can load a certain amount of money and use it. They can either load from the bank or other direct deposit sources. These cards are issued by banks in partnership with various payment networks. Some popular payment networks are as follows.
Visa
MasterCard
American Express
SCT
Rupay
Maestro
UnionPay
How to Get International Cards though Nepali Banks
Most people get international cards from Nepali banks while traveling abroad. This is a very common practice and they are called Travel Cards. Most of them are prepaid and can be of any network like Visa or Master Card. They are denominated in USD and can pay online as well. Many people use it instead of carrying cash. They use prepaid travel cards to withdraw cash from ATM in a foreign country. They are very useful and versatile. Users don't have to worry about exchange and commission in a foreign country. People need to have a Visa and confirmed air ticket to get these payment instruments. By the way, the loading amount is subjected to NRB guidelines and restrictions.
People can also get international USD cards in Nepal for various purposes like making an online payment. These are issued to people and organizations that fulfill certain criteria. People and organizations need to have a permit from NRB or proof that shows earning in foreign currency (mainly USD). Usually, banks demand to see employer contracts and regular income proof. Organizations may also need to show other documents of tax clearance, VAT registration, MOU, request letter, and many other documents. NRB gives special permits to some businesses only. This includes hotels, tours, and travel operators. We can't simply get USD card in Nepal to make international online payments. There are restrictions and only people who fulfill the requirements get it. Do contact banks and find out more about their special requirements.
Nepali Banks that issue USD Cards
Very few banks issue international cards in Nepal. They all come under the strict scrutiny of Nepal Rastra Bank. This is to prevent the outflow of dollars out of the country. A country needs US Dollars to pay for import, international loans, and do other settlements. Nepal has a small foreign currency reserve. And the government wants to save it by restricting outflow. A country earns USD or foreign currency from exports, selling services, remittance, etc. Our export is small so there are a lot of restrictions for cross-border payment. However, we also have some problems in receiving money from outside using electronic methods.
Class A banks issue such payment instruments after reviewing your application and papers. Each bank has different rates and charges for issuing and renewal. They also have different network partners like Visa and Masters Card. Some also have American Express cards. We found that most banks issue only USD credit cards instead of debit cards. There are actually many benefits of having a credit card though. But getting one requires fulfilling some high standards and criteria.
People can use any debit, credit, or prepaid card for offline and online payments. The international cards issued by the A-class Nepali banks can pay in online sites, unlike regular domestic NPR cards. You can use almost all of them in ATM to withdraw cash also. This is why all of them are also ATM cards. Here we have listed a few from Nepali Class A banks.
NIBL Visa Gold and MasterCard
NIBL has many options for making payments. Nepal Investment Bank offers Visa Gold Credit cards to its customers for international payments. The card department confirmed that these cards work worldwide and for online payment as well. NIBL USD Gold Visa is a credit card in Nepal that can be obtained with an NRB permit, FCY (Foreign Currency) account, or foreign Visa. Their joining fees are $25 and the yearly charge is also $25. In comparison, they are quite expensive than other banks.
NIBL also has international MasterCard. This was launched in 2018 and expanded the company's payment network. This is actually an international debit card and people need to fulfill regular requirements to obtain this. The network doesn't matter that much because they both have similar capacity and benefits. What matters is yearly charges and benefits. However, one thing to consider is that getting a debit card is easier and cheaper. Details, requirements, and charges are written on NIBL's website. Refer to the standard tariff page for details on all fees.
Global IME Bank Visa Gold
Global IME issues Visa Gold international credit card for its customers. It is for Nepalese or foreign citizens who have convertible foreign currency account. You can have an FCY account in Global IME or other banks as well. The service charge rate is a service charge rate of 24% per annum. The credit limit starts from $1,000 and the cash withdraw limit is 25% of the maximum ceiling. Visa Gold has a higher purchase capacity and many benefits. The benefits are provided by banks and networks. You can read more details on Global IME's website.
Citizens Bank (CBIL)
They offer both debit and credit cards with the Visa network. It is very good to have both choices. In general international debit card in Nepal is easier to avail of compared to credit cards. Nepali citizens who have USD account in Citizens bank can avail of these. Travelers can also get this using Passport, Visa, and air tickets. People who are traveling to India can't get this. Citizen's Visa debit card has a $600 daily ATM transaction limit and $2000 daily plus monthly online payment limit. The withdrawal charge at home ATM is zero but the charge in other's ATM is $5 per withdrawal.
Citizen's Visa Credit card is another option from the bank. It has a few more benefits but the paperwork is quite high. Applicants need documents like PAN card, financial statements, accreditation certificates, and much more. Do consult the bank for more information on this. The charge is also quite high for this. CBIL charges a $15 annual fee and a $5 over-limit fee. The card limit is set by the bank according to your account standing and expenses. All details about these are given in the Citizens Bank website.
Nabil Smart MasterCard International
Nabil bank also offers USD MasterCard in Nepal to the customers. They also guarantee online payment capability. The joining fees is $25, the yearly charge is $10 and over limit fees is $10. Nabil issues the USD denominated credit card for its customers on USD account basis. One should have a USD FCY account in Nabil or any Class A bank in Nepal. This MasterCard is credit so there is 2.25% interest/month, $5 late payment fees, and 1% cross border fees. This works everywhere except in India. For India, all normal domestic Debit/ATM cards work. For more details, check Nabil Bank's website and contact the nearest branch.
Himalayan Bank (HBL)
The Himalayan Bank has a wide range of international cards. The bank offers Visa Classic, Visa Gold, Master Card International, and American Express Gold. They have different rates for each product. We found that the cheapest one is the Visa Classic and expensive is Amex Gold. People with higher income and expenditure can easily get premium cards. They have higher benefits but the bank will issue them by looking at your account status and history. Some benefits include access to lounges in airports, discounts, loyalty points, and additional services.
Visa Classic and Gold international cards are issued for personal use and corporate usage. The document requirements are different for each. MasterCard international is also issued for both personal and corporate purposes. Finally, there is the American Express. Most banks in Nepal don't issue Amex cards. It is a rare breed and has a very high reputation. Himalayan Bank American Express Gold International credit card is for the traveler and high earners. The limit is variable can be anywhere under $2000-$5000 according to customer. Joining fees is $15 and annual fees is $15. There are many benefits included like membership of airport lounges, offers in shopping, travel, and dining. More details are given in the HBL website.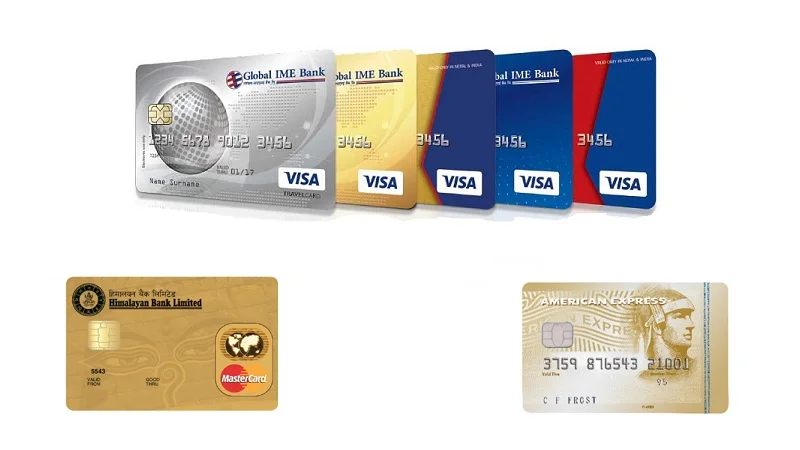 Payoneer Cards
There are many freelancers in Nepal. Some work in content creation, some work in editing, software development, and various service-related sectors. They need to receive payments from abroad, pay, and also withdraw cash. Therefore many of the Nepali citizens use Payoneer service. They provide payment receiving and also card service. The Payoneer MasterCard can be used to withdraw cash in Nepali ATM and pay online as well. It is famous and used by many people all around the globe. By the way, there are certain charges associated with it.
Payoneer is very popular among online freelancers. Many bloggers, affiliate marketers and online workers use this. There are many perks to it and the joining process is also very easy. It is not has tiring and hard as banks in Nepal. All you need it to receive payments and when you reach certain amount in your account, you can order the cards.
Conclusion
We can see that getting an international card is not easy in Nepal. You need to fulfill many requirements and need a lot of paperwork. It is easy for organizations and individuals who work in INGOs and earn in USD. Else it is quite difficult for everyone. However, if you get USD card from Nepali banks you can use them for PayPal as well. But banks tend to make customers run a lot for this service. Mostly I saw that many bank staff don't know about these things. So be patient and courteous with them. Tell them politely and if they don't understand talk with senior officials.
Try to get all the paperwork before and then apply. There are many necessities. Almost all banks have listed them on their website. Also be clear that banks can issue credit, debit, or prepaid cards with the help of any network like MasterCard, Visa, or American Express. Many people have the wrong perception that only MasterCard can do international payment or online payment. Everyone can do until the network is supported and it is international with USD denomination. We hope that all of this information helps you to get some knowledge on this topic. If you have any more things to add, do share with us.