November 11 is coming, which is Singles day, also known as 11.11. This day is called Singles day because of all digits 1 on the date. Daraz Nepal always celebrates this day with special sales. It is actually a Chinese tradition, and Daraz has been celebrating this for a few years. The company started celebrating after its acquisition by Alibaba. This year Daraz 11.11 sale of 2021 is on November 11th or Kartik 25th for 24 hours. As always, there are many deals, schemes, offers, discounts, payment promotions, flash sales, games, and vouchers. Singles Day sale is actually the world's biggest sale in terms of value and goods amount.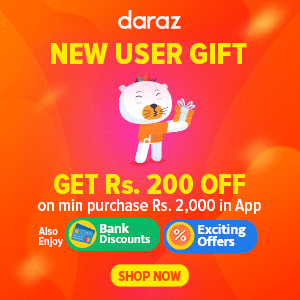 The Singles Day sale is also known as the "Global Shopping Festival" because it is huge. This year Daraz Nepal will host more than 12000 sellers and their products. There are many Nepali and international brands participating in the Daraz 11.11 campaign. Each year we see growth in the number of sellers, offers, products, and footfalls in the sale. There are many things like Mega Deals, prepayment discounts, free shipping, flash sale, and vouchers.
Nepali eCommerce sector is rising, many people are shopping online than ever before. People are shopping online and making more digital payments. Therefore this year, Daraz is predicting to have a bigger sale than last year. Daraz 11.11 Sale of 2021 has 5 crore discounts on 11 lakh products and 11 TVS motorcycles as part of the mega giveaway. There are other things such as payment promotion, EMI, one rupee game, and add to card and win.
Daraz 11.11 Offer 2021 Details
Daraz has increased its capacity and partnership for the 11.11 sale. They have hired 1400 new employees which includes customer service agents and 1000 new delivery agents. The company has also added Daraz products drop-off locations in different parts of the country. The company is prepared to deliver goods fast in multiple new locations inside Nepal. This includes many popular Tier 1 cities across Nepal. In this 24 hours sale, there will be many items available for purchase. There are many benefits from partnering banks and brands as well. So let us have a detailed look at those.
Also Read: Best Tips to avoid problems on Daraz 11.11 sale
Payment Promotion and EMI
Daraz is partnering with Nepali banks to provide discounts on prepayments using cards. Customers can enjoy up to 15% or a maximum of Rs 3500 discount with prepayment using debit or credit cards of partner banks. You can use debit and credit cards from Nabil Bank, Citizens Bank, Global IME, Sanima Bank, NMB Bank, Machhapuchchhre Bank, Kumari Bank, Nepal SBI, BOK, Mega Bank, NCC, Himalayan Bank, Everest Bank Limited, and Shangrila Development Bank. Users can also pay using cards from other banks. The list is available on the Daraz website.
You should verify that the card works for online payment by contacting the bank if you don't know. If you have already done such payments and shopping, then you don't need to worry. Daraz says customers can also test by playing Daraz 1 Rupee Game. In this, users can win selected products by paying Re 1 with eSewa or card. If you don't win the money is refunded back to the source. So in a sense, there is no loss and there is a chance to win by playing as well.
The Daraz 11.11 campaign 2021 is also supporting payment promotion using eSewa and IME Pay. So if you don't have a card for payment, you can enjoy some promotions using eSewa and IME Pay digital wallet. However, credit card customers of 4 partner banks can also avail easy monthly installment plans (EMI) on 0% interest. NIC Asia, Sunrise bank, Citizens Bank, and Machhapuchchhre Bank credit customers can enjoy EMI on 0% interest.
One Rupee Game
This is a popular and simple game that runs in every festival campaign from Daraz. In the 1 rupee game campaign, Daraz few special products at Re 1. Users can select the products they like from the list and pay just one rupee for each product. The payment can be done using cards or mobile wallets. A lucky draw happens and if you win the product you get that for just one rupee else your money is refunded. So there is no loss at all. For the One Rupee game of Daraz 11.11 campaign of 2021, there are 6 products and they are as follows:
Huawei Watch GT2 Pro Nebula (Rs 34,999)
Alkatel TKEE MINI Smart Tablet (Rs 13,490)
OnePlus 9 5G (Rs 104,999)
Samsung A03s (Rs. 16,999)
Shree Balaji Diamond Pendent and Earring Set (Rs 1,00,000)
Realme GT NEO 2 5G
How to Play One Rupee Game in Daraz
Follow these simple steps to participate in the game and win prizes at just Rs 1.
Open the Daraz mobile app or website
Click on 11.11 icon or campaign banner
Select or navigate to the One Rupee Game section
Select the products available in the game and priced at Re 1
Add all the product to your cart.
Proceed for checkout
Click on Proceed to pay
Select Debit/Credit Card, Esewa or IME pay for payment
Make the payment using OTP and wait for confirmation
Mega Giveaway and Prizes
Daraz 11.11 sale includes various games and challenges. There are schemes like "Add to Cart and Win", and Mega Giveaway. In the "Add to cart and win" offer, the customer can win vouchers worth Rs 500 when they add products to their cart from the "Add to card & Win" section. This means if you select products earlier and keep them on the cart, there is a chance to get a discount fast and purchase soon plus there is also a chance of winning a voucher. It is usually beneficial to browse products beforehand to get the product fast and also to have a chance to win.
In the mega giveaway, there are 11 motorcycles. Daraz and TVS are partnering for this giveaway. TVS is an exclusive partner for Daraz 11.11 sale 2021 and they are giving away 11 TVS Raider motorcycles to lucky winners. This is a big value prize from Daraz.
Also Read: Daraz 12.12 Best Deals, Discounts, Offers
Vouchers, Brand Rush Hour and Free Delivery
There is free delivery for all Daraz customers during the 11.11 campaign. However, the minimum purchase amount and eligibility are set by individual sellers. This means each seller can have a different purchase value to provide free delivery.
Daraz has many collectible vouchers which can be used for purchasing products during sales. New users can get Rs 200 as a new user voucher. In addition, users can also follow stores and collect more vouchers. There are other vouchers available as well that can be of high value such as Rs 1000, Rs 2000, and even Rs 3000 but they have a minimum spend limit as well. Such vouchers are only applicable when the product price is above a certain rate.
Special Deals Section
There are special deals sections in the Daraz 11.11 campaign where users can find products under a certain price range. For example, there are sections such as "Deals Under 999", "Deals Under 1499" and "Deals Under 2499".
Daraz 11.11 Exclusive Product Deals
We browsed through different categories to see for good deals and products. There are many products in the sale and from different categories. There are laptops, computers, tablets, drones, consumer electronics, home appliances, footwear, garments, fashion wear, clothes, kitchen items, exercise products, fitness products, and more. However, the company also has some exclusive deals on DarazMall products. These products are genuine from official stores and the companies are offering exclusive prices for the campaign.