Dashain is here, and every company is offering its festival offer. Just like everyone, Daraz is also organizing a campaign for this festival. People shop for a lot of things during Dashain and Tihar in Nepal. This can include clothes, food, vehicles, electronics, and gadgets. So this year the Daraz is here with "Dashain Dhamaka" which is an online festival sale for this year. Daraz Nepal Dashain Offer for 2078 has different deals, price cuts, discounts, vouchers, pre-payment discounts, free shipping, and prizes for customers. This Dashain offer is valid from September 26th, 2021 (Asoj 10th 2078).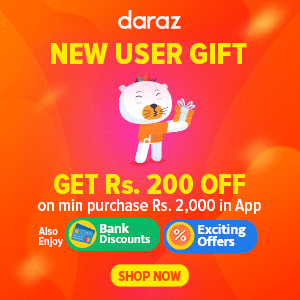 Daraz Dashain Dhamaka sale happened last year as well. So we believe that it is the name of their yearly campaign. Similar to last year, there are exclusive deals, discounts, vouchers, price cuts, special product launches, and games in Daraz Nepal Dashain Offer 2078. Some other additions to this scheme include prepayment discounts, free delivery service, and bumper prizes. TVS and Rakuten Viber are the exclusive partners for Dashain Dhamaka this year. This is the reason, there is one TVS NTORQ 125 scooter as a bumper prize in this campaign.
According to the company, this is a mega campaign and it will feature lucrative deals and price cuts on different products. This mainly includes gadgets, smartphones, consumer electronics, home appliances, fashion items, accessories, musical instruments, kitchen utensils, and home décor.
Daraz Nepal Dashain Offer 2078 Details
There are a lot of things in this Dashain targeted online sale campaign. Mainly Daraz has focus on a few key things of the scheme which include free Shipping, online pre-payment discounts, mega vouchers, 1 Rupee Game, and TVS NTorq 125 Scooter as the Bumper Prize. In addition, people can also get discount vouchers daily through Daraz's new Live streaming feature during the campaign period. The Dashain campaign also has highlights such as Rush Hour, Image Review & Win, New User Voucher, Game Zones, Follow & Win, Seller Vouchers, and Hot Picks. Overall there are a lot of things in the Dashain Dahamaka from Daraz.
Related: Samsung Nepal Dashain Offer 2078
1 Rupee Game is also present in this scheme where customers can participate to win prizes at just 1 rupee. People need to make a prepayment of 1 rupee using the online prepayment option to participate. Daraz refunds the money if you don't win, so there is no charge in total. Daraz only takes the money if you win the prize. Winners can get two nights three days round trip to Pokhara for couples, Realme C21Y smartphone, Mantra Mukti Acoustic Guitar, Yasuda Alkaline Water Purifier, and Shree Balaji Diamond Earring worth Rs 50,000.
As always, this campaign of Daraz is filled with vouchers. There are many discount vouchers available on the site. One of the biggest or high-value codes is "DDSLASH5000" which can provide Rs 5,000 off. The company is calling these high-value discount codes Mega Vouchers. There are many other codes but they all have conditions of certain minimum purchase. So be careful of these limits and apply according to your cart.
Exclusive Brand Deals
Daraz Nepal Dashain Offer 2078 is providing exclusive deals on smartphones from brands such as Samsung and Apple iPhone. There is also an exclusive launch of Realme C21Y on 26th September exclusively on Daraz. Interested customers can also pre-book Reamle C21Y. The pre-ordering customers will get delivers when the retail launch is announced. Moreover, people can get discount vouchers via Daraz Gems which is a new reward point system from the company.
Daraz is partnering with some companies to provide discounts up to 70% on select products. The partnering brands are Xiaomi, Philips, Converse, Lotto, Erke, CG Digital, Panasonic, New Balance, Mamaearth, Fantech, Samsung, Realme, and more. There are even top-rated Indian brands in the Daraz Dashain Dhamaka such as Ustraa, InWeave, Ayesha, and Janasya. People can also shop for products from Daraz's Global Collection during this festival season and get discounts.
Also Read: Nepal Telecom Dashain Offer 2078
Payment Promotions and Discounts
Daraz is partnering with few Class-A banks of Nepal for providing discounts on prepayments through credit and debit cards. They are partnering with leading banks, including Nabil Bank, NIC Asia Bank, Sanima Bank, Global IME Bank, NMB Bank, Machhapuchchhre Bank, Bank of Kathmandu, and Citizens Bank. If people use cards from these banks for prepayment, they can get discounts on products. In the case of debit cards from these banks, there is up to a 20% discount or a maximum of Rs. 2,000 off. Similarly, in the case of credit cards from these banks, there is also a 20% discount but a maximum of Rs. 2,500 off.
Related: Xiaomi Nepal Dashain Offer 2078
Customers can easily save a pretty significant amount of money using the pre-payment option from cards. For paying online, customers should enable an online payment facility on their cards. Most banks readily make it available for their users these days. However, if you are not sure, do confirm from the nearest bank branch or card center. Online transaction activation is free of charge in almost all banks.
In addition to pre-payment promotion, credit card customers of NIC Asia Bank, Sunrise Bank, Citizens Bank, and Machhapuchchhre Bank can enjoy 0% interest EMI plans. IME Pay and Esewa users can also get additional discounts of up to 10% or a maximum of Rs 1,000 when making payments through their digital wallets.
Companies, banks, and governments want to promote online business and digital payment. This is good for everyone because the future is going to be cashless. It is always good to take benefit of these kinds of offers and take discounts using these payment methods. It helps to boost such practices and improve this cashless economy.