Daraz Nepal is hosting Laptop Mega Sale on this summer of 2075 B.S. They are giving lots of discounts on many branded laptops. Also, this is in association with Vianet Communications. So the company is also providing a free internet connection with each laptop purchase. There are different discount rates on different PC products. But whatever model you purchase, it is sure that you will get a free internet connection. This is a great package deal and it is applicable for all brands. So let us have a look at the deals in Daraz Laptop Mega Sale.
Daraz is an online eCommerce site working in Nepal. They do hold and organize many schemes and sales every now and then. So, on this Baisakh of 2075, they are running mega laptops sale on their site. There are lots of laptops on Daraz's site and they have options from various brands. We can get different models at different price ranges. This includes low-end notebook to high-end gaming laptops. These days Nepalese people buy more laptops compared to desktops. This is due to increased power, portability, and decreasing price.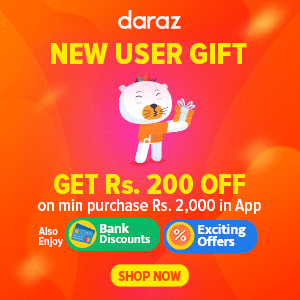 Buying a laptop is a big commitment because we use it for many years. It is someone's work device and someone's study device. This is why you should be very careful while making a purchase decision. For now, we want to give a few suggestions to consider while purchasing a laptop.
Aim to get the latest processor.
Choose the model with a dedicated graphics card for gaming and graphical work.
Consider weight and battery life if you are a regular traveler.
Try to get a model with SSD for better speed.
Daraz Laptop Mega Sale Offers, Price and Details
| | | |
| --- | --- | --- |
| Model | Processor | Price |
| Lenovo Ideapad 120 | Intel Celeron N3350 | Rs 30,000 |
| Dell Inspiron 3567 | Core i3 7020U | Rs 43,990 |
| Dell Inspiron 5570 | Core i5 8250U | Rs 62,990 |
| Acer E5-476G | Core i5 8250U | Rs 63,945 |
| Lenovo Ideapad 320 | Core i5 7200U | Rs 70,000 |
| Dell Inspiron 5570 (4 GB Radeon 530) | Core i7 8550U | Rs 83,490 |
| Dell Inspiron 15 7567 (4 GB GTX 1050 Ti) | Core i7 7700HQ | Rs 1,29,000 |
| HP Spectre 13 X360 | Core i7 8550U | Rs 1,44,990 |
| HP Omen (GTX 1070) | Core i7 7700HQ | Rs 1,76,990 |
| Dell XPS 15 9560 | Core i7 7700HQ | Rs 2,90,000 |
These are some of our favorite laptops from this offer. We are trying to include special products of all price range here. The Dell XPS 15 is a premium laptop with very thin and light design. It looks very professional and has a great build quality. HP Omen and Spectre are also high-end computers with Core i7 processors.
Dell Inspiron series also come with new coffee lake chips. Their price is also very reasonable if we see the specs. The Dell Inspiron 5570 is a very good option if you want a new Intel CPU and a graphics card. It can be a good play and work solution. The XPS also offers a good gaming experience but it is mainly for work. For a cheaper option, we have Lenovo Ideapad 120 which is being offered at Rs 30,000 ($300). These are some options that caught our eye.
Hardware, CPU and Choice
Our honest suggestion to new buyers is to choose a model with the latest generation processor as far as possible. Therefore for this year its 8th Gen Intel Coffee Lake processors. These new chips offer double power at the same price. There have been several improvements. Unlike before, all new Core i5 CPUs now have 4 cores minimum. So users won't need to spend more money on Core i7 if they need quad-core CPU.
The 7700HQ is a very common powerful quad-core chip and it is found in many models. The new i7 8550U is also powerful but not as fast as 7700HQ. This is why just don't pick the latest chip. You might get a better offer for an older model and get better value. Mostly new models have a high price and older have a lower price tag. This is why you should always compare and make a decision.
Also Read: MSI Gaming Laptops with 8th Gen Intel Coffee Lake CPU
Our suggestion is that get a model with a dedicated graphics card as far as possible. External GPU will provide power for gaming, video/photo editing, high-quality video playback, and other software as well. Also, try to get SSD as far as possible because they help to get the best performance during software loading and work. HP Omen with GTX 1070 is our choice for gaming and Dell XPS 15 9560 is our choice for work.
Free Vianet Internet Connection Offer
Vianet is a partner of this offer and they are providing a free Internet connection to every customer. They have three schemes for each type of customer and price range. First, for the purchase of any laptop below Rs 50,000, they are giving free 30 Mbps connection for 3 months. For laptops within range of Rs 50,000 to Rs 1,49,999, they are giving 30 Mbps connection for 6 months. Customers who make a purchase of above Rs 1,50,000 will get a free 1 Year subscription of 60 Mbps package. However, all customers will need to pay Rs 1,500 refundable deposit though.
Related: Best ISP in Nepal with details
This means people are getting a new connection with each purchase. It is good for people who are just getting into this world. Many people might already have an internet connection at home. It would be better if Vianet adds the subscription value to existing customers who purchase a new laptop. Another compensation for customers who have a connection with other ISP could also make this deal even better. Leaving these things aside, we see a good collection of new and old laptops in the Daraz Laptop Mega Sale. If you need to buy a new portable PC then, read the specs carefully, study review, and then only make a purchase.