This winter of 2018 in January, Daraz Nepal is having Electronics Sale Week. There are many deals and discounts ranging up to 66%. The program is starting from January 8, 2018. It is a limited time sale so keep checking on the offers. Daraz is providing discounts and offers on Smartphones, TV, Home Appliances, camera, computer and mobile accessories and much more.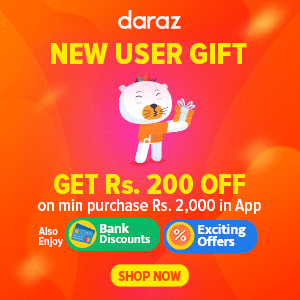 The company keeps organizing such offers and new deals. Company's website states maximum 65% discount on mobile phones, 53% on TV, 34% on Laptops and 20% on home appliances. These are maximum discounts on items of those categories. There is a very good chance that product you like may be in a good offer.
TV: Daraz Nepal is giving good deals on mobile phones, computer parts, monitor, office equipment and accessories. Samsung TV and monitors have a good price cut listed in website. There is about 35% cutoff from original price according to their website. Full HD monitors, Smart and 4K TV are also receiving price drop. Popular companies like Panasonic, Sony, IDEA and Rowa are also providing discounts on their Televisions.
Smartphones: The claimed 66% discount is on Colors Windows phone. There are great deals or huge drops on price of Micromax, Panasonic and Obi smartphones as well. Karbonn, Lava, Zoppo, OnePlus, ZTE, Samsung and Nokia phones are also in the sale. Some popular phones include Galaxy Note 8, OnePlus 3T, Huawei Nova 2i and latest Mi Mix 2. All phones have different price cuts rates.
Accessories: In case of accessories, headphones and Bluetooth speakers are getting discounts from Daraz Nepal's electronics week. Mostly there are JBL products then miscellaneous products like VR Box, splitter from other manufacturers. Keyboards, mouse, laptop bags and USB hubs are major attractions on computer peripherals department.
Camera: There are may Go Pro mount, tripods, action cameras and DSLR for sale. Canon camera, DJI Drones are few notable products on display. We can find many stabilizers, action cams and tripods in the section. There aren't many high end cameras for purchase though still the section is worth a look.
Computers
In the Daraz Nepal 2018 Electronic sales, there are deals and discounts on laptops, desktops and monitors. Acer, Dell, Alienware, Lenovo, HP, MSI, Apple etc are providing many new models. There are fresh models, gaming laptops, Dell XPS , notebooks. Latest products have 7th gen Intel chips and GTX 10 series graphics card.
Small compact pre-built like Dell Optiplex, Vostro and HP Pro 400 can be obtained in this week at good price. There are many products in this season so we recommend you visiting the site and see the good for yourself. We hope to see more of such programs in future. Our advice to readers is to keep eye on such events regularly.