New Year 2076 is here in Nepal. Many companies are coming up with different offers and schemes. On this same occasion, Daraz Nepal is also hosting New Year 2076 sale. This is being called "Nawa Barsha Dhamaka". It is 8 days long scheme with sale and discounts on many products. The sale is going to start from April 10th or Chaitra 27th and will end on April 17th or Baisakh 4th of 2076 B.S.
Nepalese people celebrate many new years. Main are English and Nepali then follows cultural and religious ones. All have equal importance for people of each community. In ceremony and occasions, people tend to buy new things and companies also provide good offers to cater to those needs. Daraz also has Shake Shake offer ongoing which provides vouchers to winners. Those winners can use those vouchers for shopping during this Nawa Barsha Dhamaka sale.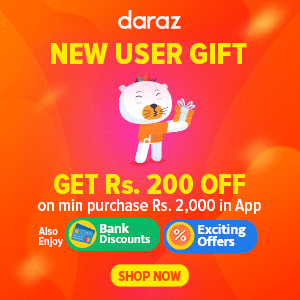 There are a few main attractions for Nawa Barsha Dhamaka event. The company is giving a maximum 60% discount on selected products. This is the highest rate and there are price drops on many products at a different rate. Daraz is also giving different types of vouchers. They are named Crazy and Mega vouchers. The Crazy voucher is worth Rs 4000 while the Mega voucher is worth Rs 5000. These can be used to purchase anything from the site.
Deals and Offers Details
Daraz is going to host Flash Sale and Megal deals during this scheme. There are also plans for Mystery box. In Mega Deals, there are products from many famous brands. Many companies are participating including Xiaomi, Adidas, Clovia, Sony etc. The sale includes products from a different category such as electronics, cameras, beauty products, clothing and much more.
The company is going to provide discounts on various goods. They will also gift vouchers to lucky shoppers. On top of that, there is a lucky draw as well. One lucky winner can get 32″ Android Smart TV from Videocon. All people can get free delivery when their order is worth Rs 1000 or more.
In the store, we can see that Daraz is also selling tour packages, spa services and much more. As this event is also taking benefit of the above mention Shake That App or Shake Shake offer, it will be beneficial to use their app to get the best value. Flash deals are very common in Daraz website so do keep an eye on them to land a good deal. People can also get vouchers just by following some sellers so do that as well.
This New Year sale is long and there are many products to choose from. As summer is approaching many people might be interested in summer clothing, shades, accessories, etc. Many other people also might be searching for gadgets, phones, and electronics. Daraz is covering almost all categories for this offer period. They have partnered with multiple brands for this and we advise you to purchase from Authentic profiles and companies from Daraz Mall as they are official and they also provide easy return option.
We hope that all of you find what you need in this sale at the best price. Sale and discounts are good and we wish that companies host them very often. Happy New Year everyone and have a great one.