Daraz is fully prepared to bring good offers to Nepali customers on New Year 2076. They organized Titan Watch sale a few days ago and now they are teasing a new thing. Since a few days in Daraz website and app, we can see, "Shake That A***" posters and posts. Instagram post of the company asks people to guess the missing letters. People are guessing many words such as ATM, Art, Arm, etc.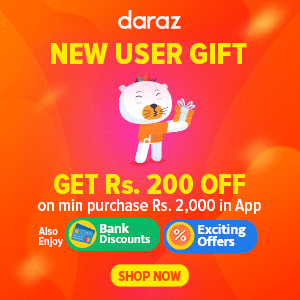 The marketing team is up to something and many of us are interested. All we care is the best deals for customers. Everyone wants good discounts and goods at less price. In the site, one banner says it is coming on April 8th 2019. The company is also going to host Nawa Barsa Dhamaka sale soon. Daraz is gearing up heavily for the New Year 2076 sale which is good.
Now let's talk about the new scheme. There is a video on this new "Shake That A__" scheme. It shows everyone is shaking their phone and in a happy mood. This should suggest to viewers that there is some link to the mobile phone.
Scheme reality and details
At the end of the video, it says "Shake that App". This is why people are shaking their smartphones. In this new scheme, people can log into Daraz's mobile app between 10:30 AM to 9:30 PM daily from 8th to 12th April. There are various game sessions in different time slots each day. In total there are three sessions. The first session is between 10:3 AM-11:30 AM. The second session starts at 3:30 PM and ends at 4:30 PM. Final session starts at 8:30 PM and ends at 9:30 PM.
Be ready at session time and log into the app. Users should shake their phones with the app running when they see "DAZ" on their homepage. Users should shake their phone as fast as possible in that given session. Beware and be very cautious while shaking and don't throw your phone.
Users get vouchers and they can use those while checkout from 10th 17th April. This seems to be the date of Daraz's Nawa Barsha sale. It looks like a good idea to get people excited about the season-long offers. There are many top featured brands in this sale such as Reebok, Paragon, Miniso, Adidas and many more.
Be Prepared for New Year Sale
As we can see that all this is for collecting vouchers. Users can spend these vouchers on the upcoming sale which is going to be huge. The new year sale is called Nawa Barsha Dhamaka. Daraz is preparing many deals for the users so it will be good to make a list. The company is directly offering Rs 250 off with just simple code in their site. The Shake that app offer can help you to collect more such vouchers. So all we want to say is be prepared to get more deals and discounts.
If we look at the trend, we may see more such offers in the near future. Be ready for them as well. To be more informed on such deals and news, keep following us regularly.