Starting from Baisakh 2073, Nepal Telecommunication Authority (NTA) has started a new program to keep record of all imported and running mobile electronic devices in Nepal. There were a lot of confusions and questions lurking around. So we had an interview with officer of NTA. If you are bringing or have already imported a smartphone or SIM using tablet then you will have to register your device. This is free of cost and all users need is fill a form and submit with some documents.
Many people were asking a lot of question and there was very less information so we went to the office as we were also importing one mobile for our staff. The officers told us that this is the Phase One and it is running till Karthik of 2073. Within this period people will be made aware of this program. This is actually being done to help mobile phone tracking via IMEI and control illegal mobile imports that is costing revenue loss to country.
We asked NTA officer some of questions to know about situation clearly. As we were importing the mobile from America by buying it from Amazon, we didn't have any bills. So we were curious and presented many possible scenarios. Many of us bring phones from our neighbor India because it is cheap due to presence of manufacturing plants. Nepal Telecommunication Authority said that people need to register all imported mobile phones regardless of source country.
The NTA said that it is to help the people to make electronics devices traceable and also to channelize the import of mobiles. The officer said that they aren't focusing on registration of locally operating and locally sold mobile but they plan to do it on future. People only need to fill a small form by providing IMEI /MEID/ESN number, company name, model name and some personal details attached with photocopy of citizenship for Nepali or visa for foreign personnel.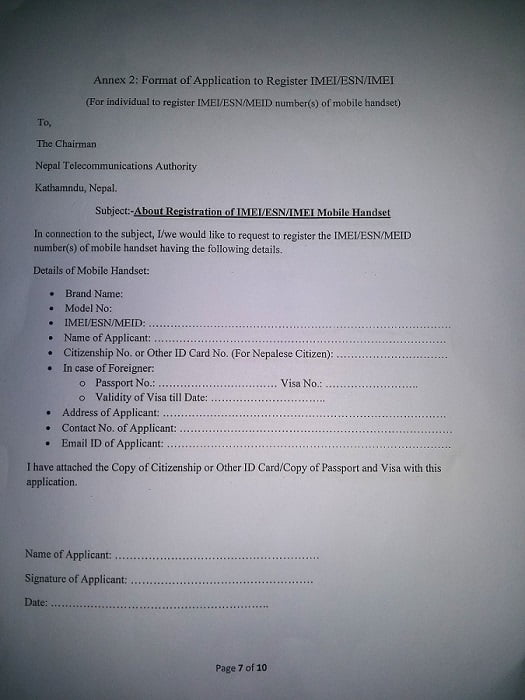 In this first phase the authority is just focusing on mobile phones bought in grey market and devices brought from abroad. The authority is expecting peoples help in this project. Samsung's mobiles take the biggest share in the market for grey market or illegally imported phones so they may be very happy with this.
How To Register:
Currently you can go to the office with required documents like photocopy of citizenship certificate/visa/ driving license and fill the form in office and submit them. The office said online service is on the way which will remove all this hassle.
Status:
Mobile Imports association and NTA are working to block illegally imported phones. People are allowed to bring mobiles as gift and for personal usage. This project is to fight against illegally imported phones which haven't paid tax. They are also working to let all the previously imported phones work. It is only applicable for device that has SIM support. If your device doesn't have SIM card slot then there is no problem. Around 200000 devices have been already registered. Message notifications will be sent to unregistered mobile phones soon.
This project has just begun and many people are showing interest. People have started registering their phones. We also suggest that you register your imported phones soon. NTA stated that they are monitoring public feedback and they will react as it tells. A website is also being created to help people register their devices easily. For further question ask us in comment or you can contact NTA at Kamaladi as well.