A computer casing houses every important part of the CPU tower. It is very important to choose the correct desktop computer case due to many reasons. The reasons may be airflow, space, cable management, and expansion. Many users buy simple cabinets at the lowest price while some buy big luxurious cabinets. However, these days some people want better, more powerful, strong, and good looking cases. In Nepal, we can get desktop cases from many manufacturers. Therefore we have compiled a list with details of computer case price in Nepal. This includes normal, heavy-duty, fancy, and gaming CPU cases.
Every computer part and accessory is important. Internal components such as processor, motherboard, graphics card, etc are very important. All of those components are inside the PC chassis so we have to take care of it. There are many reasons to choose the correct cabinet and there are many factors that affect the choice. The most important factors that affect choice are the size of the motherboard, graphics card, power supply, fan support, cooling, airflow, cable management, peripheral dimension, and future expansion.
Related: Budget Graphics Cards in Nepal
Computer Case Price in Nepal
Nepalese market has a lot of options on desktop computer cabinets. There are products at all price ranges. This means we can have a lot of options for any budget. For now, we have listed models that we could find in the market. Here, we have MSI, Aresze, Cooler Master, NZXT, Antec, Gamemax, Corsair, Thermaltake, Antec, Imperion, Fantech, and Goldkist cpu case in Nepal. All the price of products from each company is separately listed below. This comprehensive list includes gaming case price in Nepal from various brands
Also Read: Gaming Monitor Price in Nepal
Goldkist CPU Cases
Goldkist is a popular brand in the Nepali market. They have had their products in the market for a long time. In the normal PC case segment, they are taken as a better option compared to other brands. I have also used two normal casings from Goldkist on my two old computers. Goldkist also has a subsidiary brand Aresze. Mostly Goldkist is normal home and office using designs while Aresze is gaming. So in this list of PC case price in Nepal, we have both. There are products from both brands in Nepal. Both brands have normal gaming cabinets in the market. So here is the list of Goldkist casing price in Nepal.
| | |
| --- | --- |
| Models | Price |
| Goldkist Q2, Q15, Q19, Q20, 116B, 880B (Light Weight) | Rs 2,820 |
| Goldkist 3303 (With Transparent Side Panel) | Rs 3,180 |
| Goldkist 6010B | Rs 7,600 |
| Goldkist 7209B | Rs 8,800 |
| Goldkist 8231B (Heavy) | Rs 10,600 |
| Goldkist Multimedia Casing Master T4000 | Rs 13,150 |
Aresze CPU Cases
It is the subsidiary of Goldkist. Usually, these cases are also known to be from Goldkist according to the sellers. Goldkist actually has a reputation for normal PC case and Aresze usually has a reputation for gaming cases. So people know Aresze for their gaming looks and build. Here is a list of some Aresze gaming CPU case price in Nepal.
| | |
| --- | --- |
| Models | Price |
| Aresze 1092B | Rs 9,600 |
| Aresze Z689W | Rs 11,400 |
| Aresze Z22B | Rs 12,600 |
| Aresze 8231B | Rs 12,600 |
| Aresze 8704B | Rs 14,400 |
| Aresze T-Moon | Rs 23,400 |
MSI CPU Cases
Micro-Star International (MSI) is well known for its high-quality products. This includes motherboards, graphics cards, monitors, coolers, SSD, and gaming accessories. MSI also sells high quality computer cabinets in the market. They have a good number of options to choose from. MSI mainly has MAG series casings in the Nepali market for PC builders. So here are some of the MSI PC cabinet price in Nepal.
| | |
| --- | --- |
| Models | Price |
| MAG Forge M100A | Rs 12,000 |
| MAG Vampiric 100R | Rs 13,200 |
| Mag Vampiric 010M | Rs 13,500 |
| MAG Forge M100R | Rs 15,000 |
| MAG Forge 100M | Rs 14,400 |
| Mag Forge 100R | Rs 15,600 |
| Mag Bunker | Rs 20,200 |
| MPG Gungnir 100D | Rs 24,600 |
| MPG Gungnir 1010R | Rs 27,600 |
| MPG Sekura 100R | Rs 31,200 |
Cooler Master CPU Cases
Cooler Master has a very large offering for computer casings in the Nepali market. They have all types of form factory including Mini ITX, ATX, Mini ATX, and E-ATX. The price range also goes from baseline affordable budget to expensive flagship range. The price list from Nagmani includes normal PC case price in nepal to expensive PC cases in the market. The option is very big and Cooler Master is certainly the company with most cabinet products in Nepal.
| | |
| --- | --- |
| Models | Price |
| CMP 250 | Rs 5,500 |
| K380 | Rs 6,875 |
| Elite 311 | Rs 7,000 |
| K380 (USB 3.0) | Rs 9,375 |
| MasterBox Q300L | Rs 9,375 |
| E500L | Rs 10,375 |
| MB510L Trim | Rs 11,250 |
| Elite 110 (With 400W PSU) | Rs 11,625 |
| Elite 311 (With 400W PSU) | Rs 11,750 |
| K500L | Rs 12,500 |
| CMP500 | Rs 13,750 |
| K380 (With 400W PSU) | Rs 15,125 |
| Masterbox 5 | Rs 15,625 |
| Masterbox TD500L | Rs 16,250 |
| MasterBox MB500 TUF | Rs 16,250 |
| Masterbox Lite 5 RGB | Rs 17,500 |
| Masterbox 5 MSI Edition | Rs 17,500 |
| MasterBox K501L (With 700W PSU) | Rs 20,625 |
| CM 690 (693) III | Rs 23,750 |
| Master Case 5 | Rs 26,250 |
| Master Case H500P | Rs 26,250 |
| Storm Trooper | Rs 28,155 |
| MasterCase MC500 | Rs 29,375 |
| Trooper SE | Rs 36,250 |
| MasterCase H500P Mesh | Rs 36,250 |
Corsair CPU Cases
Corsair is a popular brand in computer hardware. They manufacture coolers, fans, power supply, RAM, SSD, and other accessories. They are also popular for desktop cabinets. Corsair has a good range of options with both normal and gaming designs. The company also sells cabinets with PSU included with the chassis. Therefore our list also includes some Corsair CPU case with power supply price in Nepal. This is a combined option that is beneficial for new PC builders. Many other manufacturers also combine their own PSU with the chassis. It is actually a common practice.
| | |
| --- | --- |
| Models | Price |
| Carbide Spec-01 | Rs 8,875 |
| Carbide Spec-04 | Rs 9,250 |
| Carbide Spec-03 | Rs 10,500 |
| Carbide Spec Delta RGB | Rs 13,125 |
| Carbide Spec-05 (With VS550 PSU) | Rs 14,375 |
| Carbide Spec-05 (With VS650 PSU) | Rs 16,875 |
| Crystal 460X (With 3 RGB Fans) | Rs 27,500 |
| Carbide Spec Omega RGB (With 2 RGB Fans) | Rs 28,750 |
| Crystal 280X | Rs 32,500 |
| Crystal 570X | Rs 33,750 |
| Obsidian Series 500D RGB SE | Rs 47,500 |
NZXT CPU Cases
NZXT is a popular American brand in the computer industry. Their main products are CPU cabinets, coolers, motherboards, power supply, and lighting accessories. NZXT products have a reputation of being enthusiast products. Their design is also taken as modern and clean.
| | |
| --- | --- |
| Models | Price |
| H510 ATX | Rs 14,800 |
| H210 Mini ITX | Rs 15,800 |
| H210i Mini ITX | Rs 18,800 |
| H510i ATX | Rs 18,800 |
| H710 ATX | Rs 21,800 |
| H510 Elite | Rs 23,800 |
| H710i ATX (Black/Red) | Rs 24,800 |
| H710i ATX (Matte White/ Matte Black) | Rs 26,800 |
Thermaltake CPU Cases
Thermaltake is a Taiwanese manufacturer with an old record in the computer industry. They manufacture power supply, fans, AIO liquid coolers, headsets, keyboards, RAM, etc. Thermaltake desktop casings also have a good market reputation for quality and aesthetics.
| | |
| --- | --- |
| Models | Price |
| Versa N21 | Rs 7,200 |
| Versa N24 | Rs 7,900 |
| Versa J24 | Rs 14,000 |
| View 21 | Rs 14,800 |
| Core P3 TG Open Frame | Rs 20,700 |
| View 31 | Rs 26,800 |
Fantech CPU Cases
Fantech is an Indonesian brand with a good image in Nepal. Fantech products are known to be of good quality and gaming design. Actually, the company is branding itself as a gamer lifestyle product company. Fantech Nepal sells a lot of things in the market which includes, casings, chairs, headsets, keyboards, and mouse.
| | |
| --- | --- |
| Models | Price |
| CG71 RGB | Rs 5,499 |
| CG74 RGB | Rs 5,499 |
| CG75 RGB | Rs 5,499 |
| CG76 RGB | Rs 6,999 |
| CG-80 Aero | Rs 9,999 |
| Hexa CG73 | Rs 11,99 |
Antec CPU Cases
Antec is a Taiwanese company with many gaming themes computer cases in the market. They are also quite old and established in the industry. Antec offers products in the budget to the luxury segment of the market. This makes their products accessible for all types of DIY PC builders.
| | |
| --- | --- |
| Models | Price |
| NX100 | Rs 5,500 |
| NX200 RGB Black | Rs 6,500 |
| NX310 | Rs 6,500 |
| Dark Fleet GX200 | Rs 6,875 |
| Dark Fleet GX202 | Rs 6,875 |
| Dark Phantom DP501 | Rs 9,375 |
| Performance P7 | Rs 10,000 |
| NX600 | Rs 10,500 |
| Dark Fleet DF500RGB | Rs 10,625 |
| DF600 | Rs 11,000 |
| GX1200 | Rs 14,375 |
| Torque Open Frame Gaming Case | Rs 53,750 |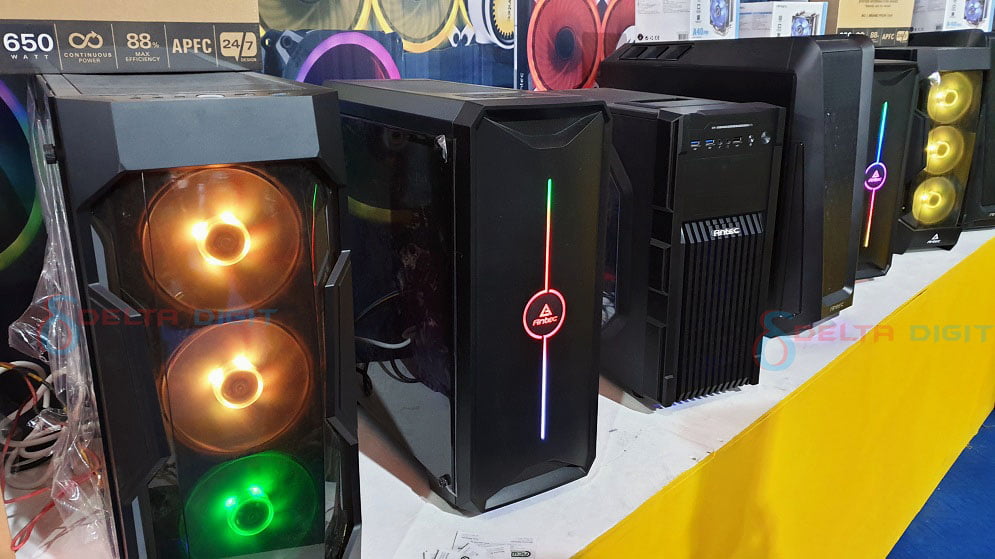 Imperion CPU Cases
| | |
| --- | --- |
| Models | Price |
| Fortress 301 RGB ATX | Rs 4,400 |
| Fortress 301 RGB Micro ATX | Rs 4,499 |
| Fortress 307 | Rs 5,499 |
| CG 401 Perfect Shield | Rs 5,499 |
| Kinetic 364 ATX | Rs 5,499 |
| Neo 505 | Rs 5,999 |
| Fortress 306 | Rs 5,999 |
| Kinetic 361 ATX | Rs 5,999 |
| Acropolis 701 | Rs 6,499 |
| Kinetic 362 ATX | Rs 6,499 |
| Neo 507 | Rs 6,499 |
| Neo 503 (4 LED Fans) | Rs 9,999 |
Gamemax CPU Cases
| | |
| --- | --- |
| Models | Price |
| Nova N5 Mid Tower ATX | Rs 5,500 |
| Nova N6 Mid Tower ATX | Rs 5,750 |
| Dark Ranger Mini Tower | Rs 6,000 |
| G561-FRGB | Rs 6,000 |
| G563 Mid-Tower Eco Gaming | Rs 6,000 |
| Expedition MATX | Rs 6,000 |
| Stratos Mini ARGB Micro-ATX | Rs 10,000 |
Also Read: Dell Desktop Price in Nepal
Things to consider while buying PC Cases
We have built many systems and learned a lot. Therefore we want to share some advice with you all. As we told you earlier, component selection is very important. Get the best processor, motherboard, and graphics card you can. But don't cheapen out on the power supply and casing. Here are the points and reasons that you should keep in mind while picking a CPU cabinet.
Size of motherboard and graphics cards: It is very important to be careful while choosing a case because the size of the board matters a lot. Mainly there are 4 sizes, and they are Mini ITX, M-ATX, ATX, and E-ATX. So the manufacturers also name their cabinets as Full Tower, Mid Tower, and Mini Tower. Be careful about the size of the graphics card as well. Longer and bigger cards need large clearance for installation and air.
Numbers of Hard Disks and other parts: If you want more SATA HDDs, SSDs, and ODD, then think of bay numbers as well.
Cooling and Ventilation: This is the most important thing so never be careless about this. Always have sufficient fans on your computer. First of all, for any CPU cooler, make sure there is enough height clearance. If you want AIO or full custom water loop, then research on that as well. We recommend a balanced airflow instead of active or passive. It is important to balance temperature and dust accumulation.
Types, sizes, and usage
Cases are available as ITX, Micro ATX, ATX, and Extended ATX. Most of the desktop PC sold in the Nepali market are either Micro ATX or ATX. Some people also buy E-ATX systems. Moreover, we should always choose according to our needs. Don't go overboard and buy a big one when you have an ITX board. Just choose appropriately. For example, Mid Tower can't fit the Extended server motherboard, so we need a full tower. Similarly, we can't put M-ATX in ITX, but we can do the opposite. However, you can buy a bigger size. That is the general practice, and we also do so.
Also Read: Motherboard Price in Nepal
For example, MSI B360M Bazooka is a Micro ATX mainboard, but we have Corsair Carbide Spec 01, which is a mid-tower that can support ATX. It gives us ample room to do good cable management and has good airflow. Therefore ultimately, we get a cooler and more spacious system that can be expanded in the future.
There are other things to look at while making a purchase as well. See for the number of I/O ports in the front. More number of USB ports are better. Good ventilation, tempered glass quality, magnetic mesh at the top, and power supply filters are also very important. We don't get these in cheaper models. So don't get the cheaper option because that can be bad for the system. Therefore always invest on a good enclosure for your desktop PC.
Overview of Desktop Casing Models
There are cases for PC from different companies in the market. We sourced out this list of computer casing prices in Nepal using various companies. MSI, Goldkist, and Aresze prices were given by Ocean Computer. All other prices were sourced from different online sellers. In total, we could only find desktop case price in Nepal of MSI, Goldkist, Aresze, Thermaltake, Corsair, Cooler Master, Fantech, Gamidas, Antec, Gamemax, Imperion, and NZXT. So here we will discuss some models of the brands given above.
Related: Latest Processors Price in Nepal
MSI
Micro-Star International is offering Mag series cases in the market where they have a focus on mid-tower and ATX sizes. Almost all cases also support big E-ATX boards. Most people buy M-ATX motherboards so there is no problem with compatibility in almost any casings in the market.
Vampiric 010M is the cheapest MAG series chassis from MSI that has a very compact form factor. It comes with one RGB fan, 4 mm side tempered glass, a magnetic dust filter, and up to 360mm radiator support. It is both stealthy and shiny-looking. This standard ATX case has 6 expansion slots, 2 numbers of USB 2.0, and 1 USB 3.2 Gen 2 port. Its size is 420x210x475 mm. Inside this, we get two 2.5″ bays and two 3.5″ bays.
MSI MAG Bunker is a very famous mid-range lineup, just like the MAG Pylon series. We have made one system in this, and it is pretty good for most people. The looks and build are amazing with tinted double tempered glass. We can see RGB fans and AIO from the side and front as well. There is an ample amount of ventilation, and cable routing is also nicely laid out in the cabinet.
At the top, MAG Bunker has 2x USB 3.0 and USB 2.0 ports. Similarly, we also get 2x 3.5″ and 4x 2.5″ drive bays. Maximum GPU length support is 370 mm inside this 440x218x470 mm beauty. It also supports a maximum of 6 numbers of 120 mm fans.
Goldkist
Their products are reputed as a quality brand in Nepal. We have been using Goldkist PC casing and PSU for more than 10 years. They are very durable, good-looking and reasonable too. Mostly their products are known as best and affordable. It is because we can get a strong Goldkist PC cabinet under Rs 3000. These are durable, good looking and also come with an SMPS. The power supply inside these is not that good but gets the job done. However, if you can afford it, we seriously suggest buying a good one from a reputed PSU maker.
Goldkist has many normal PC cases for most homes and offices. They have a simple design, USB 2.0 in the front panel, one exhaust fan, and minimal customization. Some of the cheap Goldkist models are Q2, Q8B, 116B, 880B, 881, 860B, 1071, 1071B, 1073, and E107. The company also has an affordable workstation server casing 9007B, which costs Rs 11,500. It has a reinforced stainless steel spring for an EMI shield and a mechanical key lock at the front and side panel.
Goldkist 8231B and Master T4000 are heavy-duty gaming PC cases with bigger capacities. These are priced in the affordable segment at under Rs 15,000. Big cabinets actually can host bigger motherboards, more fans, larger graphics cards, a high number of hard disks and provide better cable management.
Aresze
This is the sister brand of Goldkist. So we can take them as same. The manufacturer is the same just branding is different. Aresze mostly has big, heavy, stronger gaming PC casings with RGB lights, tempered glass, acrylic side panels, RGB fans, and a good number of ports.
Aresze has quite popular models such as Z22B and 8704B. These products are priced under Rs 15,000 bracket and offer quite a lot. They have tempered glass side panels, E-ATX board support, nicer looks, and a strong build. The chassis also has air intakes and magnetic filters for cooling. Some sellers in the Nepali computer market sell Aresze computer cabinets with Goldkist power supply. If you request them, they also sell by taking the PSU out. That can reduce the price of the unit.
Cooler Master
They are a very famous brand in the computer industry. Cooler Master has a huge range of power supplies, CPU coolers, AIO, and much more. In the Nepali market, we can find reasonably priced chassis to super expensive ones such as Trooper SE. The offering in the market is quite huge. Nagmani International is the official distributor of Cooler Master products in Nepal.
Cooler Master has some quite old and classic casings with solid body and opaque side panels. These are the normal desktop cases we see almost everywhere in homes and offices. These don't have good support for fans, cable routing, and ventilation. But they are cheaper and get the job done. Some of the Cooler Master legacy products are CP/ CMP 250, Elite 311, and CM K380. These are cheaper options but not the most value-providing ones.
There are popular products such as Masterbox Pro 5 RGB which is a very popular mid-tower that has a clear side panel and front panel. It has a lot of space and it can even fit an E-ATX board. There is a huge space for drives, a large power supply, lots of fans, and even a custom loop. The 4 mm tempered glass makes the aesthetic look better with LED light and fans. Tempered glass is always better than acrylic because it can resist more scratches.
Antec
This is a Taiwanese company and they have a wide range of products. National Computer World is the authorized distributor of Antec for Nepal. They are mostly popular for casings, power supply, and coolers. Their cabinets are popular because they cater to all segments of the market. Antec CPU casings are popular for budget choice and design.
Antex NX100, NX200 RGB, NX310, and Dark Fleet GX200 are some of the best affordable computer cabinet chassis in the Nepali market. They offer ATX motherboard support, good design, and decent fan support at a reasonable price. These are definitely budget consumer choices for Nepali PC builders who want a touch of show and design.
Antec GX1200 and DF600 are casings that are available at a price bracket under Rs 15,000. These offer bigger space for more fans, bigger graphics cards, and bigger boards. These are popular among enthusiasts who want better features. Antec also has an open frame gaming case that costs above Rs 50,000. That is surely a showpiece but enthusiasts with deep pockets can surely make a system in Nepal with that.
NZXT
Big Byte is Nepal's authorized distributor and we got the NZXT computer casing price list from them. This brand is very famous in the PC world for its design and quality. We can see many YouTubers using them for a clean-looking build. The price in Nepal is a bit higher than in the USA or international pricing. This is very common due to market demand, taxes, and other margin reasons.
NZXT H510 and H210 are some popular entry level cases from the company. The normal H510 is cheaper, while the H510i Matte models are expensive. However, both are ATX sized towers. They both look very similar in design and have a significantly better and cleaner look than other cases in the market. The H510 has a size of 428x435x210 mm and 6.6 Kg weight. There are 7 expansion slots, two 3.5″ drive bays and two 2.5″ SSD bays.
NZXT sells H710 and H710i as their flagship and most expensive desktop casing in the Nepali market. The H710 is a mid-tower casing of 516x494x230 mm size that can support EATX motherboards. So it can be used to install sizes of boards except for server ones. This premium CPU enclosure supports up to 7 fans, a 360mm radiator, 7x 2.5″ drives, and 2x 3.5″ drives.
Thermaltake
It is a Taiwanese company and they are also very popular in this peripheral industry. Their power supply is one of their most famous products. They also manufacture lots of other accessories. Their cooling solutions are also popular among enthusiasts and normal users. Thermaltake's market presence is growing in the South Asian market.
Thermaltake Versa N21 and Versa N24 are affordable options from the company that cost under Rs 8,000. They are some of the popular choices of customers when they look for Thermaltake products.
Similarly, View 31 is one of the most expensive offerings from Thermaltake in Nepal. There are three models of Thermaltake View 31. One is normal with Tempered glass, the next is with RGB and another one is with ARGB. All of them look beautiful, but most people like the expensive model with addressable light. Their light supports software of all companies such as MSI, Asrock, Asus, and Gigabyte. This mid-tower case also vertical graphics mounting system to show your shiny hardware.
The company ships View 31 with three 140 mm fans. The top model also has tempered glass on both the left and right sides of the case. It is fully modular and drives cages, bays and mounts can be customized. At the front for the I/O, we get two USB 3.0, two USB 2.0, mic, and audio-out ports. The maximum radiator size support is 360m, and the fan size support is 200 mm.
Corsair
Corsair is selling its many popular products in Nepal. They have the basic Carbide Spec-01 which is an old but popular case from the company. I also use the Spec-01 for my personal build. Corsair has almost all Spec series products in Nepal including Carbide Spec-03, Carbide Spec-04, Spec Delta RGB, and Spec Omega RGB. They even sell some Corsair CPU cases with a power supply unit in them. Unlike other Chinese manufacturers, they have a quality PSU unit inside.
Corsair Crystal 280X, Crystal 570X, and Obsidian Series 500D are some of the most expensive gaming PC cases in the Nepali market from the company. These are big form factor towers with many fancy features. Many people choose such a big chassis for beefy hardware, better cooling, and better cable management.
Summary and Recommendations
In this article, we have tried to give you some ideas about the desktop computer casing price list for Nepal. This includes gaming case price in Nepal, normal cases, heavy-duty cases, ITX cases, and mid towers. Here we can see many affordable and reasonable products. Similarly, we can see expensive and overpriced products too. Many of the listed models are expensive and fancy, but there are reasons for that. I also used to purchase cheaper cabinets but now I have learned the value of good enclosure.
In the cheaper models, there is no good ventilation and airflow. This creates lots of problems such as heating, hardware damage, and dust build-up. Good housings have lots of space to work, better cable management, better ventilation, more fan mounts, and good air filters. Overall they might cost more but they provide a lot of functionality to your computer with a good look. So if you are building a new computer for a longer run, consider getting these even just for better ventilation.
In the case of recommendation of best cases for desktop, we have a few choices. If we have to suggest the best value PC case, then it would be Fantech Pulse CG71 and Antec NX 200. These two are for the budget builders. Similarly, for cabinets under Rs 15000, we would pick NZXT 510 and MSI MAG Vampiric 010M. For a very big build, our suggestion is Cooler Master MasterCase H500P Mesh. Whichever case you purchase, just put enough consideration into cooling and future upgradability.