Daraz's Singles day sale on November 11th for 2019 is just a few days away. They made an announcement that they are ready with all the tech and manpower they need. The company is saying that there are many discounts, offers, and giveaway for the customers. Daraz's website is also showcasing many deals and we are excited about them. So in order to take maximum benefit or Daraz 11.11 sale, we have made a list of things that you should do to avoid problems during the time and event.
There are many things you can do to save yourself some time and hassle while shopping. On the event day or November 11th, there is a lot of traffic. Stocks may also be limited and you need to act soon. Moreover that you need to be ready and make sure everything works fine from your end. This time Daraz is expecting over 4,00,000 visitors so we believe they are ready for the footfalls. So, these are some of our best tips to avoid problems on Daraz 11.11 sale day.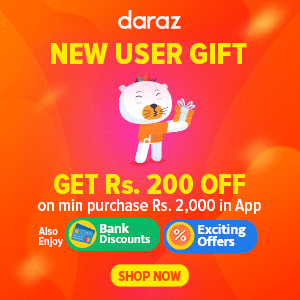 1) Use Daraz Mobile App
Instead of using the website, it is better to use the app on your smartphone. Both Android and iOS versions are available in respective app stores. The navigation is also easier and users can find products more easily. The company also runs special discounts and offers for mobile app users. Products are the same everywhere but infrastructure and tech behind smartphone applications are different. So there may be fewer issues in the mobile app and you might get more deals as well.
2) Switch on Notifications and save products
If you like anything then you better save the products in your wish list or cart. Discounts can come anytime and the Daraz app will notify you when those are available. If you get a good deal and a reasonable price, you can buy it at that time. To get information in time, make sure you have turned on the notification of the app on your mobile. The company also runs offers and schemes for users who have products on their carts.
3) Activate your bank cards and save details safely
Daraz recently introduced payment though bank debit and credit cards. In order to have the ability to pay online using your cards, you need to activate it. On USD cards in Nepal come with international payment facility but Domestic NPR cards don't come activated with online transaction facilities. So to enjoy and pay online, you need to go to your bank and ask them to enable online payment service.
Users can also save their card details in their accounts. Daraz is PCI-DSS compliant which means they have a secure system. The system uses OTP authentication while payment so it provides an additional security layer. If users ever feel uneasy with payment information, they can remove it. We are telling this because it can help you save time while fast checkout during sale day. Daraz is partnering with NIBL, Nabil, Mega, Sanima and Standard Chartered Bank to provide discounts up to 20% or Rs 3500 to card users.
4) Browse Daraz mall and check details well
Daraz Mall has verified and genuine sellers and they are highly trusted. We recommend browsing products in the Mall section to get the best products. The company claims that products in this section are guaranteed authentic. It means everything is original from the real brand. See for important details such as size using size chart and specifications.
While browsing for goods also see details like delivery times. Local sellers have smaller delivery times while Chinese sellers can take up to 2 weeks or even a month. It is very important to see the return policy and warranty as well. Buy those goods which have a better return policy and warranty. Earning money is hard and we should spend wisely. So we should make sure that if anything is wrong with the purchased product we can get it repaired or replaced.
5) Compare and search for good products and discounts
So for finding products and great deals, discounts, and offers in this Daraz 11.11 sale, do a good search. Look through different schemes and their details. For example, Daraz is ging up to 20% discount for card payments. So you can use card instead of other online payment or COD. This can also save you money. There may be different offers where bulk purchases can save you some cash. So all we recommend is do your research from now, make lists, save items, links and deals to get a better value of your money.