Delta Digit now serves all its content on HTTPS. This means we use SSL certificate and all user information are safe because no one can spy or intercept your data. It is going to be essential to have HTTPS for websites in future. We now use Namecheap's value shared hosting package. We were told that we can't install Let's Encrypt SSL on Namecheap or other shared hosting but we did and here is our tutorial.
Lets Encrypt project started years ago in 2014 and slowly Google started giving higher ranks to https URLs. Google also announced that sites with no https on pages that collect user information or has pay-gate. We recognized the pattern and learnt that soon SSL will be important in future. Many big site who didn't have SSL moved to https so we dicided to do so.
We tried serving through HTTPS using our Cloudflare CDN. Cloudflare provides SSL free and we also use it over our Lets Encrypt SSL. It is a bit confusing though and we will explain it later. One year ago we switched on flexible SSL on our Cloudflare account and we got HTTPS but we wrecked our site completely.
Problems (Be Cautious)
After switching on the service via CDN we got lots of problems. Lots of redirects and unable to open Admin Dashboard, mixed contents and breaking of plugins and site. Some pages were indexed as https and some were still http. Some traffic was going to one version and some traffic to another version.
We then solved this by removing flexible SSL to off and redirecting all HTTPS traffic to HTTP again. It took 2 months for all the indexing to fix and traffic to resolve. Then we started our study on safely implementing. We tried to use Cloudflare flexible SSL many times but mixed content was still a problem for us. Many of our friend's site were running easily but we always saw unsolvable mixed content issue.
We tested lots of plugins to solve it but they couldn't. Major issue was our images were being served over http. Other scripts and sources were fine. Thus we concluded that we need server level solution which meant installing SSL from Cpanel.
Namecheap Lets Encrypt WordPress Solution
We asked experts and online help and many people told us we can't install Lets Encrypt on Namecheap shared hosting. But we found a solution to it, a WordPress plugin named "WP Encrypt". Just install this plugin and fill out required information. Generate certificate and follow the instructions.
Go to Cpanel and root directory to download the files required from folder named "letsencrypt".
Inside the folder go to "live" you will find a folder with you domain name.
Download three files named cert.pem, chain.pem and private.pem.
Now go to SSL/TSL option in Cpanel and click on "Install and Manage SSL for your Site"
Open cert.pem with notepad and paste its content on Certificate (CRT), chain.pem content on Certificate Authority Bundle (CABUNDLE) and private.pem contents on Private Key (KEY).
Click on install and your certificate should be ready
Finishing and Polishing
After this test you site by typing https:// infront of your domain name and if it load successfully, then the major work is done. Now for fixing all the URLs and components we used plugin named "Really Simple SSL". This fixed all our URLS in a click and now for last touch-up on mixed contents we installed plugin named "SSL Insecure Content Fixer".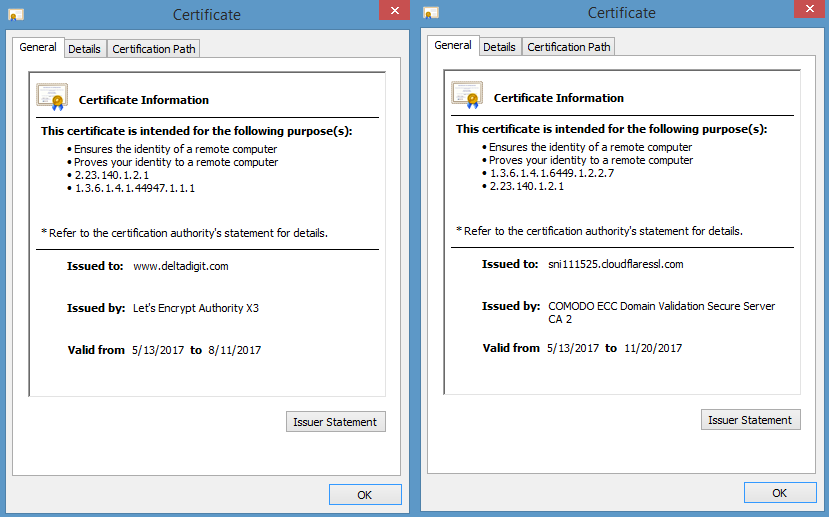 These software fixed everything for us and we have no problem. After this we deleted our site from Cloudflare account and reinstalled our site by scanning it again from scratch. This time we enabled flexible SSL and we have no issue. One thing to notice is that once we enable Cloudflare's SSL option browsers show the certificate only from the CDN, Our server's Lets Encrypt certificate is not shown.
Anyways all we need is security and solution of problem. Finally we updated our links in social media, Google Webmasters, Bing and Analytics. Hope we helped you, please drop your thoughts, advice and comments below.