Intel's 9th Generation processors are now out in the public. These are new chips but with the old genes. These are new Coffee Lake refresh processors that succeed the 8th gen chips. We were expecting 10nm. But just like last time, we are getting 14nm++ lithography. There are many CPU in this generation and we have listed them with details. These are in the Coffee Lake family so these are very much close with the old 8th gen Coffee Lake CPU. There are some incremental updates such as core clock boost, better thermals, and new product addition.
Since Broadwell, Intel is stuck with 14 nm lithography. The company has been using the Skylake architecture till now. And as these 9th gen processors are basically Coffee Lake upgrades, these are the same micro-architecture. This is why many experts believe that we won't be getting a hardware-level fix for Spectre and Meltdown in 2019 also. These vulnerabilities need software patches and they consume some resources. This makes older CPU a bit slower. It is a sacrifice for security. Thus we will have to wait for completely new architecture and redesign to see all these fixed.
The new Intel 9th generation processors support the same 300 series motherboards like the 8th gen CPU. But there is a new Z390 chipset this time. It is mainly for the new Core i9 CPU. Intel tells that new Core i9 9900K is the fastest gaming processor to date. As always we will see some slight improvements over all the older 8th Gen Coffee Lake processors. We believe that mobile processors may come early in October and desktop chips will only hit the market in December.
Intel 9th Generation Processors Specs: Desktop Class
| | | | |
| --- | --- | --- | --- |
| Processors | Cores/Threads | Cache (MB) | Base Clock/ Max Turbo Frequency (GHz) |
| i9 9900KS | 8/16 | 16 | 4.0/ 5.0 GHz |
| i9 9900K | 8/16 | 16 | 3.6/ 5.0 GHz |
| i9 9900 | 8/16 | 16 | 3.1/ 5.0 GHz |
| i7 9700K | 8/16 | 12 | 3.6/ 4.9 GHz |
| i7 9700 | 8/8 | 12 | 3.0/ 4.7 GHz |
| i5 9600K | 6/6 | 9 | 3.7/ 4.6 GHz |
| i5 9600 | 6/6 | 9 | 3.1/ 4.6 GHz |
| i5 9500 | 6/6 | 9 | 3.0/ 4.4 GHz |
| i5 9400F | 6/6 | 9 | 2.9/ 4.1 GHz |
| i5 9400 | 6/6 | 9 | 2.9/ 4.1 GHz |
| i5 9400T | 6/6 | 9 | 1.8/3.4 GHz |
| i3 9350KF | 4/4 | 8 | 4.0/4.6 GHz |
| i3 9350K | 4/4 | 8 | 4.0/4.6 GHz |
| i3 9100F | 4/4 | 6 | 3.6/ 4.2 GHz |
| i3 9100 | 4/4 | 6 | 3.6/ 4.2 GHz |
| i3 9100T | 4/4 | 6 | 3.1/ 3.7 GHz |
| i3 9300 | 4/4 | 8 | 3.7/ 4.3 GHz |
| i3 9300T | 4/4 | 8 | 3.2/ 3.8 GHz |
| i3 9320 | 4/4 | 8 | 3.7/ 4.4 GHz |
These are some new processors in this Coffee Lake Refresh. The base clocks are slightly higher than 8th gen SKUs. We can also see that there are many new variants such as Core i9 9900 series, F, and T series. All of these have some differences and surely there is a price delta. Previously it was rumored that Core i3 will have hyperthreading. But like always, i5 and i3 don't have hyperthreading. You will need to go with a Core i7 or i9 for that. However, there is a higher clock which makes these chips a bit faster.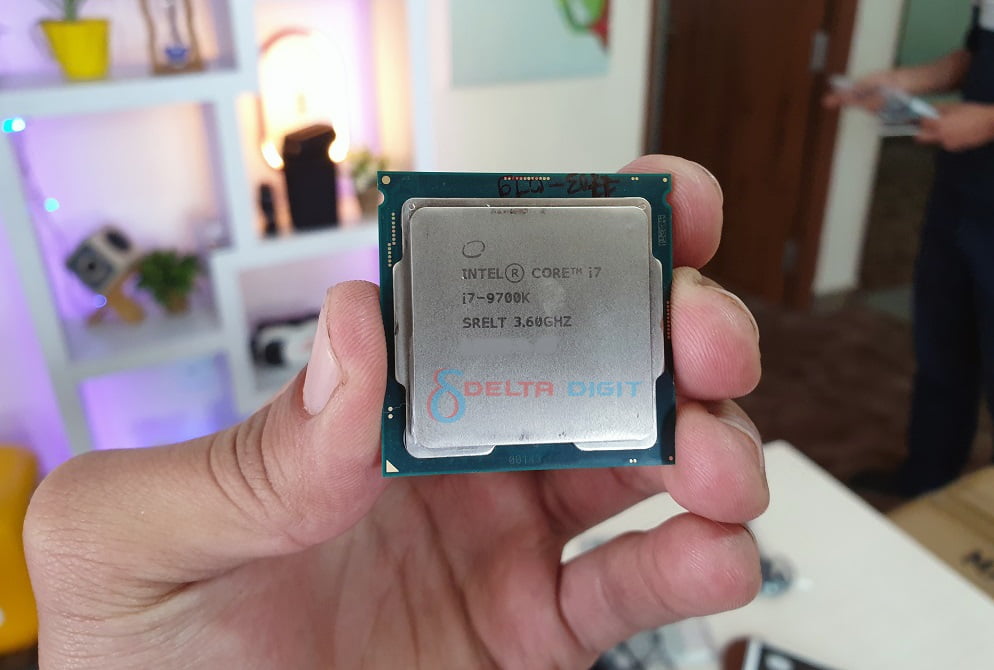 Updates and new F/T series
Intel has clocked these new processors higher than 8th generation Coffelake counterparts. This means a higher base clock and higher max turbo frequency or boost clock. The clocks are high but the TDP is the same so there is no need for a better cooling solution. However, you can always opt for a 3rd party cooler. This time Intel is supporting the same 300 series chipset which means H310, H370, B360, and Z370. As there is a new powerful 8 core 16 thread Core i9 this time, the company has announced Z390 chipset which means a new premium motherboard. The Z390 is top of the 300 series chipset.
Also Read: Desktop Processors Price in Nepal
This time Intel has new F series processors such as Core i3 9100F and i5 9400F. The F series chips are the same as regular counterparts but their integrated GPU is just disabled. This makes them a lot cheaper and gives the gamer community the discount they needed. Many people use a dedicated graphics card, so an iGPU is useless for many users. This time people get the option to choose and save money.
All Intel processors have the Spectre and Meltdown vulnerabilities. They can be fixed by software patch but they cause slight performance to degrade. This new small frequency boost may compensate a bit for that loss. But we expect a hardware-level solid fix just like other experts. Many enthusiasts were asking for soldered IHS like previous old chips. Intel didn't deliver every CPU with that. But they did launch the new Core i9 9900K and i7 9700K with soldered IHS. This is a great improvement that we all wanted.
Mobile, Desktop Computing for 2018 and 2019
The new Intel 9th generation processors add a lot to the market and these options are very good for end-users. First of all, there are better consumer products for gaming and multimedia work. There are people who can really get the use of 8 core and 16 threads in their work. On the other hand, there are people who can now get even better gaming performance. Also, the integrated heat spreader makes these new CPUs better because they can stay much cooler now. They can also have a long lifespan. We would like to see soldered IHS in the Pentium, Core i5, and i3.
There are now better mobile chips segment as well. We can easily get 4 cores and 6 cores on a laptop very easily. Thanks to the improvement in technology, the thermals and temperature also remain in a good range. Therefore there is no need for bulky and heavy cooling. This means we can get a lot of power in a small size. We can hope to see smaller and more powerful laptops from now on. On the parallel side, AMD and Nvidia are also working to improve their offering. All these competitions should provide the customers with better options and make the computer market better in the upcoming years.