Desktop computers can be arranged and placed in a table and used with ease for a very long time. They can be bought for cheap and have a very high upgrade option. Laptops are for people who want the right amount of power and portability. It is costly and not applicable all the time. There is no tension of battery and users can use big multiple screens and peripherals. Learn the latest desktop computer price in Nepal with our list.
People have the power to choose the parts according to need and budget. It makes it easy to add new hardware that can't be achieved easily in a laptop of a similar price tag. We collected these prices by checking with vendors at New Road and Ocean Computer Pvt. Ltd. of Baghdurbar. This list shows the average price of the market.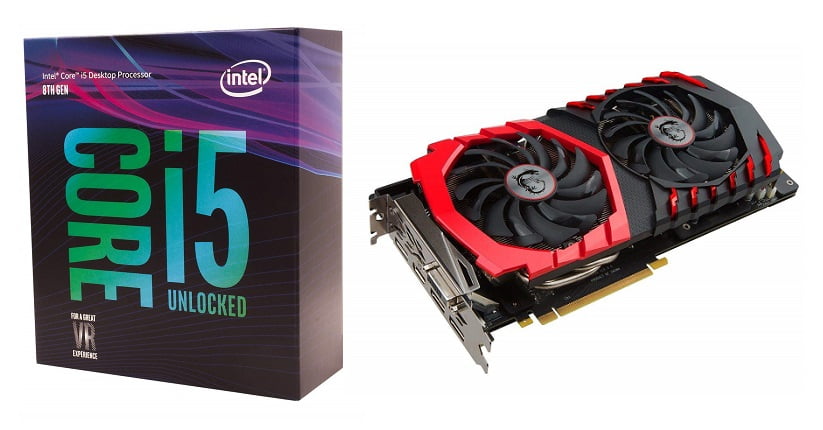 To help our readers buy and choose better we have brought the latest price of computers in Nepal. This includes all the basic desktop parts required. We have a range from the cheapest basic set to an extreme gaming set. Our article is meant to give you an average idea of the market only to go to the market once before making a purchase. The biggest volume of people buys a desktop for simple use, working and browsing the internet. We will start with the basic and cheapest desktop price in Nepal.
Read More: Top Budget Graphics card available in Nepal
1) Basic Desktop for normal home users
Many people still prefer building cheap computers desktop sets. The most used processor is Core 2 Duo and it is more than 10 years old. This set is still good for very basic tasks such as browsing the internet and working in MS Office. We don't recommend getting older hardware but if you do it is better to get Core 2 Quad because 4 cores help a lot.
| | |
| --- | --- |
| Hardware | Price in Nepali Rs |
| Intel Core 2 Duo 2 GHz | 1150 |
| Core 2 Duo 2.6 GHz | 2200 |
| G41 Motherboard (Generic) | 4500 |
| 2 GB DDR3 RAM | 1500 |
| Standard Casing with 450W Power Supply | 1900 |
| 19" LED Monitor | 7500 |
| 500 GB Hard Disk (Western Digital) | 4000 |
| Geforce GT 210 1GB (Optional for gaming) | 4290 |
| Logitech DVD-RW drive | 1500 |
| Total | 20,050 |
2) Moderate Desktop for medium users
This PC is for people who game, use multimedia, photo editing, and some other mildly demanding processes. Intel Core i3 processors are now quad core and they can be really great. Core i3 9100F can support graphics cards like GTX 1660 Ti with ease which can give pleasing results. For best results we suggest our readers to get at least 128 GB SSD to see the real-world performance upgrade. The below-given set has a basic GPU and memory. Our recommendation is using at least 8 GB RAM and GTX 1050/1050 Ti. GTX 1650 Super and GTX 1660 is also a very good pair. If you want, you can go for RTX 2060 as well.
| | |
| --- | --- |
| Hardware | Price in Nepali Rs |
| Intel Core i3 9100F | 12535 |
| MSI H310 Pro-VD Plus | 10650 |
| 4 GB DDR4 RAM | 4500 |
| 1 TB HDD (WD Caviar Blue) | 6000 |
| Logitech Wireless mouse, keyboard | 1900 |
| Goldkist Casing with 450W PSU | 2500 |
| Nvidia Geforce GT 1030 Aero ITX 2G OC | 15000 |
| Total | 53,085 |
3) Mainstream Gaming, work and multimedia set
This computer setup is very powerful with a Hexa-core processor and a good graphics card for gaming. Core i5 9400F comes with 6 cores and 6 threads which is a lot of power. New Intel processors with F in their name don't have iGPU. So we need a dedicated graphics card. This processor can support high-end graphics cards like RTX 2070 and RTX 2080 as well. It is a computer made for productivity, work, gaming, and editing. For gamers or professionals, we recommend getting 16 GB RAM, 256 GB SSD, and a good graphics card. The RTX 2060 is a very good match for this processor to get the best results in games and editing workloads.
| | |
| --- | --- |
| Hardware | Price in Nepali Rs |
| Intel Core i5 9400F | 21620 |
| 8 GB DDR4 RAM 2400 MHz | 8500 |
| 1 TB HDD WD Blue | 5500 |
| Full HD 22" BenQ LED GW2270H | 14000 |
| MSI GeForce GTX 1650 Ventus XS 4G OC | 30650 |
| Casing with 550W PSU | 5500 |
| MSI B360M Bazooka Mother board | 14750 |
| 256 GB SATA SSD | 8200 |
| Total | 1,08,720 |
4) High End gaming, work plus editing computer
These types of computers are for big players and power consumers or users. We have seen offices and IT organizations buying these for intense server work, computing, designing, etc. These PC are fit for various heavy-load types of work, games and multimedia tasks. We are pairing the 9th generation processor with the best RTX graphics card here. It has 8 core processors which are great for multicore and multithread workloads. The single-core frequency is also high enough for gaming when compared with new CPUs out there.
| | |
| --- | --- |
| Hardware | Price in Rs |
| Intel Core i7 9th Gen (9700K) | 51635 |
| Cooler Master MasterAir MA410P | 7540 |
| MSI Z390 Tomahawk | 27500 |
| 32 GB DDR4 RAM | 32000 |
| MSI Mag Bunker (With 750W Goldkist PSU) | 20200 |
| MSI Optix G24VC 24″ FHD 75″ Monitor | 27000 |
| MSI RTX 2070 Super Gaming X Trio | 110000 |
| 2 TB HDD | 9000 |
| 256 GB NVME SSD | 10200 |
| Total | 2,95,075 |
Read More: High-End Gaming Graphics Card Price in Nepal
5) Top Level Consumer Desktop PC
This category mainly includes the latest and the best processor available for normal consumers. It also means the best platform for the highest end users. Usually, corporate needs are different. Therefore Intel and AMD make special platforms and CPU for them. For example, Core i9 9900KF is the top-level consumer desktop CPU for now while Core i9 10980XE is the best HEDT CPU. Intel Xeon Platinum 8253 is the top server and workstation processor while AMD EPYC is the red team's server offering. So this is the best setup for consumers in our view. This can also be taken as a top end gaming pc price in Nepal.
| | |
| --- | --- |
| Hardware | Price in Rs |
| Intel Core i9 9900KF | 68425 |
| MSI MEG Z390 ACE | 53150 |
| 32 GB DDR4 RAM | 32000 |
| MSI RTX 2080 Ventus 8G V2 | 131250 |
| 2 TB Hard Disk | 9000 |
| 512 GB SSD | 15500 |
| MSI Mag Bunker Casing (Tempered Glass) | 15000 |
| Cooler Master CM V750 80+ Gold PSU | 28125 |
| MSI Optix MAG271CQR 144Hz Curved LED 1440P Monitor | 66,000 |
| Total | 4,18,450 |
6) Enthusiast Level Workstation High-End Desktop (HEDT)
This is the GOD level series in the high end computing market. We rarely hear people using desktop computers in this range. They have different architecture and unparalleled power. This kind of desktop PC comes under HPC (High Performance Computing). It is for the people who have the highest demand and need the best in the market. Users who need high core count, overclocking and power use this type of PC. It is not a normal consumer platform and it is mainly for enthusiasts and enterprises.
| | |
| --- | --- |
| Hardware | Price in Rs |
| Intel Core i9 9820X | 132250 |
| MSI X299 SLI Plus | 47500 |
| 128 GB DDR4 RAM ADATA Dazzle 3000 MHz | 140000 |
| 2 TB WD Purple | 9000 |
| ADATA SX8000 NS 512 GB M.2 NVME SSD | 29900 |
| MSI RTX 2080 Ti Gaming X Trio 11G | 231250 |
| LG 27" 4K IPS Free Sync | 78000 |
| CM Master Box Pro 5 RGB | 23000 |
| Cooler Master V1200 Platinum PSU | 44800 |
| CM MaterLiguid Mite 240P RGB | 15600 |
| Total | 7,51,300 |
7) AMD Ryzen Entry Level Desktop PC
The AMD Ryzen market is very small in Nepal. It is so small that it is very hard to find in the Nepali market. If you want to buy AMD setup at a good cost we have only found some stores. They sell a few numbers of entry, mid and high-end chips. 10 years ago there was a small market of low-end AMD processors. However, they lost it in the way but they are back again. If Ryzen can take a good market share in Nepal, it can definitely change the computer market by making it cheaper and affordable. Currently, this is the best entry-level setup on the Ryzen platform.
| | |
| --- | --- |
| Hardware | Price in Rs |
| AMD Ryzen 3 1200 | 14238 |
| MSI A320M Gaming Pro | 11400 |
| 8 GB 2400 MHz RAM | 8500 |
| 1 TB HDD | 6000 |
| 128 GB SSD | 5200 |
| Normal Mini ATX Casing plus 450W PSU | 2500 |
| MSI GT 1030 Aero ITX 2G OC | 15000 |
| Total | 62,838 |
8) AMD High-End Setup
There are many powerful CPU from the red team and they offer great value because unlike Intel, they support overclocking and ECC memory. Such support of ECC memory and overclocking makes them a great choice for everyone and every task.
| | |
| --- | --- |
| Hardware | Price in Rs |
| Ryzen 7 2700X | 38800 |
| MSI X470 Gaming Plus | 23150 |
| 16 GB DDR4 RAM 3200 MHz | 25425 |
| 1 TB Hard Disk | 6000 |
| 256 GB SSD | 8200 |
| 8231B Aresze Casing with 650W PSU | 12600 |
| BenQ GW2470HL 24″ LED Monitor | 19200 |
| Total | 1,33,375 |
Advice and recommendations
Nepali market has now all options of boards for 9th Gen and 8th gen Coffee Lake CPU. You can pair budget i3 9100F with an H310 board and install a good GTX 1050 or 1050 Ti and get a great gaming experience at 1080p. The Core i3 8100 and 9100F are better than both Core i5 7400 and i5 7500. Users who want long run and better value should buy i5 9400F paired with B360 board and install GPU like GTX 1660 Ti 6GB to have an ultimate experience. The i5 8400 and i5 9400 compares very much with Core i7 7700 and 7700k so recommend our readers to buy a new-generation processor as far as possible.
Related: Latest Processors Price in Nepal
As far as possible buy the latest 9th generation F-series CPU with "F" suffix. But if you don't want an external GPU, just buy normal 9th or 8th gen processor. If you are using a computer for the first time and learning then go with the first PC. People with good experience should choose the second one and the third PC is for users who need gaming and closed by budget. The final high-end computer is for top-level most demanding users. Above mentioned set for different types of users. This is our recommendation for normal people who want little multimedia, gaming, good performance, and future-proofing.
Different Platforms and value proposition
Comparing Intel and AMD was never better like it is today. Due to the tough market competition, we can finally now buy better computers. Before 2017 we were stuck on 4 cores in the mainstream for 10 years. Nowadays we have 6 cores in mainstream, 4 cores in entry-level and 8 cores in the high end. Intel now sells Core processors as a normal consumer product and they sell Core Extreme such as i9 10980XE under HEDT lineup and Xeon as workstation chip. Thanks to AMD Ryzen we are getting good products. But due to some reasons, their presence in the Nepali market is less. This is due to their reputation in the past with their older processors.
In the market, we can find Intel platforms for all levels of computing but AMD is sparse. Currently, the price of Intel processors is sky high and Ryzen is filling that gap. For example, Ryzen 3 1200 gives a good challenge to Core i3 9100 and this is good for consumers. Also if we see in the HEDT line, Ryzen 2700 gives 8 core and 16 threads at a far cheaper value compared to Core i9 from Intel. Many of us experts find Intel processors great in gaming but for multi-threaded work demands and overall platform price, AMD is winning. Motherboards are also cheaper for the Ryzen system which in turn makes them a much better choice.
PC Recommendation for Students
People study different subjects so their need is also different. If any of you were to buy a desktop set for a student in school or high school level we suggest you buy a computer with at-least new Pentium Gold processors such as G5500 or a 9th generation Core i3. We recommend staying away from 7th gen Intel chips and only recommend 8th or 9th gen chips This will give plenty of power and upgrade options in the future and it can be a good gaming system as well.
4 GB RAM is plenty for any normal student and they can use any size of hard disk as they need. For Engineering students in a tight budget, we suggest Core i3 9100 or Core i5 9400F if possible. As the students need good power for software like AutoCAD, ETABS, SolidWorks, ANSYS, etc we recommend at least 8 GB RAM. A good graphics card can help in 3D and graphics related work. Applications like AutoCAD, 3ds Max and Maya actually require Nvidia Quadro GPU. But you can work with a good normal GTX graphics card like GTX 1650.
In our tests, we found that SSD made significant speed improvements in applications like AutoCAD while opening and running. Therefore we also suggest getting an SSD as boot drive and to install the software. 256 GB is the sweet spot but we don't recommend anything below 128 GB.
Conclusion
A computer is a basic need and it makes our life much easier. In our office, we have fixed many computers and built many as well. In this, we have learned a few things which we want to tell you. Always buy processor and motherboard thinking of the upgrade you may or can do in the future. Also, think of the salvage value because parts like processors don't go bad easily and they can be sold. Try to have the latest edition because they always have benefits in the computer world.
We highly recommend getting SSD of at least 128 GB because SSD makes a huge improvement in speed. They should be used for installing Windows and software. Keep backup of your files and regularly update your Windows plus antivirus software. Use power backup solutions such as Inverter or UPS to protect your hardware and files. Always invest in high-quality power supply because it is the most crucial part of any computer. Anyways you can enjoy the smooth performance with these PC. Our final advice to everyone is, only invest in hardware that you need and buy a capable system with the help of our list of desktop computer price in Nepal.