Graphics card is very important computer hardware for gaming, editing, rendering, and multimedia works. People buy cards according to their world load and demand. Many people buy low-end budget graphics cards for gaming, work and using multiple monitors. There are various applications of these little computers. Graphics cards are in good demand in the market. So we have created an updated list of the latest high-end MSI Graphics card price in Nepal. All the official price list was provided by Ocean Computer.
We have already covered the price list of the budget video cards in the market. Refer to that article for value-oriented budget cards. Graphics card has its own processor, memory, power controller and everything. So it is a small computer on its own. They are getting very powerful these days. The applications are increasing each day towards simulation, problem-solving, analysis and crypto-currency mining.
Also Read: Best Budget Graphics cards in Nepal
Our experts have tested lots of cards in lots of desktop and laptops. There are many things to notice while buying a new card. New generations are always better and higher memory buffer is better but not always useful. There are lots of factors to take care of. Most importantly there is a price point threshold below which cards don't provide high value for money paid.
High-End MSI Graphics Card Price List
This is the latest list of powerful video cards in the Nepali market. These are mid-range and flagship products. They are very expensive and power-hungry. Mostly gamers, editors, and professionals buy these cards. MSI has a lot of variants of the same card and they have different price tags as well. The RTX 2080 Ti is the latest and most powerful of them all. Out of all these, GTX 1660 Ti is our favorite as per price to performance ratio.
| | |
| --- | --- |
| GTX 1660 Ti Ventus XS 6G OC | Rs 51,900 |
| GTX 1660Ti Gaming X 6GB | Rs 58,150 |
| GeForce RTX 2060 VENTUS XS 6G | Rs 67,500 |
| GeForce RTX 2060 Super Gaming X (8GB) | Rs 82,500 |
| GTX 1070 Ti Armor 8 GB | Rs 87,000 |
| GTX 1080 Armor 8 GB | Rs 1,05,000 |
| RTX 2070 Gaming Z 8G | Rs 1,05,000 |
| GeForce RTX 2070 Super GAMING X Trio | Rs 1,10,000 |
| GTX 1080 Ti Gaming X 11 GB | Rs 1,20,000 |
| GeForce RTX 2080 Ventus 8G V2 | Rs 1,31,250 |
| GeForce RTX 2080 Gaming X Trio | Rs 1,50,000 |
| GeForce RTX 2080 Ti Gaming X Trio 11G | Rs 2,31,250 |
In the Nepali market, we see many cards from MSI, Gigabyte, Asus, Inno 3D, Asus but the wide range is only available from Micro-Star International.
Read More: MSI Accessories Price List
Graphics Card Details
Let us discuss some of the specifications of these graphics card so that you can have some idea. Nvidia currently has two main generations in the market. One is 20 series RTX and next is 16 series. There are a few 10 series products in the market as well. The 20 Series brings new advancements such as Ray Tracing, DLSS, and GDDR6. The 16 series has all-new benefits except for a ray tracing. In order to get certain information and have some outline of these cards, we have discussed their specifications and details below.
Nvidia RTX 2080 Ti and RTX 2080
RTX series uses new Turing architecture. And these two are the crown jewel of Nvidia for the normal consumer market. It is for normal graphics editors and hardcore gamers. It is expensive but it is not a workstation card. But we can use them in some engineering applications as well. These are very powerful and expensive. The names are similar but the power is very different. Let us see the specs and differences.
| | | |
| --- | --- | --- |
| Specs | RTX 2080 Ti | RTX 2080 |
| Memory | 11 GB GDDR6 | 8 GB GDDR6 |
| Bus Width | 352 Bit | 256 Bit |
| Cuda Cores | 4352 | 2944 |
| Core Frequency | 1350 MHz | 1515 MHz |
| Bandwidth | 616 GB/s | 448 GB/s |
We can see big differences in the numbers of these cards. This is why there is a variation in power and price. These two are at different levels. Therefore buyers should be very careful while choosing among these. As we said, the names are similar but the performance difference is big.
GTX 1080 and 1080 Ti
These are very famous Pascal architecture based cards. They are still very famous and the prices are also lower these days. The GTX 1080 Ti is a very high-end GPU and it can do high refresh rate 1440p gaming and some 4K gaming as well. These also perform well in professional workloads such as Adobe Premiere Pro and After Effects. Both are very good cards but they are of different leagues. There are differences in memory size, bandwidth, Cuda cores, and obviously performance.
| | | |
| --- | --- | --- |
| Specs | GTX 1080 Ti | GTX 1080 |
| Memory | 11 GB GDDR5X | 8 GB GDDR5X |
| Bus Width | 352 Bit | 256 Bit |
| Cuda Cores | 3584 | 2560 |
| Core Frequency | 1481 MHz Base | 1607 MHz |
| Bandwidth | 484.4 GB/s | 320.3 GB/s |
RTX 2070 and 2070 Super
The Super version of cards are beefed up and improved versions. They come around the same price and also offer good benefits. As we are saying, the names might be similar but differences are quite substantial. As far as possible, buy the Super version of Nvidia products in this Turing family. The RTX 2070 Super is very powerful and it is a top-end product. This can push games with Ray Tracing to very good FPS.
| | | |
| --- | --- | --- |
| Specs | RTX 2070 Super | RTX 2070 |
| Memory | 8 GB GDDR6 | 8 GB GDDR6 |
| Bus Width | 256 Bit | 256 Bit |
| Cuda Cores | 2560 | 2304 |
| Core Frequency | 1605 MHz | 1410 MHz |
| Bandwidth | 448 GB/s | 448 GB/s |
GTX 1070 Ti and 1070
These are also Pascal-based cards and they are very famous for high refresh rate 1080p gaming. People also do good 1440p gaming in them. Many media houses use them for work too. The price to performance ratio is very good for these products. We take them as one of the best value products of the 10 series. The differences between the Ti and normal 1070 is in numbers of Cuda Cores and clocks. The number of Cuda Cores has a big effect on speed and output.
| | | |
| --- | --- | --- |
| Specs | GTX 1070 Ti | GTX 1070 |
| Memory | 8 GB GDDR5 | 8 GB GDDR5 |
| Bus Width | 256 Bit | 256 Bit |
| Cuda Cores | 2432 | 1920 |
| Core Frequency | 1607 MHz | 1506 MHz |
| Bandwidth | 256.3 GB/s | 256.3 GB/s |
RTX 2060 Super and RTX 2060
The normal Nvidia Geforce GTX 1060, 1660 and 1660 Ti lie in entry to mid-level segment. But the RTX 2060 and 2060 Super lie in mid to high range segment. This is because the RTX 2060 Super is about the same level of Geforce GTX 1070. The difference between RTX 2060 Super and normal 2060 is in every part. The super version has more memory, bandwidth, cores, and higher clock. This means much better performance in every task. The RTX 2060 cards are very popular in the mid range. Many people use these for their performance they provide for the price. In international or mainly the US market, it is very good. However, in Nepal, it is quite costly.
| | | |
| --- | --- | --- |
| Specs | RTX 2060 Super | RTX 2060 |
| Memory | 8 GB GDDR6 | 6 GB GDDR6 |
| Bus Width | 256 Bit | 192 Bit |
| Cuda Cores | 2176 | 1920 |
| Core Clock | 1470 MHz | 1365 MHz |
| Bandwidth | 448 GB/s | 336 GB/s |
GTX 1660 Ti and GTX 1660 Super
Many people take these as budget level cards. They are excellent in 1920x1080p gaming at 60 fps. They are also good for somewhat high refresh rate games. For the international price, the profile is pretty nice. However, due to the price, it is in mid-range for Nepali customers. The starting price is quite high. This is why they are here on this list. The 1660 Ti is a bit faster because it has a higher number of Cuda cores and large bandwidth.
| | | |
| --- | --- | --- |
| Specs | GTX 1660 Ti | GTX 1660 Super |
| Memory | 6 GB GDR6 | 6 GB GDDR6 |
| Bus Width | 192 Bit | 192 Bit |
| Cuda Cores | 1536 | 1408 |
| Core Clock | 1500 MHz | 1530 MHz |
| Bandwidth | 588 GB/s | 336 GB/s |
Video Cards Overview and Analysis
We suggest everyone buy cards or hardware that provide optimum value for the money. Seriously lower end models don't give good performance for the price tag. If we go up and add a bit more, we can get good hardware and impressive results. In the international market GTX 1660 Ti is taken as the best graphics card for ultra 1080p gaming. This can pull any modern title at ultra and high settings with ease for 60 fps in 1920×1080. Previously GTX 1060 held this title and now GTX 1650 Super holds it.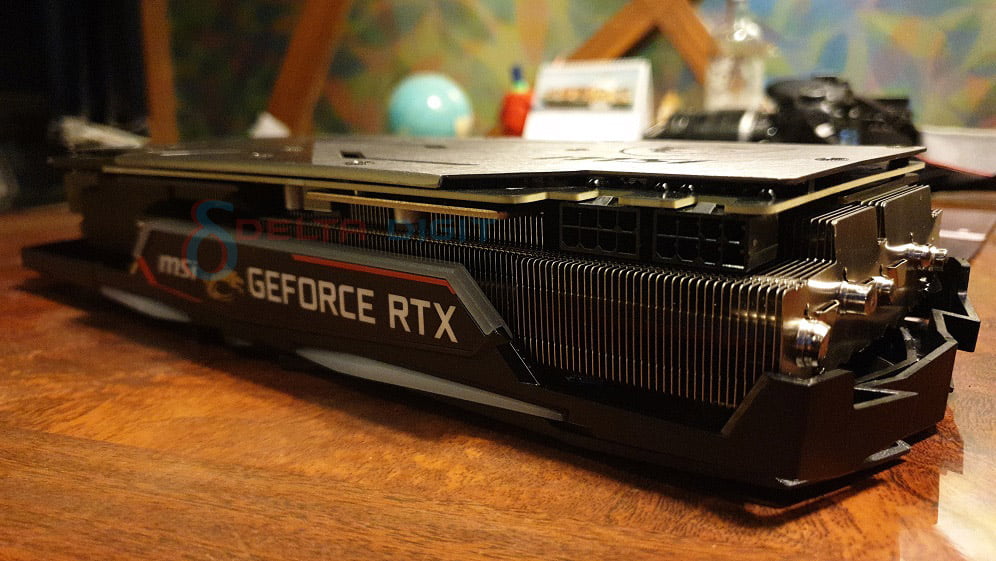 The GTX 1660 Ti, 1070 and 1070 Ti are for high frame rate gaming on high refresh rate monitors. They can also power up 1440p gaming but RTX 2060 Super and RTX 2070 are better suited for that. We recommend at least 4 GB VRAM these days. However ideal is 6 GB for 1080p monitors. For better performance 8 GB is the current standard.
The GTX 1070 Ti, RTX 2070, GTX 1080 are very well suited for high-resolution gaming, graphics designing, editing and professional works. They are great for 4K video editing as well. But for smoother 4K editing we recommend GTX 1080 Ti, RTX 2070 Super, RTX 2080 and RTX 2080 Ti. These are the best products in the market and provide top-level performance. But they also at a very hefty price.
Also Read: Samsung Monitors Price in Nepalese Market
RTX vs GTX
Nvidia RTX 2080 Ti is for the people who want the best of the best and have money for everything. The new RTX cards have new GDDR6 memory, Tensor cores, DLSS and Ray tracing feature which makes them different from the GTX series. The performance is also better compared to 10 and 16 series predecessors. They perform better during normal render while ray tracing is turned off.
First of all, we need to know that there are RTX and GTX. Furthermore, we have to also know that there are 10 series and 16 series. The 16 series cards come in normal and Super version. However, the Super version has already replaced the normal version. The new 16 series products like GTX 1660 Super comes with GDDR6 so they are very fast.
By the way, still GTX series has a lot of potentials and they are great for gaming. Our pick would be a GTX 1660 Ti or RTX 2070 Super because they are very capable products. And they can perform absolutely great for few upcoming years. Anyone who needs to do workstation tasks such as CAD should consider getting Nvidia Quadro because they are specially made for such work demands. Do read our article on PC building to pair the best PC for yourself. We don't have official Nvidia Tesla and Quadro supply in the market. Quadro is mostly purchased by placing an order.
Recommended: Latest Desktop Price in Nepal with (Sample Build Guide)
Advice and Recommendations
Many people may be thinking about why we haven't listed some other cards. It is because these types of hardware are excessively expensive in Nepal. They are priced at high end range but the specifications and performance don't fit with top models. As always, try to get the best hardware within your budget. If you can afford a medium budget then GTX 1660 is a great choice. But best value if GTX 1660 Ti or RTX 2060 Super. In the USA they are the best value but due to the higher price difference, we have to reconsider that.
According to Ocean Computer, the demand for such high power hardware is very low. People show interest which is very good but sales are comparatively low. For people who are into high refresh rate monitors and high FPS 1080p gaming, RTX 2070 and GTX 1070 ti are great options. People who need 1440p gaming and higher video editing power should get GTX 1080 or RTX 2070 Super. Finally, people who want 4K video editing and slight 4K Gaming should purchase GTX 1080 Ti, RTX 2080 and RTX 2080 Ti cards.
If budget is a problem then GTX 1650 Super and 1050 Ti are amazing options. These are our top recommendations for 1080p gaming starters. Graphics card plays the most crucial role in gaming and graphics editing so get the best one in your budget. Above all always pair your card with a good processor, power supply and sufficient RAM.