There are many people in Nepal who want a premium and good quality PC products and computer accessories. Companies usually put them under the "gaming" category. We know that MSI always has good hardware in gaming series products. As the demand from people in Nepal is increasing, companies are doing the best to provide top options. MSI Nepal now also has many products to offer for those customers. They have a mouse, keyboards, headsets, and other products too. Here we have the official of MSI Gaming accessories price from Ocean Computer.
These days people want good looking, shiny, strong, multipurpose, and high-quality hardware for their systems. It might be a desktop or laptop because these peripherals can connect to all PC. MSI's Gaming Gears are very popular in the market, among other brands. So we have compiled a list for our readers. Ocean distributes products from nay big companies. They are the sole distributor of MSI so we have managed this with their help.
Previously the focus was not much on such accessories. Now the scenario is changing. Many people are building PC and getting into hardcore gaming, Twitch streaming editing, and professional work. They demand better products for their setup, and it is good. RGB is also the trend, so people want shiny glowing lights too. Whatever the reason is we know that there is a demand.
MSI Gaming Accessories Price List
| | |
| --- | --- |
| Products | Price |
| Optix AG32C 32″ 165 Hz 1080p Monitor | Rs 70,000 |
| Optix MAG271CQR 27″ 144 Hz 2K Monitor | Rs 66,000 |
| MAG271CV 27″ 144 Hz 1080p Display | Rs 54,600 |
| MSI Optix MAG241C 24″ 144 Hz 1080p Monitor | Rs 39,000 |
| Optix G24VC 24″ 75 Hz FHD Monitor | Rs 27,000 |
| MSI Core Frozr L CPU Cooler | Rs 11,500 |
| Interceptor DS B1 (Mouse) | Rs 1,700 |
| Gaming Mouse Interceptor DS100 | Rs 3,000 |
| Interceptor DS200 Mouse | Rs 3,600 |
| Interceptor DS300 Mouse | Rs 5,400 |
| Xield5 Gaming Mouse Pad | Rs 1,450 |
| Mousepad XL | Rs 4,200 |
| MSI Interceptor DS4100 Keyboard | Rs 3,400 |
| Vigor GK40 US Keyboard | Rs 6,600 |
| GC30 Joystick | Rs 4,800 |
| DS501 Headset | Rs 4,000 |
| Immerse GH10 | Rs 4,200 |
| DS502 Headphone | Rs 6,000 |
Here the above-given price list includes gaming Monitors, Keyboards, Mouse, Coolers, controllers, and headsets. These are all high-quality gears and are quite expensive. Let us discuss the details of these accessories to know more.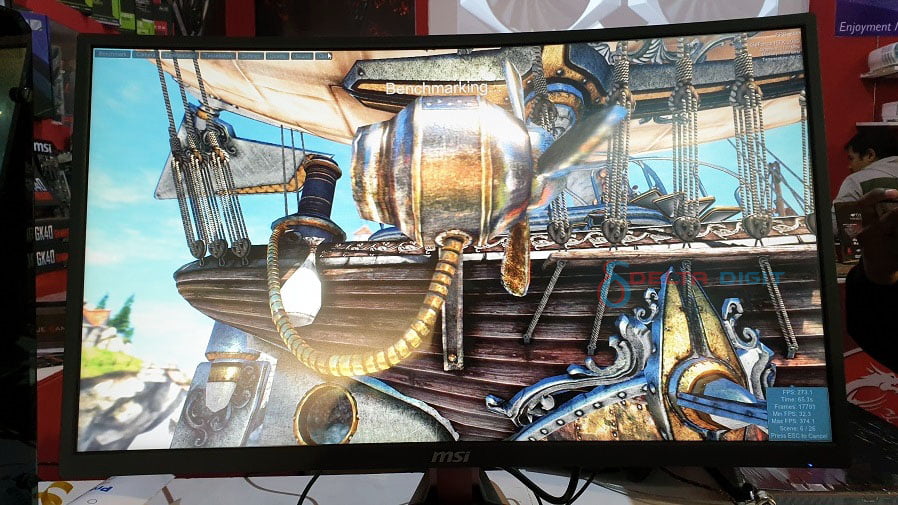 MSI Monitors Price in Nepal
Optix series monitors are part of MSI Gaming accessories. These are high-end displays with gaming-focused features. Most of these have a high refresh rate, such as 144 Hz. Usually, in the Nepali market, we see 60 Hz monitors. But gamers need a high refresh rate and good resolution. So many people prefer 1080p 144 Hz. There are some high-resolution monitors like 4K 144 Hz HDR, but those are exceptionally expensive and demand very powerful graphics cards. MSI Nepal has few offers for the market and they are very good. Usually, very fewer people buy these, so the option is a bit less. Here we want to give you details and list of MSI monitors price in Nepal.
Optix AG32
It is a 32" 1080p curved VA LED monitor with 110% sRGB. It has a surprising 165 Hz refresh rate and 1 ms response time. Most displays only have 144 Hz, but this goes to 165. This means users can take benefit from their powerful gaming rigs. AG32 has AMD FreeSync support, which means users can experience tear-free visuals. Actually, 31.5" is the viewable size due to thinner bezels.
There are other good features such as Anti Flicker and less blue light production. This provides better results and experience to users. Due to smaller bezels, users can put them together to have a good multi-monitor experience. As this is a curved panel, the multi-monitor system gives better surround immersion and experience. Summing up, its specs are as follows.
Screen Size: 31.5″
Resolution: 1920×1080
Refresh Rate: 165 Hz
Response Time: 1 ms
Gamut: 110% SRGB
Panel Type: VA
Inputs: Display Port, HDMI
Price: Rs 70,000 ($650)
Optix MAG271CQR Specs, details
Screen Size: 27″
Panel Type: VA LED
Resolution: 2560X1440
Refresh Rate: 144 Hz
Response Time: 1 ms
Gamut: 115% SRGB
Inputs: Display Port, HDMI
Price: Rs 66,000 ($600)
This is a 27 inches VA panel with WQHD resolution at 144 Hz. This is a high-resolution, sharp display with a good refresh rate and response time. It is very good for gamers who want both sharp images and smooth play. The side borders are very small. Therefore it is called frameless design. Slim bezel only exists near the bottom part. There is a dedicated headphone stand on the side as well. The unit has 1800R curvature and 178 degrees angle of view which makes it very easy to look at.
Optix MAG271CV
Screen Size: 27″
Panel Type: VA LED
Resolution: 1920×1080
Refresh Rate: 144 Hz
Response Time: 1 ms
Gamut: DCI-P3 90%
Inputs: Display Port, HDMI
Price: Rs 54,600 ($500)
This is a Full HD LED monitor with a 144 Hz refresh rate. It also has a very small response time, which makes it even better. It is a good option for people who need a big size 1080p display. In our view, 24″ is perfect for FHD. For a 27″ monitor, 2K or WQHD is best.
Optix MAG241C
Screen Size: 24 Inches
Panel: VA LED
Resolution: 1920×1080
Refresh Rate: 144 Hz
Response Time: 1 ms
Gamut: 115% SRGB
Inputs: Display Port, HDMI
Price: Rs 39,000 ($360)
This is one of the perfect 24″ monitors that has good specs and an anti-glare screen. It is for many players who play fast-paced first-person games or any other titles. MAG241C has a good color gamut, design, and features. Users can take benefit from AMD FreeSync as well to get a tear-free experience.
Optix G24VC
Screen Size: 24″
Panel: VA LED
Resolution: 1920×1080
Refresh Rate: 75 Hz
Response Time: 8 ms
Gamut: 85% NTSC and 110% SRGB
Inputs: VGA and HDMI
Price: Rs 27,000 ($250)
This is a very normal curved monitor. It has a slightly higher 75 Hz refresh rate compared to the normal 60 Hz. For most games, the small increment might not matter much. 120 Hz and more is preferred. The resolution is FHD and the response time is 8 ms, which is quite high. In the market, we can might cheaper alternatives. For us, this is not that impressive and we would suggest picking other models.
MSI Gaming Mouse
A mouse is a very important part of the gaming accessory family. These products are very important because good quality devices provide more options and power. Mouse with good sensitivity and DPI range is useful for designers and gamers. The precision is much better, and workflow also increases. There are many small things people look at such as weight, DPI, smoothness, sensitivity, scroll wheel, extra buttons, ergonomics, etc. Some provide features while some provide comfort, and some provide both. The purchase choice depends upon the users or buyers.
Interceptor DS B1
This is a very basic gaming mouse from Micro-Star International. It has an ergonomic design and a total of 6 buttons. The weight can also be controlled using small metal weights kept inside. This is a must in gaming products. The quality of the connector is also great because they are gold plated.
Interceptor DS Series
There are many MSI gaming accessories in the market and the DS series mouse is one of them. The company has different models and editions. As the number goes higher, price and features also get higher. Let us show some details of them.
DS100
This mouse has braided wire, gold plated connector, ambidextrous design, DPI adjustment, 8 buttons, and RGB Light. The body also has an anti-slip coating. So if your hands get sweaty during longer playing sessions, you have one less thing to worry about. The price is DS100 is Rs 3,000 ($25).
DS200
This is a bit better model with more precise wheel steps, weight control, and 9 programable buttons. There are 8 numbers of small 2.4 gm metal pellets to control weight as needed. MSI also provides special software for this mouse to control its functions, DPI, speed, and light. Its price is Rs 3,600 ($34).
DS300
It is a newer iteration with a simpler design but high-quality hardware. On top, there is an RGB Dragon logo. On the inside, we have 3 numbers of 4.5 gm metal pellets to control weight. It is even better ergonomics with an anti-slip contoured hand grip. This also comes with software to control its features such as pointer speed, macro, LED colors, etc. Its price is Rs 5,400 ($52).
MSI Keyboard
The keyboard is a very important input device for a computer. Most people are very picky and specific about their keyboards. They are one of the most used devices actually. Some people want clicky mechanical switches while some want silent keys. There are some people who need RGB and some need dark and normal ones. We have to consider other properties such as key travel, palm support, number pads, arrow keys, and multimedia buttons. There are lots of options and things to consider.
Interceptor DS4100
It is a very simple looking gaming keyboard with an LED backlight, multimedia keys and wrist rest. This model is very thin at 1.8cm and is very light as well. The wire is braided, and USB is gold plated. It is not mechanical but has very tactile feedback. The price of Interceptor DS4100 is Rs 3,400 ($30).
Vigor GK40
This is an illuminated keyboard from MSI that has Mystic light support, RGB backlight and wrist rest. It is spill-proof and uses special membrane switches. The switches are not mechanical but do give that feel somehow. Its price is Rs 6,600 ($64).
Gaming Headphones
MSI also sells gaming headphones in their gaming gear section. These are very famous and important products. Headphones are a critical accessory for gamers because they use it most of the time to hear and chat with other players. So good sound, comfort, and clear microphone are very important.
DS501
It is a very simple looking headset with 40 mm drivers and a lightweight body. The design is a self-adjusting type and doesn't look that fancy. Users get the usual adjustable microphone connected to the headset. There are easily reachable volume controller and mic on/off switch in the cable. Cushions are also soft and are of on-ear size. It has 32-ohm impedance for the speaker and 2.2k ohm impedance for the mic. Its price is Rs 4,000 ($35).
DS502
This is the new successor of the DS501 and it comes with new updates. It also has 40 mm drivers, but there is a virtual 7.1 surround sound. Users get a smart audio controller and a vibration system. There is also a LED light at the side for people who like RGB and shiny gears. It has good software support for various optimization and improvements. The price of DS502 headphones in Nepal is Rs 6,000 ($55).
Immerse GH10
It is a small earbud type headphone with a mic attached to it. This is a very light lightweight gear with a detachable mic and ear-hoot design. It has a cable for connection and it powers 13.5 mm drivers. The earbuds are detachable and washable. The ear hook is also made of Silicone so it is comfortable. Users can detach the microphone and use it for listening to music from mobile phone also. The price of this gadget is Rs 4,200 ($38).
Other Gears
There are many other MSI gaming accessories such as mousepads, controllers and chairs. All of these are important. Controllers are very critical because there are different types and their ergonomics matter a lot. The chair is also very important for support and posture. We seriously recommend buying a good chair with lumbar support instead of flashy ones. Nothing is more important than your backbone and health.
Mousepads
Pads or mats aren't that technical things. However, they do provide comfort, good look and bolster the aesthetics. They might look like a simple product but they are quite expensive. It all depends on their material quality, build, stitching, fiber, and size. We always recommend you to buy a good quality mat that allows good mouse gliding. Also, try to get one with edges stitched so that it doesn't peel off in the future.
Controllers
There are many types of joysticks in the market. Many people prefer original Xbox controllers because of game compatibility. Some also prefer Playstation controllers while some use joysticks from other companies. MSI also offers few options to its users.
Force GC30
This is a very popular gamepad that has wireless support, dual vibration motors and good design. It is also supported in gaming consoles. Inside there is a lithium-ion battery that needs charging. One great feature of this gear is the replaceable D-Pad. Its cost in the market is Rs 4,800 ($45).
Purchase advise and recommendations
We have listed a lot of accessories including gamepads, mousepads, keyboards, mouse, monitors, and headphones. These all are meant for different users. Before buying, think of your needs and budget. Our advice is always the same for everyone, purchase what you need. In the case of monitors, buy according to your computer and mainly graphics card. If you have a system that can throw more than 60 fps, then only buy high refresh rate monitors such as 120 Hz or 144 Hz. Else be wise and spend on a good processor or GPU. We also have an extensive list of processors prices in Nepal.
24″ is the best size for 1080p resolution and 144Hz is the best rate. Also, take care of response time. Smaller is always better so stay away from display panels that have a response higher than 5ms. For 27″ panel go for 2K resolution and for 32″ try to go for 4K.
Always look for braided cable in keyboards and mouse. Be very careful about comfort and design. Therefore look after wrist rest and good grip. Purchase mousepads with good fabric and that can be washed. The mats get dirty and greasy fast so it is necessary to clean them regularly. Take care of your system regularly and always get the best quality products.