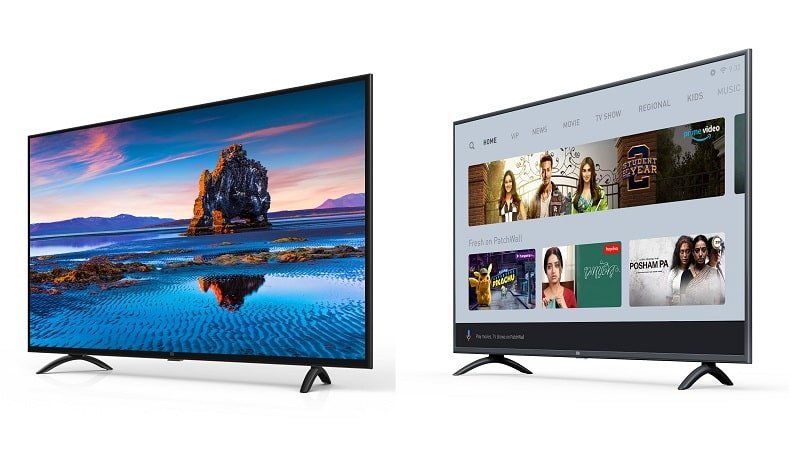 Xiaomi is a well-known smartphone manufacturer, but they also have a vast range of consumer electronic products. Mi TV is quite famous in their ecosystem. Now Xiaomi Nepal has also launched the Mi TV in Nepal. The company launched its latest television sets in an online event. They have started with just two models for now. They will be expanding the product range gradually. Many people were demanding for Mi TV for a long time. This entry in the consumer electronics segment is welcoming. The Xiaomi Mi TV price in Nepal is quite aggressive. The prices are near to models of other companies.
There is a wide range of products in Nepal from this Chinese manufacturer. We have a big list of Xiaomi accessories price in Nepal, and now they have also added TV. The television market is growing, and people are now getting into the new era of high definition screens. People are now buying 4K screens for their homes. Full HD is now a minimum, 4K is the new normal, and 8K is the high-end for resolution. Many people still purchase 1080p and 4K TV sets. Xiaomi has all types of television in its ecosystem. However, Mi Nepal has few models in the market. Mainly they have 1080p Full HD and 2160p 4K TV for its consumers.
All of the Xiaomi televisions are Smart TV, and they have various inbuilt features. These days people want smart features, inbuilt apps, and internet support. People like to watch their internet content on a big screen in comfort. This is why Mi televisions have good software and smart features. People can stream their content from YouTube and other service providers. However, the number of online OTT service providers is significantly less in Nepal.
Xiaomi Mi TV Price in Nepal: MRP List
| | |
| --- | --- |
| Models | Price |
| Mi TV 4X (55″) | Rs 64,999 |
| Mi LED TV 4A Pro (43″) | Rs 39,999 |
Updated On: 2020/09/18
These are MRP of the models available in Nepal. It has been provided to us by the company.
Xiaomi Mi TV 4X (55 Inches)
This is a 55″ 4K HDR television of 2020. It is one of the most affordable 4K screens in Nepal. Ultra HD TVs are getting more popular these days. The number of content is also growing on the internet. The Patchwall OS has a big collection of 4K content for the users. But the normal channels coming from service providers are still in SD and Full HD. However, this is a panel that is ready for the future. 2160p content is also available on YouTube, Netflix, Amazon, and other platforms. The Mi TV 4X is also HDR compatible. It has an HDR 10-bit panel, which means users can enjoy vibrant colors, vivid contrast, and deeper blacks.
For Sound, there is Dolby Audio Plus DTS-HD. There is a Vivid Picture Engine for image enhancement as well. It means users can enjoy high-quality visuals and audio from this television set. Users can also enjoy useful features in software. There is "Universal Search," which helps to find content on all OTT platforms at once. Users can also connect their devices like gaming consoles, computers, and Blu-Ray players using HDMI ports. There is a fair amount of I/O option in the back of this television.
Mi TV 4X Specifications
Screen Details

Size: 55″
Resolution: 3840×2160
Refresh Rate: 60 Hz
Viewing Angle: 178°
Color Depth: 10 Bit
Dynamic Range: HDR

Dimensions: 1242×720 mm
Speaker: 2x10W
Processor: Amlogic Cortex A53 (Quad-Core)
GPU: Mali-450 MP3
Memory: 2 GB RAM
Storage: 8GB eMMC
Software: PatchWall (Android 9 Pie)
I/O: WiFi, 2xUSB 2.0, 3xHDMI Ports, Ethernet, AV
Mi TV 4X Price in Nepal:
Rs 64,999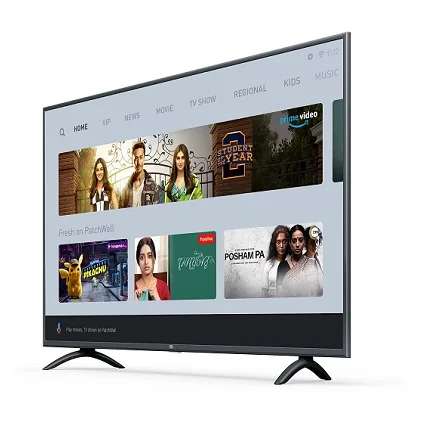 Xiaomi Mi LED TV 4A Pro (43 Inches)
This is a 43″ Full HD LED TV with 1920×1080 standard resolution. This television set runs with PatchWall, which has a lot of content. Xiaomi website says that there is more than 700,000 hours worth of content. On top of it, users can access various OTT service providers. There is support to Play Movies, Chromecast, and Google Voice search. The 4A Pro has Universal Search as well. It means users can search for content on any of the platforms easily.
The Mi 4A Pro comes with a very good panel that has an upgraded graphics engine. This helps to reduce noise, enhance colors, brightness, and improve details. The audio section comes with 2 numbers of 10W speakers so users can also enjoy good rich sound. There is DTS-HD also available which helps to provide a better experience to the users.
Mi LED TV 4A Pro Specifications
Screen Details

Size: 43″
Resolution: 1920×1080
Refresh Rate: 60 Hz
Viewing Angle: 178°
Color Depth: 8 Bit
Dynamic Range: SDR

Dimensions: 970×565 mm
Speaker: 2x10W
Processor: Amlogic Cortex A53 (Quad-Core)
GPU: Mali-450
Memory: 1 GB RAM
Storage: 8GB eMMC
Software: PatchWall 3.0 (Android 9 Pie)
I/O: WiFi, 3xUSB 2.0, 3xHDMI Ports, Ethernet, AV
Mi LED TV 4A Pro Price in Nepal:
Rs 39,999
Conclusion
We like the fact that Nepal also has access to Xiaomi's big ecosystem. Their television lineup adds more options for the consumers in the market. This is very necessary for a healthy competitive market. The models from Mi are good and filled with features. Xiaomi Mi TV price in Nepal is also reasonable and near to Indian prices. They are a bit high, and it is all due to the taxes and retail chain margins. Television is big business, and it has a different market altogether. It is quite different from the smartphone market. They are bulky things, require special parts and different after service systems.
In our view, Mi TVs are elegant in terms of look and have powerful internal hardware. The sets come with sufficient I/O ports, good software, and easy navigation. Even the affordable and inexpensive sets also have powerful speakers and DTS-HD audio. Access to a huge amount of content on the PatchWall platform also makes Xiaomi's products better. There are a lot of things to like. So we hope to see even better products and even better pricing in the future.