There are many freelancers, online workers, content creators, YouTubers, and bloggers working in Nepal. They earn online and use various methods to make payments. Most of us need a Paypal account for this. So many of us use the help of friends and family in foreign countries. By the way, it is actually possible to create PayPal account in Nepal and verify it. Many people say that it is not possible but let us tell you about the details. We have actually seen legally created PayPal in Nepal using international credit cards issued by A-class bank. It can be verified but there are some limitations and is not like the USA or Indian account. So let us tell you about the details of this topic.
This took us 6 months to study. We talked with various bank officials, CA, and people in the finance and economic sector. It is possible to legally have an official PayPal account in Nepal. Many people say that they don't work here and it is true because there is no physical office. But PayPal does provide service to Nepali users and it is listed in their supported countries section. Nepal Rastra Bank (NRB) has a provision of international online payment in Nepal. However many people don't know about it. It is detailed in the Forex Unified Circular of NRB. Do read it thoroughly. We have discussed it in our article regarding international payment from Nepal.
In order to create PayPal, we just need to put our email address and other details. But the main thing is linking cards and verifying it. This requires international prepaid, debit, or credit card. Any card that is enabled for making payment in USD when required can be used. Currently, Nepali banks don't issue convertible currency cards. There is either a domestic NPR card or an international USD card. Thus we need to have an international USD card for this purpose. The main problem is getting a permit for that. NRB allows persons and organizations to have USD cards but it needs some paperwork.
PayPal Account in Nepal
Many people and organizations have a legally verified PayPal account in Nepal. They work by credit, debit, and prepaid cards provided by Nepali banks. Most of the people use Class A bank-issued international credit cards in Nepal. They can be from any payment network like Visa, MasterCard, or American Express. We went to different banks and talked with officials of their card department. They all replied that international online payment from Nepal is possible only through USD cards and not through domestic NPR cards. They also confirmed that the cards work in PayPal as they are enabled for online payment.
We found that some people have PayPal in Nepal verified with international Visa Card from banks. But there are a lot of restrictions. It is not full as Australian or Indian accounts. In practice, PayPal offers two types of accounts. One is Personal and the next one is business. Only personal account creation is available in Nepal. There are many problems and the limitation with Nepali PayPal account are as follows:
Only a Personal account is available. Business account creation is not possible.
Receiving money is not allowed
No option to link bank
No PayPal balance service
It means only sending payment is possible. We asked the company through the message center and they said that they are working with the related channels for this. In case of a refund, the money comes back to the bank account associated with the card. So we can see that there are many limits. On top of all this, having an account doesn't fix the main issue for receiving payments. That is what many people need. So it is not that fruitful. Here we have taken a screenshot of a verified Nepali Paypal account that uses an international prepaid Visa card from a Nepali bank.
How to Create a PayPal Account
It is true that normal Nepali people can't use international payment easily. It is because there are three requirements to open an FCY (Foreign Currency) account and get a USD card from Class A banks of Nepal. First is a confirmed air ticket with a visa on the passport. This gives access to international travel card loaded with USD within NRB's limit. The second requirement is proof showing regular earning of USD. This includes MOU, salary slip, employer contract, etc. The third is a direct permit issued from NRB. This is given to special people and special organizations. If you can manage any of this, you can get an international dollar card and make PayPal account. The company has also listed Nepal in its list of more than 200 countries and supported markets.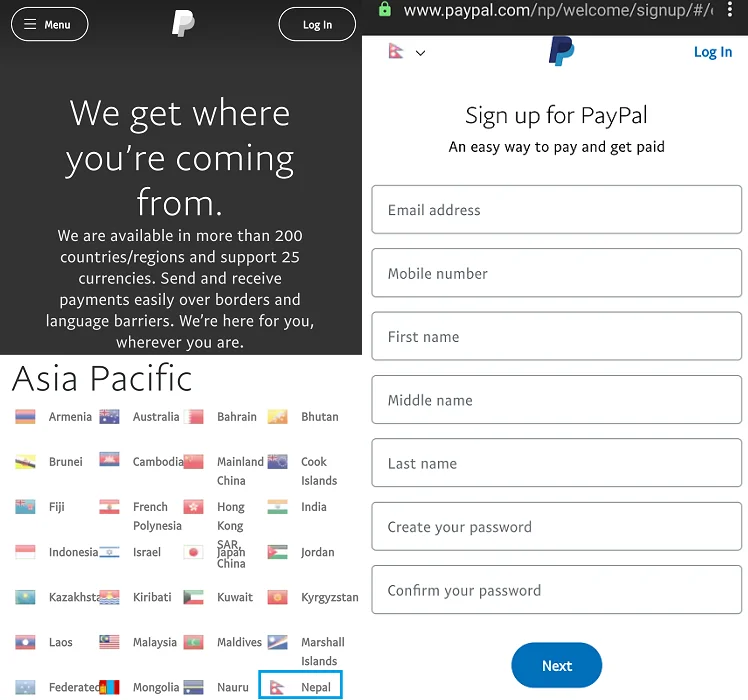 If you can get a USD card then you can follow some steps for creating account. These are the steps for creating a PayPal account.
Go to the PayPal website
Enter your name and email address
Set up a strong password
Enter further details including phone number, DOB, and address
Verify your email account using the link sent to your email
Enter card information
Verify the card linked to your account (Small payment is made and you have to check your bank or card statement and report the exact amount to verify.)
Use your account to make payments when needed after completing verification.
Alternative Solutions
USD or FCY accounts are not very common in Nepal. It is very hard to get for freelancers and people who can't produce documents. We saw that even the bank staffs are not aware of such a service. Moreover, many people are not familiar with NRB rules and circulars. Therefore many people ask their friends and relatives in foreign countries. People ask for help from people in India, USA, UK, Australia, Germany, and other foreign countries. They all work in trust. People pay their relatives here and use the PayPal account and cards of people living outside. This is one of the most popular solutions.
Next, we see that people use services like Payoneer, Skrill, and Neteller. Payoneer is a very popular and trusted platform. It is used by many freelancers and online workers to receive and make payments. They also issue international MasterCard. It can be used in Nepal to withdraw cash from local ATMs. PayPal used to support Payoneer cards but now they don't. Still, many people use their service for various transactions. Even in the past, people used to use VPN and make USA PayPal account with different information and phone number to link Payoneer cards.
Conclusion
Let us summarize everything we discussed earlier. Yes, it is possible to make PayPal account in Nepal. They do provide service but there are many limitations. For example, we can't receive any money for now. We can only make payments. We think, the company and authorities should fix this because it can help our country to gain more money from outside. People need to have a USD card for making an account. But getting such a card from Nepali banks is very hard. Only a few people and organizations can fulfill NRB's and bank's requirements.
There are heavier restrictions and rules. Therefore people are taking other routes to get payment service. They are using other international service providers. People are also taking help of their friends and relatives. There are many issues for online workers and entrepreneurs. However, the grip in international payment is to control the outward flow of dollars. Everyone wants these restrictions to be eased up a bit. Because that would help the digital market, entrepreneurs, small businesses, and online workers grow a lot.