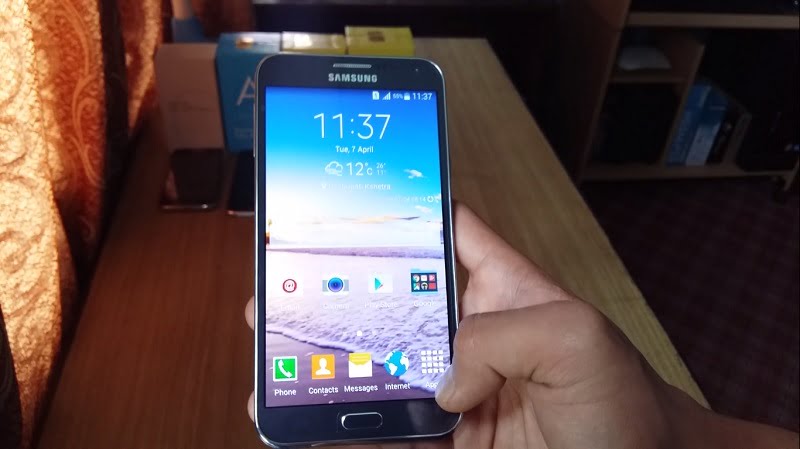 Samsung Nepal launched the new E-Series with a new statement saying "The Galaxy Grand has evolved to Galaxy E". There are actually two specific models in the series now. Samsung Galaxy E7 is the biggest one and Galaxy E5 which is the smaller brother. We now take these phones as the new replacement of previous Grand models. We used this phone for quite some time and we want to share our impressions with everyone.
Specifications
The Galaxy E7 has 5.5" Super AMOLED screen with 72% screen to body ratio. The screen is good with a resolution of 720X1280. It is not that sharp for a 5.5″ screen if we see the FHD resolution of Galaxy A7 which also has AMOLED panel. Thhe screen is protected by Gorilla Glass 4 which is very good. The device is powered by 1.2 GHz 64 bit Quad Core processor on Snapdragon 410 chip. In terms of memory, there is 2 GB RAM. And in terms of storage, there is 64 GB inbuilt and 64 GB SD card support.
Well talking of power the powerhouse or battery is 2950 mAh which is in this case perfect for this type of device. The rear camera is 13 Megapixel f/2.1 with autofocus and can take pictures at 4128×3096. Front camera is 5 Megapixel with f/2.2 aperture. Both modules can record 1920×1080 videos at 30. Samsung also offers an LTE model with NFC.
Features and Software
Samsung Galaxy E7 has the same new TouchWiz UI with Android 4.4.4 KitKat.It can now be upgraded to Android 5.1.1 Lollipop which gives it a fresh new look and feel. It does have a very big battery in comparison with other phones. Then over the top, there are power saving features like the new Ultra Power saving mode. It lets the user to use a few apps and turns the screen black and white to save power. It shows estimated time up to 9.4 days.
Galaxy E7 features a new private mode and Studio feature for editing photos. The best thing is a camera with 120-degree Selfie that includes Selfie with palm Gesture. This allows the user to take Selfies just by waving palm. Pictures are taken after 2-3 seconds after waving. Beauty face detection is another great feature on front camera including a night mode. Users can also download a few extra camera modes from Galaxy store. For sensors, there are proximity and accelerometer but no compass.
Impressions and Closure
Galaxy E7 houses giant battery, big display and fast quad-core processor in a tight body. It has a new design with nonremovable back and metal side rails. It is trying to give the premium built feel at lower pricing. The processor and RAM combination is actually good for a phone at this price. Samsung has placed the best display type but the resolution is a bit low. Still, it is a cut corner we can accept for the cost.
Samsung is using the best mid-range camera sets that they are providing in all new phones. The final result of photos and videos are very nice. Selfies also come out really good. Much more importantly battery life is good because of 720p 5.5″ panel, efficient process and obviously big battery size.
It is a great option if you love watching movies on mobile, taking great pictures and Selfies than this can be your choice. The market price of Galaxy E7 in Nepal is Rs 32,500 ($310). Price is closer to the Galaxy A3 but in our view, E7 gives far better value. The Galaxy E5 is another cheaper choice to have as well. Overall we liked this device and recommend it to our readers if they are planning to buy a new phone in this price range.