Samsung Galaxy A7 is a very popular smartphone since it came. It held the record for slimmest phone in the market when it came in 2015. Now Galaxy A7 has changed a lot in terms of every aspect. The design and build has always been premium and it is carrying its legacy since then. Galaxy A7 2018 is Samsung's first phone to have three camera at the back. There is also Galaxy A9 which has 4 camera but A7 is also pretty interesting. To make everything clear, the third new addition is for wide angle shots.
The new generation demands better camera, design and more power. This is what Galaxy A series is meant for. Samsung says that the A series is their offer for mid range segment that gives better features than lower end and brings more to the table from flagship. Galaxy A7 has been very popular smartphone for everyone and this time it is more special with three back cameras.
Galaxy A7 2018 Specification
This phone is not only about cameras because there are other good things as well but camera is very special. So to have better knowledge about the phone lets have a fast look over the specs.
6″ Super AMOLED Display with 1080×2220 screen resolution
Gorilla Glass 3
Exynos 7885 Octa core chipset
4/6 GB RAM and 64/128 GB on-board storage
3300 mAh Lithium Polymer Battery
24 MP f/2.0 Front selfie camera
24 MP f/1.7, 8 MP f/2.4 and 5 MP f/2.2 back cameras
Design and Build
Galaxy A7 has always been very good in the build and design section. From the first model we always loved this phone. The A7 always comes with premium material and has solid build. Previously they were full metal unibody and now they are glass sandwich. Samsung always picks the new trend and design standard with grace. Just like other mid range phones Galaxy A7 also has tall build with 6″ Screen.
Just like Galaxy A9, they have shifted volume rockers to the right side. It is new approach but for most users they might miss the older design. We also like the older placement at left side. Then the next big change is power button cum fingerprint scanner. Instead of fingerprint scanner at back of the phone, it is now at right hand power button.
We also saw that in Galaxy J4+. This approach is a bit slow and hard and not that great from experience point of view. As the surface area is very low, it is very hard to get it open. Comparing to rear mounted scanner or front mounted, we definitely prefer rear mounted one just like new A9. Camera placement is also now changed to vertical rear side right corner.
Display
Samsung is using their famous Super AMOLED panel here so obviously it is great. The Galaxy A7 (2018) has 6″ SAMOLED with 1080×2220 resolution. On top there is Gorilla Glass 3 protection which saves it from accidental drops and scratches. Samsung could have used a newer version of Gorilla Glass but we give them a pass on this one. As usual, we have Always On Display feature and good screen brightness for outdoor use. Everyone loves Samsung's OLED display and this is as good as it can be. It is a FHD+ panel so all the parameters are just great for normal users.
Power and Performance
It is a mid range phone and Galaxy A7 2018 is using a processor of same range. There is Exynos 7885 chipset with octa core processor on it. It consists of 2.2 GHz dual core set and 1.6 GHz hexa core set. The phone comes in 4 GB and 6 GB RAM model. Then there is another two option for internal storage. Users can either choose 64 GB or 128 GB. Making 64 GB base model is one great decision from mobile manufacturers. For battery there is 3330 mAh battery and for such big display it is tad bit smaller in our view. 3500 could have been sweet spot.
The Exynos 7885 is fairly new processor and it is mid range like Snapdragon 636. It could have been better if they had 4 high power cores instead of just 2. Processor performs good for current time mid range tasks. It is good for normal and medium level gaming and multi-window application. RAM is sufficient for medium stress multi application work scenario. Our Antutu score were 122649 and our Geekbench scores were 1529 for single core and 4420 for multi core.
Camera
Galaxy A7 (2018) is Samsung's first phone with 3 cameras and the third one is for ultra wide angle. This is what was necessary since long time. All phones have extra sensor for depth of field but wide-angle is the most important for travelers and normal use. At the back there is 24 MP f/1.7 main camera then there is 5 MP f/2.2 sensor for depth and the new one is 8 MP f/2.4 for ultra wide shots.
The ultra wide angle 120° is very good in capturing good scenery. The lens is very amazing for panorama shots as well. If we look in total, we get good very good high resolution primary camera with wide f/1.7 aperture which is good for low light as well. Then there is another depth sensing module for live focus and bokeh. Finally for big and wide scene, there is ultra wide-angle came. For another added service or 2x optical zoom, Samsung offer Galaxy A9. At the front there is 24 MP f/2.0 camera which is enough for all selfie lovers.
We do like the scene optimizer feature because it enhances color of pictures. Users can only record 1080p videos and not in 4K. Samsung should make 4K available for mid range because at this price segment other competitors do that. One silver lining is that we get EIS. The result is great in terms of optics but the quality is different for each instance. Result from ultra wide-angle lens and primary camera are a bit different in terms of sharpness, color and processing. The auto focus is also a bit sluggish but that may be fixed via software update. Most of the time review unit also have issue so that may be case with us.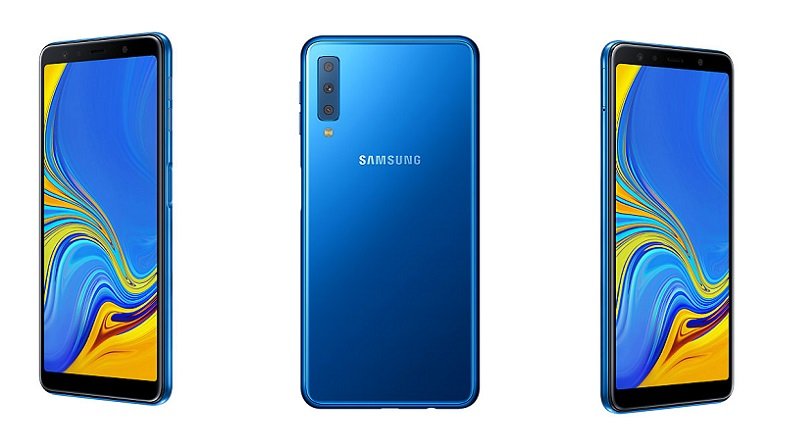 Additional Features
There are quite few things that we enjoyed in this mobile. 512 GB SD card support, Dolby Atmos sound and Bluetooth 5.0 are some good things. The battery in this phone is 3300 mAh which is not that big for such big display and high resolution. It is good for normal daily task, calling and work but when it comes to intensive video playback, gaming and 4G web browsing, a second charge is must at end of day. Samsung is still pushing micro USB 2.0 here while they should be taking lead with USB Type C. There is face unlock feature which can compensate for the fingerprint sensor.
Conclusion
Samsung Galaxy A7 (2018) is a very unique phone because it came with three camera and becomes world's first to have such feature. It has mid range phone with new processor that is capable of doing all mid range tasks very well. There is a good amount of RAM, storage and it also has very high quality display.
This can be a good companion for youths because there is good high resolution selfie camera. A7 also packs big bright and sharp screen and hardware that can drive good gaming and entertainment. Samsung's innovation or improvement surely deserved appreciation. In our view wide angle lens is very important in mobile photography and it is cool to have it here. So if you are in this price bracket and need Samsung phone with such unique camera feature than go for the A7 (2018).