Samsung Galaxy A8 Star came very soon after launch of the Note 9. This new phone is currently the top phone of Samsung's mid range portfolio for 2018. Well they also now have a triple camera phone which is Galaxy A7 (2018). The A8 Star is meant for the power demanding generation and for the rising competition. We used this device for two weeks and this what we have to say on this phone. Here are our thoughts on Samsung Galaxy A8 Star Review, features, experience.
Design and Build
The new A8 star has a 6.3″ Super AMOLED screen at the front which runs at FHD+ resolution. Screen is size is just 0.1″ smaller than the Note 9 so we can say that is it a big phone with big screen. Just like other mid range premium phones from Samsung, it also has metal and glass sandwich design. The phone is slim even though it has a big battery on the inside. The subtle difference is that, it is very boxy phone and it only has slight curve at back. This gives it more industrial look but we hope that they make it more curvier next time. As it has a 18.5:9 aspect ratio screen, the phone is longer but the bezels are less.
Looking at left side, we find volume rockers and dedicated Bixby button. At right we have power button and SIM card plus SD card slot. The bottom side has headphone jack, USB Type-C and speaker grill. On the back there is vertically placed dual camera setup and at side we get fingerprint scanner. Fingerprint scanner is quite above the normal zone so reaching it is a bit hard even for big hands.
Internal Hardware and Power
The hardware is the part that defines a phone and its price plus segment. Phones with best and the top end processors, specs are flagship while below them we have mid-range and this is where Galaxy A8 Star sits. Unlike the Galaxy A8+ with Exynos chipset, A8 Star comes with Qualcomm Snapdragon 660. It is very popular chip for mid tier market. The company is combing this octa core processor with 6 GB RAM and 64 GB storage. As a Snapdragon SoC, we get Adreno 512 GPU on the inside. One fascinating feature is that, just like the new Galaxy Note 9, it also supports 512 GB memory card.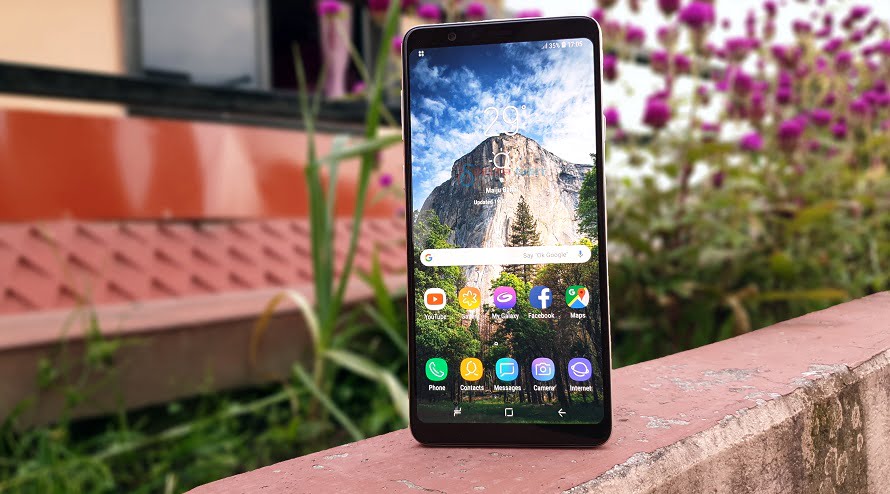 It is powered by a 3700 mAh battery which can pull this phone easily through one good day with all level of load. FHD+ resolution is fine because that is what we use in flagship as well to save battery. The phone also supports fast charging and has all the sensors that we could ask in this segment of Samsung.
Display
The screen is Super AMOLED which we all love and it is at 1080×2220 resolution. Screen is good and great for watching videos, playing games and web browsing. Some people just want plain screen with less bezel and no notch, so it is that screen if you want. Watching movies and YouTube is also immersive with such big display. Only thing it misses is stereo speaker for top notch experience.
Camera
Numbers of the camera are something that can attract many people. So in the back, Samsung Galaxy A8 Star comes with 24+16 MP f/1.7 dual lens camera setup. On the front there is another 24 MP f/2.0 camera. This is definitely for people who want very high resolution and detailed selfies plus pictures. Both primary and secondary cameras have very high pixel dense camera that gives super high resolution camera. The back aperture is also f/1.7 so night shots also come out good.
Thing to notice here is that Samsung has both more pixels and better aperture. Most companies just shows more pixels but have smaller aperture. Live Focus, Beauty mode, Night mode and Pro mode are all there in the camera. We actually liked high resolution pictures of Galaxy A8 Star more than of Note 9 in day light. A8 Star is coming with UHD video recording and it seems Samsung is slowly pushing this good features to mid range as well. We just want Samsung to put RAW support and manual focus on these premium mid tier phones as well.
Performance and Features
Samsung Galaxy A8 Star comes with 6 GB of DDR4 RAM with a Snapdragon 660. So the performance is just as expected phone the phone. It is snappy and handles multitasking with super ease. The memory never filled and we don't expect it to be filled. Older tasks were intact while switching from multiple apps. Normal stuff such as browsing, surfing, video playback are all fun and smooth. It does have problem in 4K video playback so do take note on this. For gaming, we tested many games such as GTA San Andreas, Asphalt 8, Alto's Adventure and they all worked fine with no issues.
In regards of feature, we see Dual messenger, Bixby, Secure Folder and more such feature. We actually tested Indian version so it has Samsung Pay, Pay Mini and we hope that they bring Samsung Pay in Nepal as well. Radio app caught our eyes and we take it as the most basic feature to have. We get both Face recognition and fingerprint scanner in this phone. In the Galaxy A8 Star we like facial recognition more than fingerprint. There is more with this Samsung Experience 9.0 and it is also getting new Android Pie update soon.
Galaxy A8 Star Full Analysis and Conclusion
So what we have here is a new Samsung phone with popular mid range processor and signature AMOLED screen. The Galaxy A8 Star has memory that is more than enough. Base storage is 64 GB which can be extended up to 512 GB so storage is not an issue. It has a reasonably large battery with good battery life. Cameras take high resolution detailed photos on both situation.
Overall, it is a good package with some polishing and changes required. Galaxy A8 Star is a nice phone but it is in a price point which is very competitive and border line. It is where flagship options such as Galaxy S8 and S8+ sit, thus we would recommend you to pick a S8 at this price. By all means, the phone is good package but pricing is a a bit high considering the chipset. Else it is a great package for media lovers and camera junkies.