Galaxy C series touched the land of mountains few weeks ago. We got the C9 Pro review unit for test purpose. Our reviewers used the phone as main driver for more than a week. We tested and explored its features as much we could. Nepal is only getting C9 Pro for now but people are demanding other phones like C5 Pro and C7 Pro as well.
We have already compared the three phones in earlier article. Samsung Galaxy C9 Pro costs Rs 59,000 in Nepal. which is an upper range budget. The price is justified by the phone itself. The design language is very similar to many other old phones.
Design
We are getting a 6" 1080p FHD Super AMOLED display. It hosts a metallic body with Gorilla Glass 4 at the top. Aesthetically it is not a quantum leap like S series but there are other big forces inside. It is very slim phone even though it houses 4000 mAh battery. Antenna bands are also well mashed up well at back side.
Read More: Galaxy C5 Pro vs C7 Pro vs C9
Specs and Performance
Below the gorgeous, vibrant and big display we get Qualcomm Snapdragon 653 SoC. It holds an Octa-core processor, 6 GB RAM and 64 GB Internal memory. Processor is composed of two quad-core sets, one is 1.95 GHz and next is 1.4 GHz. Samsung is providing GB RAM with this new phone. This gives a very big head for multitasking.
Apps runs very smooth and switching between them is fast. We experienced no lag or such problems. Gaming with Adreno 510 GPU is also pleasing. We tried 4GB RAM was enough in S7 but 6GB is future. Some soures are also telling that S8+ in China will feature 6 GB RAM. There is something special about Chinese market and we will explain it.
We like the inclusion od SD card support and 64 GB ROM. Users will have no problem for storage, installing apps, big games and shooting videos. C9 Pro holds a gigantic 4000 mAh battery and in out test with medium usage, we got 6 Hrs screen on time. With high usage we can get 4 hrs screen on time.
Camera
 For almost all users Camera quality is very important. Samsung is packing this beast with 16 MP f/1.9 sensors at both sides. There is dual tone LED flash at back but not at front. We tested both camera and we are satisfied with picture and video quality. Both camera shoot at max resolution of 1920X1080. Maximum photo resolution is 4608×3456.
This is powerful and expensive phone but there is no 4K and slow motion support which is really disappointing. We expected to see OIS or DIS but again we were left stranded. There is no compromise in quality, shutter speed or other aspects but only with feature. It is clear that Samsung keeps such hi-fi features only for flagship smartphones.
Features and Performance
 The feature department is filled to the top. We get new reversible USB Type-C, Android 6.0, Grace UI, Always on Display (AOD), Bluelight filter and many more. There are very wide range of settings and options to save power such as screen resolution change.
Security and latest feature are intertwined very well. We get a fingerprint scanner with home button. It isn't just for unlocking lock screen now. Samsung is now working to make bio-metric security work for online world too. Currently with C9 pro we can enjoy Secure Folder which came in Note 7. It provided safe space for secure working and Secure WiFi protects you from online sniffing.
Our Favorite Feature List
Smart Screen Turn Off feature. Prevents screen from turning on when phone is kept in pocket or purse. It can prevent from accidental call and mishaps.
LED Notification
Game Tools and Samsung Cloud
Gif Capture while playing video
Samsung Nepal briefed us about launch of C series. The C family was first only meant for China but as they were good phone demand increased worldwide. These phones have higher RAM to tackle with cheap Chinese products which also offer higher RAM.
As China is highly populated, the population density is high and it is loud in cities. People want loud music and sound so Samsung has placed a bit louder speakers. Best thing in sound part is its stereo speaker combination. The top calling speaker also plays music and sound with bottom main speaker. It gives a very pleasing sound.
Summary
What is not there to love and admire? Most people's concern was the screen size and yes it is. This isn't suitable for everyone's appetite. Galaxy C9 Pro is meant for people who need big screen real estate, more entertainment and power. Watching movies, YouTube and playing games is too much fun.
Single handed use is hard so both hands are necessary for safe and good use. As I have a big hand, I was using it with one hand but with lots of maneuvering. We are getting a very good phone with powerful hardware, enough storage and great performing handset.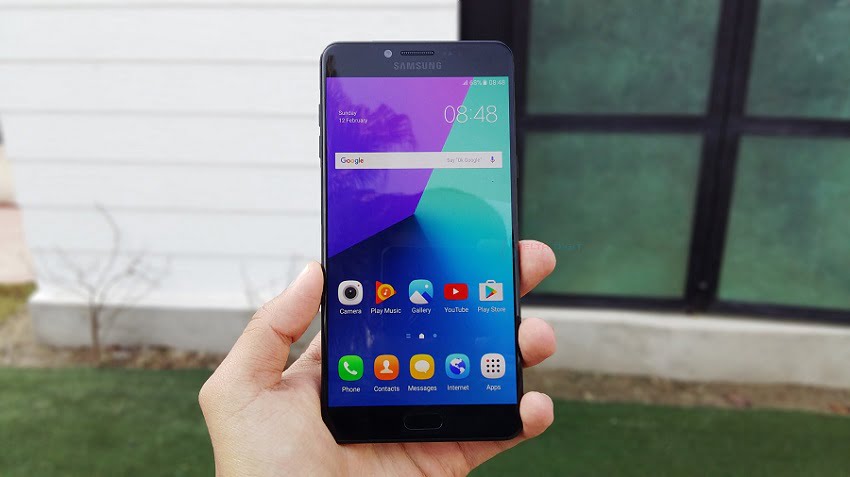 With the large battery, screen, better camera and good battery saving features, it can be a nice for travelers. Overall we are satisfied with the product and it does challenges lots of top-notch phones out there. If the price is a bit low, it can give a good race to many other products out there.