Its been a month since we are using the new Samsung Galaxy Note 9. Our journey started just within a week after New York launch event. We bought it after the sale began in Nepal. Just to tell you guys the whole review in digest, Note 9 is worth every rupee you spend. Every time we review a new flagship Samsung device we experience the best and this time is the same. Galaxy Note 9 is currently the best smartphone that Samsung offers in the market and also one of the best in whole smartphone phone.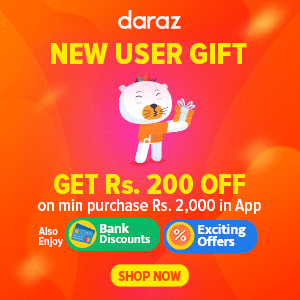 Design: Samsung is sticking with their beautiful glass and metal sandwich design. Its a really premium and beautiful looking design. Unlike the more rounded corners such as of Galaxy S9, the Note 9 has boxier and rectangular form factor. Its has a curved back and screen but with some changes. The curve of the screens are less compared to older devices. This is to provide more writing area for the S-Pen. Also the metal, rails are now chamfered which is being called the diamond cut. Comparing to last year's Note 8, we see slightly less bezels and well placed fingerprint scanner at the back. We like the black color model as always but this time, people are in love the new Ocean Blue model with yellow S-Pen.
Powerful Internal Hardware
Galaxy Note lineup is a flagship series and it always has better specs and features then the S series. S series is meant for all general users but Note is a very special breed. This time new Galaxy Note 9 is bearing the new Exynos 9810 chipset with octa core processor. The processor consists of two quad core sets. One is 2.7 GHz and next is 1.8 GhZ. The processor is significant jump over the processor of Note 8. Just like always, Nepal is still not getting Snapdragon version. By the way Samsung always makes their Exynos variant equally powerful as the Qualcomm version.
We get 6 GB LPDDR4X RAM and 128 GB UFS 2.1 Internal Storage on this device. The base model's storage size is now 128 GB instead of 64 GB. There is also more jacked model with 8 GB RAM and 512 GB storage. We actually wanted that but for the first quarter, Nepal is only getting 6 GB version. There is very good demand of 512 GB models as well, so we may see that in future. Samsung is offering micro SD card support up to 512 GB in the Note 9. We are using Samsung's 256 GB Evo+ card and it is absolutely fantastic. In terms of GPU, the exynos model in Nepal has Mali G72 MP18 while there is Andreno 630 in USA. We have done some benchmarks and they are available in our full review video.
Better Display
Each year or every time a Samsung flagship phone comes, it is crowned as phone with big display. The case is same again for the Note 9. Samsung Galaxy Note 9 has a 6.4″ curved Super AMOLED screen with 1440×2960 resolution. It is HDR 10 certified and has a peak brightness of 710 nits. The screen is so bright that even at direct sunlight, the screen looks amazingly lit.
It also has a feature known as "Video Enhancer" which improves video playback by improving color accuracy and brightness. Note 9 is also kept as top Signature device for watching YouTube. Watching HDR 60 FPS videos is one of the most amazing experience in this device. We generally used it in FHD+ resolution to save battery. The screen is so good that untrained eye can not see difference in QHD+ and FHD+ resolution.
Improved S Pen
A Note device is popular due to its main jewel or the S Pen. Samsung has improved and updated the S Pen by a big time. It is not just a ordinary stylus this time. Now the brand new S Pen has Bluetooth LE which now helps to use it like a remote as well. The pen is great as before for writing, drawing, taking with the sensitive screen and finer tip. But this time the button of S Pen works as a remove controller.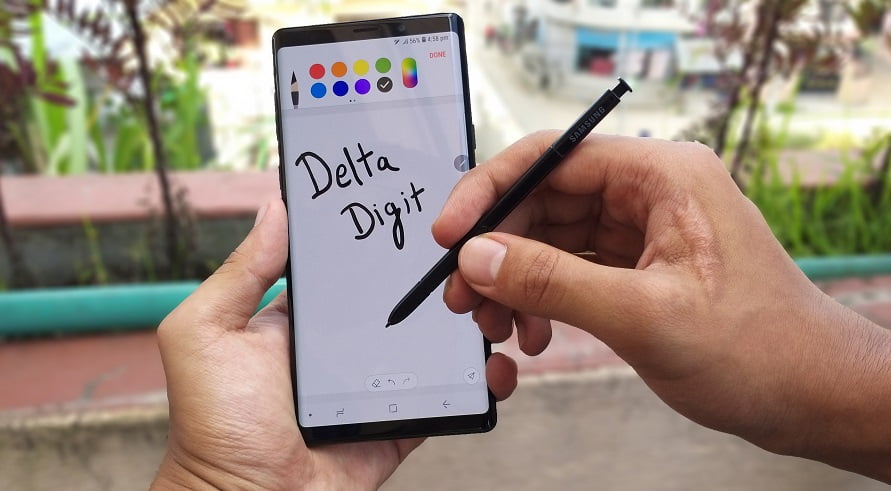 It can be used to do many functions as as taking photos from distant place, changing pages and much more. Business users can just connect a HDMI converter, throw out a presentation with their Note 9 and control slides with just the S Pen. The actions can be set in the settings of the phone. We tested and yes it actually charges to full within a minute after inserting in the silo.
Camera
Camera has always been the most interesting part of smartphones. They have now completely replaced old point and shoot digital cameras. Galaxy Note 9 is ranked better than Galaxy S9+ and Pixel 2 XL by DxOMark. The back side has 12 MP f/1.5-2.4 variable aperture wide angle camera and a 12 MP f/2.4 telephoto camera duo setup. At front, it gets a 8 MP f/1.7 camera. The setup is same in terms of hardware but there are more software improvement and mainly its AI.
Primary camera can record videos at 4K 60 fps and even at 720p 960 fps. For slow motions, 1080p 120 fps is still the best from Samsung. It can record and save files at smaller size with new HEVC format. The new features that makes Note 9's camera more better are things such as Scene Optimizer and Flaw Detection. In Scene optimizer, the camera detects the scenery or objects such as tree, human, flowers, night, day and then tweaks settings for beautiful result. There is separate Food mode in camera for all those food photo lovers.
Flaw detection is the most useful of all features. It can detect dirty lens or if the photo taken was blurry or the person blinked eye. Then it gives a heads up and basically lets you know so that user can take the photo again. It saves everyone from having bad photos. By the way, the camera or shutter of Note 9 is so fast that it mostly always takes great photos. We definitely like the Pro mode and found that low light plus night shots came far better in Pro Mode. (All benchmarks and photo samples are in the video review)
Features and Experience
Galaxy Note 9 bumped its base storage to 128 GB which is very good thing. Also the new memory is very fast and it can be seen during app installs. The Modem is also faster and we actually tested it against our old phones and the network downloads were definitely faster. Note 9 now has new "Water Carbon Cooling" technology which helps it stay cooler. Samsung is now packing this device with 4000 mAh battery and in our test also, the phone definitely lives throughout whole day with all types of usage. We are getting 6 hours of screen on time easily which is definitely a very good thing. Phone learns the usage pattern and improves battery life after first few days.
Gaming is another thing that Samsung is focusing this time. We tried lots of games including Fortnite, GTA San Andrea, Asphalt 9, Modern Combat 5 etc and the phone was flawless. There was no lag or freeze, only slow down were slow servers of games. Phone does heats up at longer gaming sessions which is normal at such heavy load. But it is totally in bearable zone and under thermal throttle limit. Mostly it is popular with Fortnite players for the Galaxy Skin gift.
Samsung Galaxy Note 9 Verdict and Conclusion
Galaxy Note 9 is packing almost everything that we want. It has one of the fastest processor, sufficient RAM and faster storage. There is a giant 4000 mAh battery which can juice it up for longer screen on time. S-Pen is more productive, fun and useful than ever. They also have all the features such as SD card slot, IP68 rating, all types of sensors and headphone jack. Samsung has crammed all those features in a beautiful package and still managed to have headphone jack. So we suggest others to note this and not make excuse on such important ports. The size is a bit big and weight is slightly heavier but for the bigger battery it is worth it.
Camera is absolutely powerful and the screen is one of the best in market. Looking at all these things, we find that Samsung Galaxy Note 9 is worth every rupee you pay. It is expensive but for the price point, there is no such phone that has so much power and features in such neat package. It definitely gives the full value of money. This phone may not be for people with Note 8 and S9. But for people in slightly older phones such as S7 and Note 5, the updates are phenomenal. Currently in our recommendation Galaxy Note is the best smartphone to buy in Nepal.