I have been using Samsung Galaxy S10 since its launch in Nepal. It is currently my daily driver with the Pixel 2. We also published a full review of the Galaxy S10 a few months back. Now it the time to review it again because some time has passed. Most phones are fantastic when we buy them. But slowly they get updates and changes happen. Time changes things so we need to update our readers. Many of you might be considering to buy this flagship phone and is that is the case, you have to know our experience.
Flagship phones last years and they are an investment for many of us. So all of us want to make a wise purchase decision. This is why we want to give our update after 3 months on the Galaxy S10. There are many topics to cover such as new software updates, battery life, camera improvements, experience, and future. We are also going to publish a 6 months review as well. These things should help you understand, what the phone is like.
Camera Updates and Improvements
Samsung rolled out new updates for Galaxy S10 after 1 month of release actually. However, we got the OTA a bit late. But the new camera update brings Night Mode to the phone. Currently, Samsung phones with Android Pie and One UI have Night mode for UI. That is UI mode which gives a black theme for the theme but the camera night mode on Samsung Galaxy S10 is different and it gives a lot of power to the camera.
We tested the new mode in low light and night situations. We saw a lot of positive differences. The mode needs to be enabled from the camera's settings after OTA update and restart. This mode takes much better photos than regular mode. The shadow and dark regions are better lit up in pictures. The picture comes out with good exposure, less noise, and more details. It takes a bit of time to capture photo and save to the device. Therefore users also need to make their hand steady. Well, that is common every time in a low light situation because of the longer shutter speed. It seems that this night mode also users longer shutter with lower ISO to get better photos.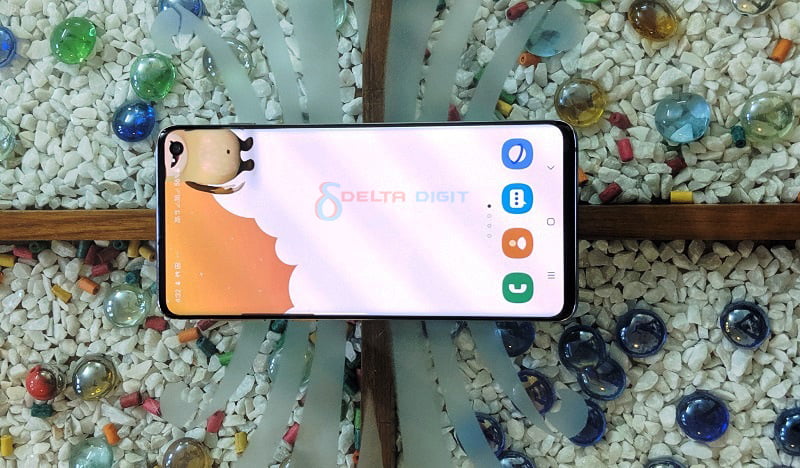 A new update also came and it allows using night mode with the ultra-wide camera as well. At first, the feature was available for primary 12 MP sensor only. The ultra wide module has f/2.2 aperture and it needed that mode. Now we can take beautiful wide shots at light also. Samsung has rolled out this feature to Galaxy Note 9 and S9 as well.
Battery Life for a day
Battery life is very important in a phone and we know that you guys want to know it because it has been a long time. The Galaxy S10 has a 3400 mAh battery which is bigger than the S9 from last year. It has new software, processor and optimization and these things are helping. The phone goes for a full day from morning to night with around 5 and half hours of screen on time. It varies for me because sometimes it can get over 6 hours and sometimes less than 4 hours. Mostly it is more than five hours for me as I live in a region with good 4G cell reception.
But most of the time it hovers around the five hours space. It also touches five and a half hours screen on time mark as well. For a phone of this size and this battery capacity, it is amazing. The fast charging and fast wireless charging are very useful. It takes about 1 and a half hours to charge the battery to full from 10%. The reverse wireless charging is a good feature to have but as I don't have Galaxy Buds, I haven't used it much. However, it is a good feature to show and charge someone else's phone when they are in dire need of power.
Updates and Experience
Samsung Galaxy S10 has got few updates since its launch. We have to admit that the company is pretty consistent with their flagship phones. Both our S10 and Note 9 get regular monthly updates. We are happy to see regular monthly Android security patch rollout. The best updates within these few months are Camera night mode and patch for the in-display fingerprint scanner.
The camera is now quite improved and the fingerprint sensor is also faster than before. It was good when we did the unboxing but now it is much snappier. The face unlock is still great and I prefer using both. Samsung also brought the new QR code feature to the S10. Users can now share WiFi credentials, contacts and other information using QR codes. The camera also scans the code without the help of Biby now. This is a very useful feature and finally, it has come. These types of updates really add value and feature and we like it a lot.
Summary
The Galaxy S10 is a perfect phone with a really comfortable size. It has a sleek and fit form factor that is easy to use and fits right in the hands. The phone also comes with top of the line Exynos processor, plenty of memory, storage and a great camera. In our experience, the stock camera is pretty nice but using Google Camera app can also bring the better result in some cases. We experiment with many apps and we suggest you do the same.
Samsung pushing out new updates for its flagship phone regularly is great. All the updates have brought something new each time. The camera, fingerprint scanner and QR code update are the top till now. Now everyone is waiting to see the new Android Q update with One UI 2.1. There are a lot of expectations for that update. So, in summary, my experience with Galaxy S10 is great. This is a very compact and powerful phone to have and for all these months, I enjoyed it a lot. We will publish a new review after a few months again when we get new updates and the phone mature more.