We have seen a lot in Samsung phones within 10 years. There have been a lot of improvements and updates since the first Galaxy S1. The Galaxy S10 is the result of all those overhauls and changes. It is their most refined phone till this date. We have been using the S10 since April and it has shown its power to us. We also have Galaxy Note 9 to compare with. In our Samsung Galaxy S10 review, we have covered benchmark results, camera samples and our experience with its best features.
There are few important updates in this new flagship. These are important and they might feel like small updates because Samsung is always improving their phones. There is a newer faster processor, higher storage capacity, more memory, and better camera. The S10 comes with a better screen which is a bit unexpected. The Super AMOLED panel in Note 9 was already amazing but Dynamic AMOLED is somehow much better.
Samsung also improved the camera with an ultra wide angle lens, night mode, and better scene optimization. Night Mode actually came in later update. It was not available in the launch. There is a lot about this phone and every aspect needs to be described briefly.
Build, design and screen
All these three things have been changed by a lot in 2019. Samsung Galaxy S10 houses new 6.1″ Dynamic AMOLED screen. It has a hole punch at the right top. The resolution is 1440×3040 and the aspect ratio is 19:9. It means the screen is much taller than before and there are fewer bezels. Now there is just a very thin bezel at the top. The speaker at the top now sits between the panel and the frame. All sensors are tucked inside and the camera is only thing exposed. So the single front camera sits at that hole punch.
It is a new approach and we know it is intermediate until Samsung figures out a way to tuck in front camera inside the screen. For the first time, it might seem a bit odd but if you are okay with notches, it won't be an issue. The cut out is small and it doesn't disturb that much. The body has also changed a bit to adopt changes like screen and camera. The whole body is now made of Gorilla Glass 6. The side rails are now shinier and have steel look. The body is small, compact, solid and still slippery. We recommend good back cover or at least a skin.
Samsung has made improvements in the display. It is now HDR10+ compatible and it also has more brightness. We are amazed by Note 9 and even more surprised with Galaxy S10. The colors are even better and the brightness is even higher. A well-trained eye can see the difference and enjoy it.
Chipset, power, and performance
We reviewed the phone with Exynos 9820 and not Snapdragon 855. New Exynos chip is made with 8 nm fabrication process while Snapdragon is based on 7 nm process. However, Samsung has managed to get even more performance in Exynos 9820 compared to 9810. In this new chip, there are three sets. One is a 1.9 GHz quad-core set, next is 2.73 GHz dual-core and 2.31 GHz dual-core set. It is about 15% faster in both single and multi-core performance compared to last gen 9810.
Also Read: Galaxy S10, S10+, S10e Specifications
The Galaxy S10 comes with a minimum of 8 GB RAM and it is a big change from the older 6 GB configuration. There are two storage variants available and they are 128 and 512 GB. This new chipset can even record in 8K with 10-bit color. But for now, we are set at 4K 60 FPS HDR. We tested many games, apps and loads. The phone performed surprisingly well. There is an increase in smoothness with the higher power. Our benchmark results in the review video below show the result. Playing Fortnite, PUBG, Asphalt 9 also won't break a sweat on this phone. It is quite more responsive than S9 in terms of performance.
Camera Improvement
Cameras of Galaxy S10 provide improvements in terms of optics, sensor, and software. The backside camera is same as Galaxy S9 and Note 9 with 12 Megapixel f/1.5-2.4 wide-angle camera and 12 Megapixel f/2.4 telephoto camera. The newer addition is a 16 Megapixel f/2.2 ultrawide angle camera. This changes a lot of things for the S10. We can now take very wide photos. This is very useful while taking photos of the natural landscape, scenery and in closed space. This gives a bigger and better perspective. Panoramas are also much wider and capture more details. In addition, there is improved super stabilization due to the wider frame the S10 can achieve.
Video recording is also now improved by a bit. There is now 4K HDR10+ video recording support. It is a great feature that many enthusiasts would like. Many people don't have 4K or even HDR monitor or TV. But for people who have access to all those things, it can provide a great experience. It can be a great video creator for YouTuber and vloggers. There is an improvement in the front camera as well. The front sensor is now 10 Megapixel at f/1.9 and it can record 4K videos as well. So now vloggers can take their game to a higher level.
Samsung has improved scene optimization with more scenes and situations recognition. We mostly like the Night Mode because it really helps to reduce noise, get a more crispy and detailed photo in low light. Scene optimization helps a bit but Night mode changes everything by a lot. As always, Samsung impressed us with the cameras again.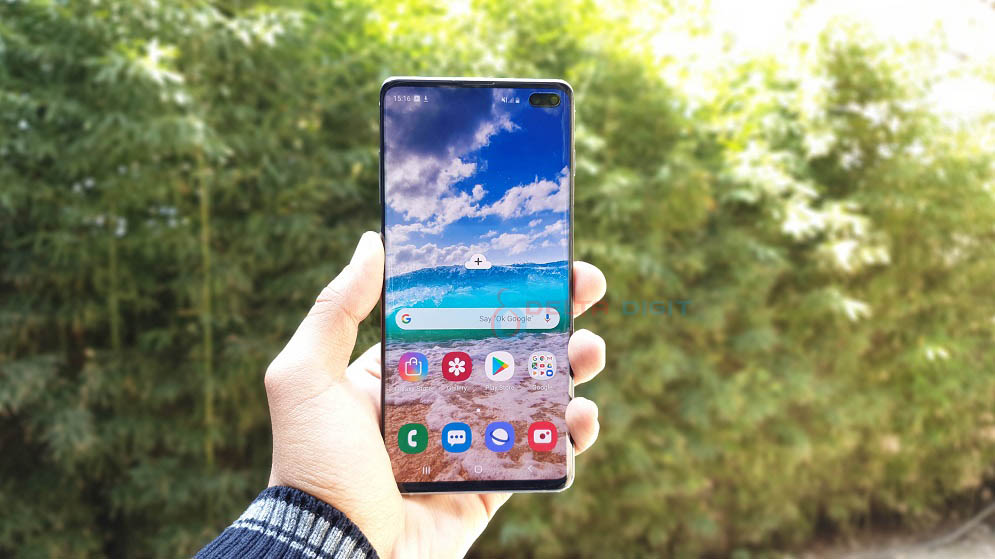 Extras and Features
There are few new interesting features in Galaxy S10 lineup. First is an in-display fingerprint sensor. Samsung uses an ultrasonic fingerprint sensor in the S10 while they use optical technology in other A series of phones. It was a bit slow in first but after a few updates, it is pretty quick. This is very interesting to everyone but there is one thing to be careful. Ordinary tempered glass doesn't work with ultrasonic sensor, so owners need to install expensive special glass. Samsung ships the S10 with a thin protector but we recommend getting thicker and better one.
Another new feature is reverse wireless charging or powershare. Users can charge other phone and accessories using their phone. The charging coil at back can now radiate power as well. It is mainly meant to wireless gadgets like new Galaxy Earbuds. There is 3400 mAh battery inside the phone and it can give around 5 hours of screen on time. The phone needs a charge at the end of the day though. We can say that battery life is decent. We have read that Exynos versions don't have good SoT like Snapdragon version.
One thing to notice is that Samsung has FM Radio in the USA and Canada but not in other countries. This is a bit disappointing and we hope they bring it to all countries as it is basic and important. Galaxy S10 still has IP68 rating, AKG tuned stereo speakers, Dolby Atmos, fast charging and other great features. Stereo speakers are a bit better and louder compared to Galaxy S9. It also has all the sensors including a barometer and blood pressure sensor. We like the fact that they have improved and kept the blood pressure monitoring feature in S10.
Conclusion and Wrap Up
Our Samsung Galaxy S10 review experience has been amazing. It has been getting updates regularly and the most important was the update that brought Night mode. One UI is smoother and is a great improvement over the older UI. In summary, the Galaxy S10 has one of the fastest processors to this date. It has 8 GB RAM minimum which is sufficient for all types of tasks. The screen is much better and brighter with more improved color. Cameras on both sides are more powerful and give fantastic results for both photos and videos. Extra features are also very useful and they make the phone easier and fun to use.
All of these things show that Galaxy S10 is a very powerful flagship smartphone that can deliver amazing performance and experience. In the international market, the price of the base version of S10 starts at $1000. If you want the latest phone with all the latest features in a small package then you should choose the Galaxy S10. If you want a bigger screen and battery then go for the S10+. Else if you want the same experience but at a cheaper price and can bear the one generation old chip then go for Note 9 or Galaxy S9.