On the race to get the best looking screen, companies are pushing the envelope. Some use notch while some use punch whole display. But Vivo is using something far more interesting. The Vivo V15 Pro comes with a pop-up camera module which makes it possible to have all screen and no bezel look. I used the V15 Pro for a week since the day of launch in Nepal and this includes my experience with this phone. It is a mid-range smartphone and in this, I have the Vivo V15 Pro review with information on design, camera, and performance.
V15 Pro is a very new generation phone with many interesting features. Right on top, everyone can notice the big bezel-less screen. It is not completely bezel-less but it is pretty great. Then there is pop up selfie camera which comes from the top right of the phone. Another great feature is the in-display fingerprint sensor. Now many company's are implementing this but Vivo is one of the first to implement these.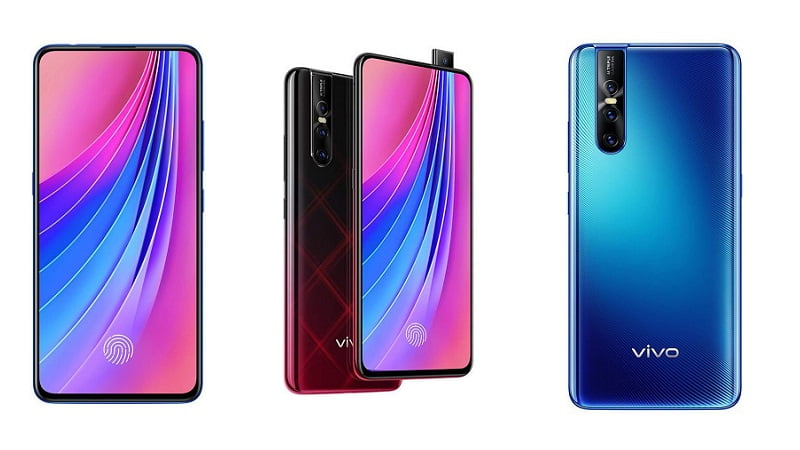 Display
It is the key jewel of the phone. The screen is 6.39″ Super AMOLED panel at 1080×2316 resolution. It is a Samsung panel which means it is best in quality with the best color, saturation, and high brightness. The screen is well visible in daylight with ease. It is a very special screen because there are no notch or holes. Vivo has made a gorgeous looking phone with such design. Watching videos, surfing web and multi-window operation are very much pleasing with a bigger workspace.
Power and Performance
Processor, chipset, memory, and storage define the phone's raw power. Vivo V15 Pro is using Snapdragon 675 chipset. This has 1.7 GHz hexa-core set and 2 GHz dual-core set. Mostly of the octa-core chipsets have two quad-core sets some have this type of 6 core and 2 core combination as well. In terms of memory, there is 6 GB RAM and 128 GB onboard storage. It also supports micro SD card up to 256 GB. There is no other variant of the V15 Pro.
6 GB RAM is now becoming normal in mid-range so it is good in terms of the specs here. In our Antutu, we got a score of 180053. The CPU score was 79834, GPU score was 36231 and memory score was 14191. In the Geekbench, we got a single core score of 2380 and multicore score of 6404. The Renderscript score obtained was 6066 and battery score was 5796.
The phone performed well during our light tests. Media consumption, daily normal tasks, web browsing, flipping through apps were seamless. We also tested multiwindow and it was good as it should be. Performance in V15 Pro is well in range as it is expected to have with such combination of hardware.
Camera
After the display, the camera is the most important and attractive thing with the Vivo V15 Pro. It is very fascinating to see pop up camera module and I liked it very much. It was my first time with such a phone and it was great. I was nervous with it thinking about the durability and I still am. The front 32 MP selfie camera is mounted in a pop-up module that comes out from the top. It just looks futuristic and it is very unique as it catches a lot of public eyes when it does that.
The front camera is very good and it can take really good selfies. Both front and back cameras are heavily using AI. Snapdragon 675 has AI engine at its core and this fuels the camera. Huge alterations in color, brightness, saturation, contrast, subject features and details can be noticed. Some are good while some go to point where we need to tone it down to natural. It is personal taste because some might love touch-ups while some might love natural.
At back side, there are three cameras and the main is 48 MP sensor with f/1.8 aperture. Then there is 8 MP f/2.2 ultra-wide camera and 5 MP f/2.4 depth-sensing camera. It can record 4K videos and they look great. There is support for multiple aspect ratio for photos and one of them is 19.5:9. Photos taken in this ratio look great while viewing on the phone.
The autofocus and shutter are pretty fast and put out great results. The front camera also performs exceptionally with such a big sensor. Especially HDR is fantastic as it can give great selfies even when it is facing exactly at the sun. We are very impressed by the front camera and AI implementation. It is not perfect due to movable part but for selfie lovers, we would recommend it as a quality photo shooter.
Extra Features
In the software side, there is Vivo's Funtouch 9 UI over the Android Pie. It is filled with small features but there are some things that need improvement. We liked things like Motorbike mode that rejects call and auto-responds with SMS. Then there is a new Game Cube which is similar to Samsung's Game Launcher. It helps to improve the gaming experience by controlling and managing resources.
E-Warranty card is also a very good feature and it can't be erased with reset. I also liked the screen splitting, smart motion, and one-handed mode. However, there are some things where we want to see changes. The USB port is upside down at bottom which is very odd. The fact that there is no USB Type C is on another thing which will fix that. Not just that, USB Type C is becoming common and Vivo should follow this in upcoming phones.
Conclusion
Funtouch OS has its own perks with their own baked-in features but people get irritated with bloatware. There are lots of bloatware apps and we hope they cut it and slowly make them go away forever. The UI needs through polishing and decluttering to become more pleasing. Most of the Android enthusiasts would love stock or near to stock feel but even though that may not be possible. It would be great to see less unwanted apps.
So assessing everything of Vivo V15 Pro, we can say that the company is offering one of the best-looking screens on a beautiful phone. It is the best quality panel in the best format and presentation. The phone packs a very good camera with lots of AI features and produces crisply looking results. Both front and back camera perform well but the front pop up module just takes the attraction away with itself.
Overall, the performance is good and other small features are also in order as they should be. Vivo V15 Pro is a phone with fascinating features such as pop-up camera, in-display fingerprint sensor, huge display with no notch and good design. If these features are your needs then it is a good choice. We hope Vivo improves their port selection and software in the future so that we users can enjoy their products more.