Daraz Nepal is providing lots of discounts on Xiaomi products this monsoon. There are various rates for various devices but there is sure shot 5% discount on checkout. The trend of online shopping within comfort of our homes is growing these days. Perks of online shopping are mainly deals and cheap prices. This time we are getting lots of Mi products at great prices. People can visit Daraz Nepal's site for Mi products and see for themselves.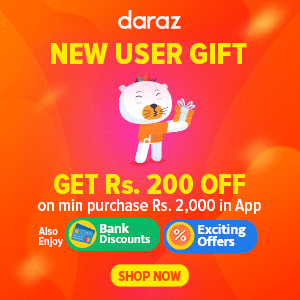 Whatever you buy, you will get 5% discount at checkout which is sure. For furthermore discount, there are different rates. Many popular mid range and budget phones are getting price cut offs. For example, Redmi Note 3 is getting 38% discount. It is available just for Rs 15,500 while the Redmi Note 2 is available at Rs 14,000 at 22% off. Similarly Redmi 2 Pro is getting 15% drop and so on.
Smartphones such as Redmi Note 4, Mi 6, Redmi 5, Xiaomi Redmi 5A, Note 5 AI, Redmi S2 are also coming with additional Ncell data bonus. The y are giving up to 6000 MB free data with each purchase. The mesmerizing Mi Mix is also available for Rs 55,000 with 15% price drop. The company is also selling Piston headphones, WiFi router, power bank, Mi Band 2 at curtailed price.
Read More: Official Xiaomi Smartphones price in Nepal
Best Deals in Our Eyes: These are some of the best deals and budget phones that we would recommend for this sales. There are many old phones but they still work fine and we are just pointing some good deals for this sale only.
Redmi Note 3 (Rs 15,500)
Redmi Note 4 (Rs 14,000)
Xiaomi Redmi 2 Pro (Rs 11,000)
Piston Headphone (Rs 679)
Mi Band 2 (Rs 3,400)
Deals Overlook
Xiaomi and Daraz are giving offers on many of their good selling smartphones. This includes flagships and mid range phones. Still we don't see the best selling Mi A1 because that could have been amazing. Still they are providing cut offs on Mi 6, Mi Mix 2, Mi Mix, Mi Max, Mi Max 2 and Mi Note 2.
Read More: Xiaomi Accessories price in Nepal
Xiaomi also has Water purifier, Suitcase, Robot Vacuum, Power bank, VR Headset, Bluetooth headphone on the sale.  You should check them out and for perspective you can read the above mentioned Xiaomi mobiles and accessories price list. This is the start of festivals season and we are positive that these types of offer will continue and bring us great offers.